An Evening with Dato' Jimmy Choo at Shangri-La's Rasa Sayang Resort and Spa, Penang
I was greatly privileged to receive an invitation for a dinner with the great Dato' Jimmy Choo! Just the very mention of his name and I am sure many of us will have our mind filled with the world renowned shoe designer who is based in London, United Kingdom. This famous Penang-born designer was recently appointed the Malaysian Tourism Ambassador and Tourism Ministry's adviser by our Tourism Ministry.
Proud to say, being a Malaysian, Dato' Jimmy Choo is in the best position to help promote Malaysia at the international level.
Dato' Jimmy Choo Yeang Keat
An exclusive dinner was hosted by Shangri-La's Rasa Sayang Resort and Spa to celebrate Dato' Jimmy Choo high-profile appointment during his recent trip back to Penang. The dinner took place in the elegant restaurant, Feringgi Grill with many distinguished guests, including our very own Penang Chief Minister Yang Amat Berhormat Lim Guan Eng with his wife, Betty, as well as members of the media.
The evening started with a cocktail reception and a sit down interview with Dato' followed up by a speech by Chief Minister Lim Guan Eng.
Dato' Jimmy Choo and YB Lim Guan Eng sharing a light moment
The highlight of the cocktail reception was a simple award presentation. Dato' Jimmy Choo had the honour of presenting the "Malaysia's Leading Spa Resort"  award to resident manager Christian A. Nannucci. This award was bestowed by World Travel Awards 2009's to Rasa Sayang Resort and Spa recently!
Rasa Sayang Resort and Spa has been renowned for its impeccable hospitality for many great years. This award bestowed by World Travel Awards 2009's is recognized as the highest accolade within this industry and would definitely further enhance Malaysia in particularly Penang as a premier tourist destination.
After the ceremony everyone made their way to the dining hall with an enchanting garden view for an exclusive dinner with complementing wine. The ambience itself was serene and oozing class, hats off to Feringgi Grill for organizing the dinner in such a wonderful setting.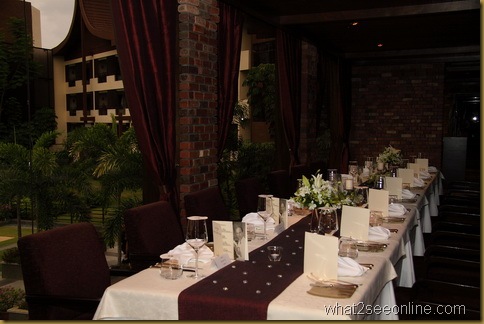 A beautiful and cosy dinner setting
The menu consists of an array of meat and seafood.
First up was the Feringgi Grill "Combo Best of the Best", as the namesake go, its just simply the best! It consisted of grilled duck liver, stuffed smoked tomato, grilled pizzette, dried fruit sauce, grilled green onion-herb paint, cherry tomatoes and goat's cheese.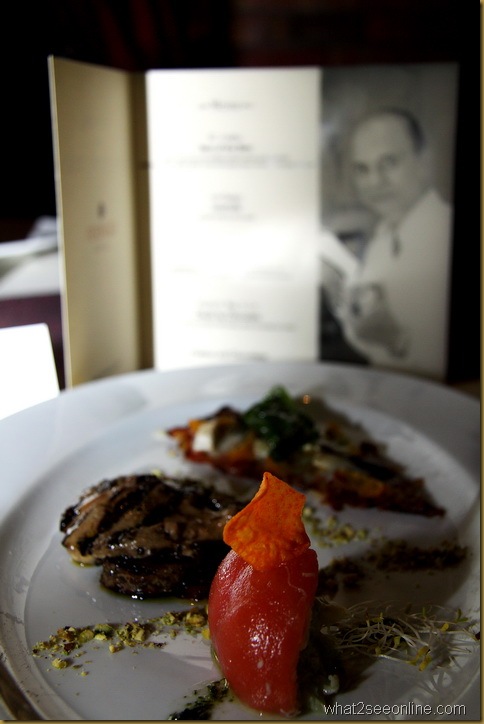 The followed up dish was the 4-A-Change  Interlude, and it was a treat indulging on the grapefruit foam and citrus salad. Unfortunately I couldn't get a photo of this dish in the midst of this great occasion!
Next up was another main course, the Grillin' n Chillin' From Land and Sea – smoked lamb, black cod, double smoked beef short rib duck fat carrot hay, roasted gazpacho dip, pepsi-cola bbq sauce. It was an amazing blend of incorporating pepsi cola into the BBQ sauce and the chef pulled it off beautifully.
Finally, it was dessert with the Perfect Way 2 Go Death by Chocolate – chocolate volcano, tropical fruit fondue, white chocolate ice cream. The dessert topped off the meal beautifully.
The meal ended with servings of Pralines and Chocolates with coffee after which it was autograph and photography session with Dato'. It was a great privilege to get to know Dato' Jimmy Choo and receiving his insights and wisdom.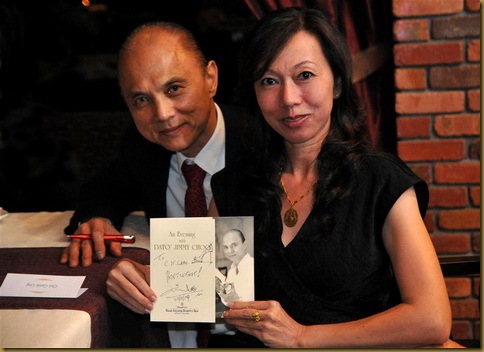 To top it all off, I would like to express my gratitude to the management of Rasa Sayang Resort and Spa for this exclusive invite. This has been a once-in-a-lifetime opportunity for me, especially meeting with the great shoe-designer himself! Besides that, thanks to Christopher Choong of JAC Photography for sharing a few of the photos with me.