Invitation to Chocolate Cooking Class and Chocolate Indulgence High-Tea from Cacao Barry, Callebaut at Mandarin Oriental, Kuala Lumpur
A unique food blog post especially for chocolate lovers!
On my latest culinary adventure in Kuala Lumpur, I got an invitation to join a Media Chocolate Cooking Class and an enticing Chocolate High-Tea Delights at Mandarin Oriental, Kuala Lumpur. The Chocolate Cooking Class was conducted by Chef Holger Deh, the Executive Pastry Chef who delighted us with his chocolate making using cocoa from Cacao Barry, world known for its premium products.
We had a great time getting to watch and learn how the chocolates were made. The class was held in the cold kitchen as chocolates are very sensitive to heat. The kitchen has the fragrant chocolate aroma flowing inside it.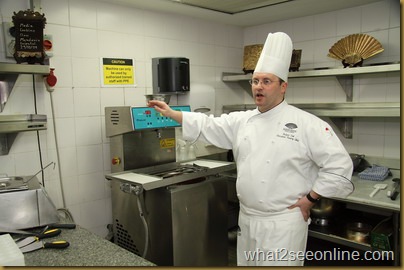 Our first demonstration by Chef Holger was the Truffle Mousse!
Chef Holger had a lively conversation with us explaining the procedure throughout the cooking class. Glucose, water and sugar are boiled and the mixture is poured over the partly melted dark chocolate. Melted gelatin solution is poured together with the orange juice and zest into the chocolate mixture. The cream was lastly added into the chocolate mixture.
The smooth melted ganache
The layer of chocolate sponge disc soaked with mango syrup is laid with a thin layer of truffle mousse, followed by mango creme brulee in the center and another thin layer of truffle mousse. Another layer of chocolate sponge cake soaked with mango syrup is added on. The whole cake was then cover with the remaining chocolate mousse and kept in the freezer.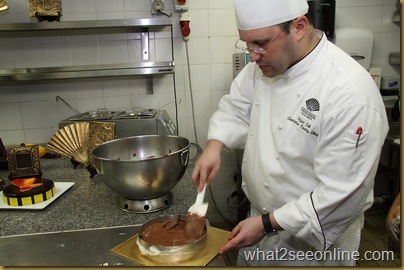 The mousse is spread evenly over the cake with a spatula
The entire cake is warmly glazed. It is nice to indulge with this cake decorated with a colorful butterfly.
Next up was the Raspberry Truffles!
Chef Holger cheerfully showed us the way to create the colorful Raspberry Truffles. For the start, he brushed a few strokes of cheerful red colored cocoa butter into the mould with his finger…the thinner the layer, the better it is.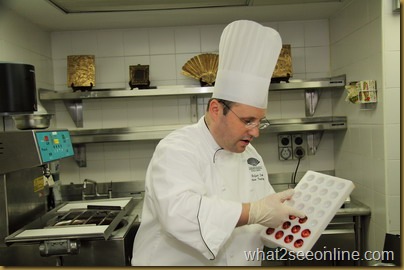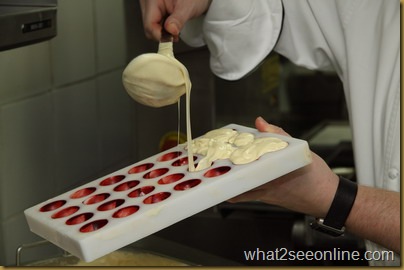 Once this red layer is hardened, another white layer is added in
Melted milk chocolate is pipe into the chocolate shell and left to crystallize for 2 days at 17C. It is then taken out again and covered with a thin layer of white chocolate.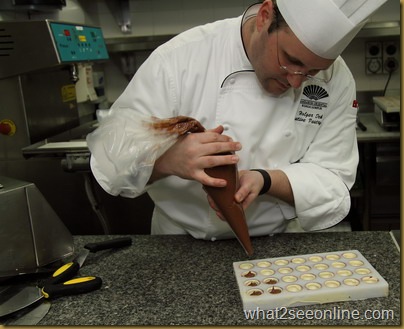 All of us got to taste the gorgeous freshly made chocolates which have a balanced sweetness and amazing taste. The melt-in-your-mouth texture of chocolate provides real satisfaction with the melted milk chocolate oozing out.
Another exclusive Chocolate Cooking Class will be held on 9th November from 11am onwards. Priced at RM180++ per person, participants will be given a cooking apron and will get to enjoy a Chocolate Afternoon Tea.
Continue to view Chef Holger's Gallery of Chocolate Creations!