Jade Blossom Restaurant @ Krystal Point, Penang
Asparagus Pork Roll
Jade Blossom is a pleasant and modern Chinese restaurant located in Krystal Point, Penang. You could easily spot this restaurant on your right when you are travelling on the Sungai Nibong Expressway to the Tun Dr Awang roundabout.
Their menu features a wide array of Chinese dishes to choose from and is available in three sizes. The amount of food in each size was just about right. Here are just some of the dishes that I had on several visits. The above Asparagus Rork Roll was a tasty dish with the meat pairing very well with the crunchy asparagus. The followed up dish of deep fried yam ring was served with plenty mixed vegetable of mushroom, carrot and scallops.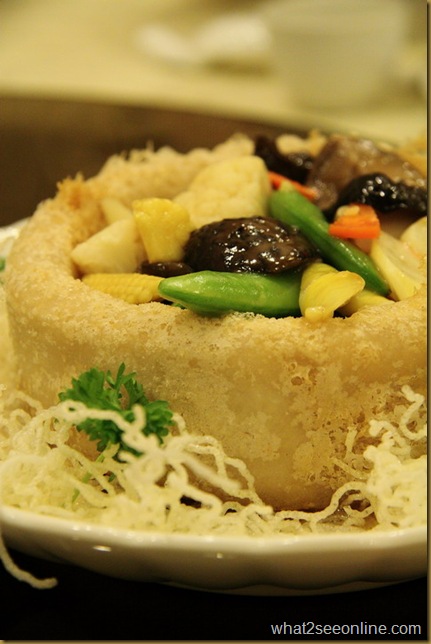 Yam Ring
I like the Braised Pork Trotter that came with generous amount of vegetable. It's braised till tender and the gravy was delicious. It was absolutely delightful having the succulent meat with the accompanying steamed mantou.
Next to arrive at the table was the simple delicious dish of chicken. The roasted chicken was tastefully done and combined well with the Italian sauce and the uplifting mint leaves.
Chicken with Italian sauce – RM15
The tender pieces of Garoupa fish were stir fried in a light flavorful sauce with ginger and plentiful of chives.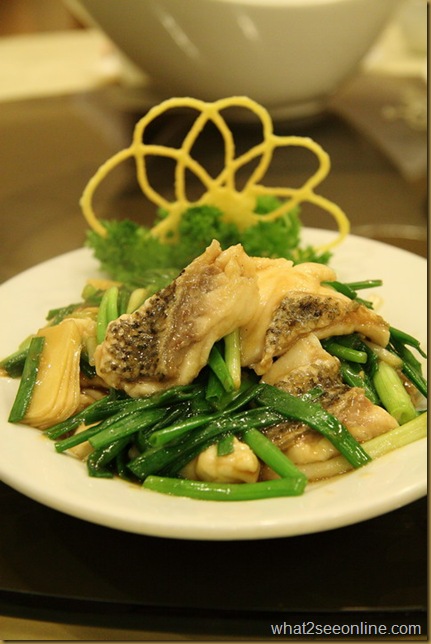 Vegetable dishes – A soupy vegetable dish of Spinach with century egg and another stir fried French beans with decent amount of minced meat.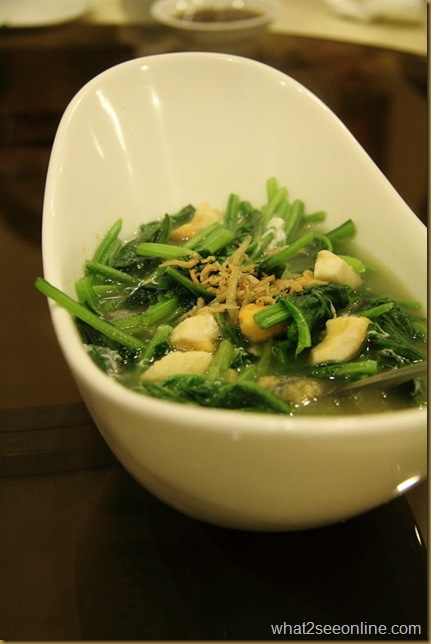 Coated and deep fried Squid Ring with seaweed, chopped chili and spring onion – The spiciness of the chili together with the seaweed flavor makes this dish very addictive but I find the squid a bit tough for my taste.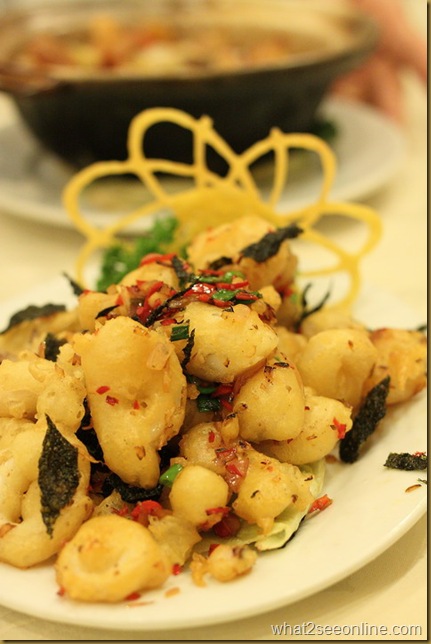 Squid Ring – RM18
Besides the meaty and seafood dishes, we also had a variety of others such as the Mini Claypot Rice, Fried Noodle with brinjal plus dessert.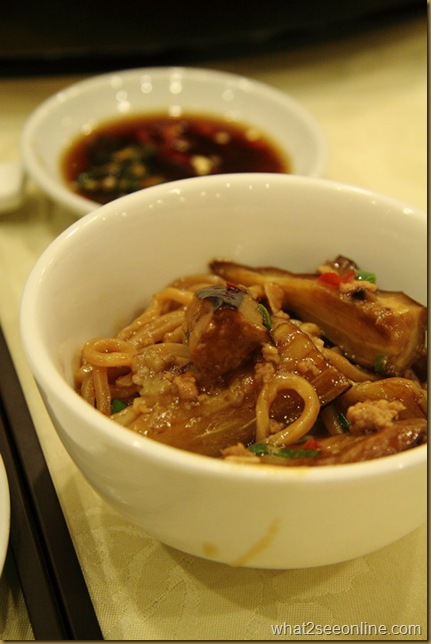 Fried noodles with brinjal and minced meat
Mini Claypot rice with chicken, mushroom and Chinese sausages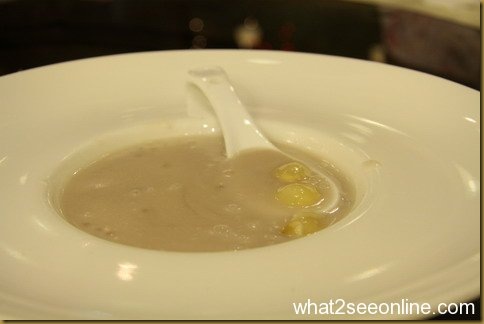 Creamy dessert of Yam Sago with gingko nut
Weekends can be a bit crowded, so be prepared to wait for a while. The restaurant is strategically located near to the Free Trade Zone which sees many factories and office personnel patronizing this restaurant. Click here for the Map Location. There are plenty of car park spaces out front.
Jade Blossom Restaurant
1-1-22/23 Krystal Point 2
Lebuh Bukit Kecil 6
11900 Bayan Lepas
Penang
Tel: 04 6438064
Non Halal
GPS Coordinates : N5 1950.9   E100 1755.7