Kim Tavern in Sunway Carnival Mall Butterworth, Penang
Kim Tavern is a newly opened cafe in the vicinity of Sunway Carnival Mall, Butterworth which serves meals and light snack throughout the day. A small group of Penang Food Bloggers with Taufuloh from Kuala Lumpur paid a visit to the place recently. It's the first visit for all of us as it has opened its door less than two weeks ago. This cafe with casual settings is the second branch for proprietor Andy with the first one in Megamall. The upcoming branch in Kulim Industrial Park is expected to be open in this month.
After settling down comfortably in the cafe with orange, black and white color scheme Andy introduces to us the many varieties of food in the menu.
We were first severed with their cool and refreshing beverages ranging from fresh fruit juice, smoothies and ice blended. My favorite was the Wheatgrass Smoothies and the Honey Lime Ice which were surprisingly very refreshing.
FRUIT JUICE / COLD DRINKS
D16 Fresh Carrot-Orange (RM3.50) & D20 Honey Lemon Ice (RM3.80)
SMOOTHIES
D29 Mango Smoothies (RM5.50) & D32 Wheatgrass Smoothies (RM5.50)
SPECIAL ICE BLENDED
D40 Peppermint Mocha (RM7.80)
D41 Blueberry chocolate (RM7.80)
D42 Hazelnut Latte (RM7.80)
D43 Almond Latte (RM7.80)
D44 Tiramisu (RM7.80)
A few of the beverages that we had
ENTREE
E5 Honey Pepper Roast Chicken Drumlet (5pcs – RM6.90) – Kim Tavern came out with the idea of serving drumlets which is easy to hold on to eat. The chicken drumlets were well marinated and absolutely divine.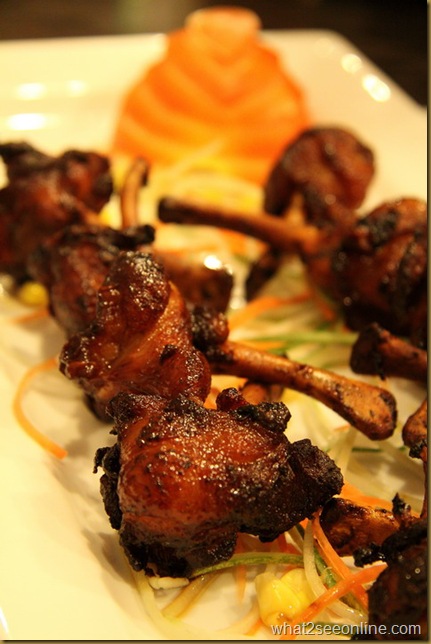 SOUTHEAST ASIA FAVORITE
In Kim Tavern, the all time favorite Nasi Lemak is served with plain rice as a healthy alternative to the coconut milk rice as the curry dishes are already cooked with coconut milk. One will be able to taste the aroma of the curries better with white rice too. The Nasi Lemak is served in a variety of meat.
S01 Nasi Lemak Curry Chicken (RM7.90) – This Nasi Lemak dish comes with curry chicken and condiments of roasted peanuts, deep fried anchovies, papadam, fresh cut cucumber and halved hard-boiled egg.
S02 Nasi Lemak Rendang Chicken (RM7.90) – It has a very appetizing sweet and sour sambal served on top of the hard boiled egg. The rendang chicken has a more pungent fragrant of lemongrass.
S04 Udang Sambal Rice (RM7.90) – The fresh and juicy prawn stir fried in the sweet and sour assam chili paste was delicious eaten together with the plain rice and condiments.
S06 Dry Curry Stir Fried Chicken Rice (RM6.90) is commonly known as Kam Heong Kai. Pieces of chicken meat were stir fried with plenty of onion slices, spring onions, curry leaves and flavorful chili paste. A generous serving was laid on top of the lettuce accompanied with white rice.
JAPANESE-ASIAN STYLE BENTO
B02 Sweet & Spicy Fish Bento (RM8.50) – The bento includes Miso soup, pieces of deep fried pink dory fish, halved hard boiled egg, normal white rice and salad of shredded carrot and cabbage with Thousand Island sauce dressing. The sauce that goes with the fish has the right sweetness and spiciness.
All the food neatly lay inside the bento box
JAPANESE BIG BOWL RICE
J01 Unagi Fried Egg Rice (RM12.90) was up next. This is an interesting serving of unagi. The fish cooked with egg, sliced onions in a creamy thick sauce went well with the rice and Japanese sweet soy sauce. This sell-able dish looks a bit blend but don't be deceived by its look as the taste is definitely there…delicious. It is good to share this dish due to its creaminess.
Interesting combination of ingredients