Penang Lor Mee between Jalan Masjid Kapitan Keling and Beach Street
Penang Lor Mee comes with braised meat ingredients with robustly savory starchy gravy flavored with five-spice powder and egg white. The different spices in the flavorful and pungent gravy is what that enticed the taste of the Lor Mee. Hubby and I came across a Lor Mee stall at Lean Thye Coffee Shop which occupied the corner shop house in Ah Quee Street.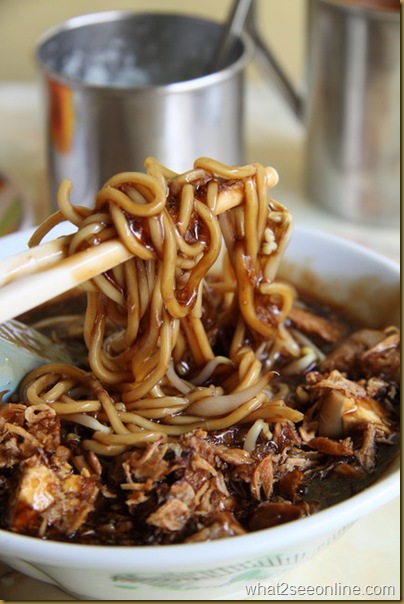 I like having my Lor Mee by mixing the gravy with some red chili sauce and finely minced garlic…not too much of the garlic as it will changes its flavor. The combination of the sauces gives this dish additional flavor.
The gravy is extremely fragrant with the different spices and ingredients used. The thickness of the gravy coats the yellow noodles very well.
We added two extra braised hard boiled eggs…the eggs are actually duck eggs. The egg tasted really good with its outer layer much firm and chewy. This extra order also comes with the lor gravy. I find the taste of Lor Mee gravy quite similar to the thick Lor sauce of the hawker food, Lorbak.
Add-on ingredients :
Pork RM1
Duck egg RM1
Three layer pork RM2
The owner, Ah Kheng has been selling Lor Mee for around fifteen years around town before settling down in Lean Thye coffee shop in Ah Quee Street. Ah Kheng's stall is the only one occupying the coffee shop. Usually in the morning, the coffee shop is filled with customers just waiting for their bowl of Lor Mee from him.
They have small servings and also the XL ones for the heavy eaters.
Prices :
RM2.50 small
RM3.00 large
RM4.00 double XL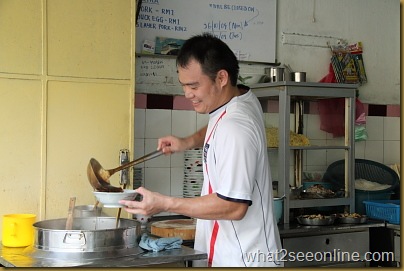 I know some friends are put-off by food with thick and slimy texture such as Lor Mee and Penang popular Hokkien dish, Bak Kee but hubby and I personally do enjoyed eating all of them. He was slurping away his bowl of Lor Mee until the last drop of gravy.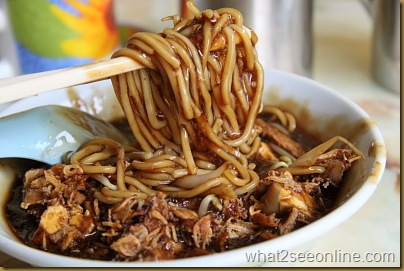 Ah Quee Street is a two way street and can be accessed from either Jalan Masjid Kapitan Keling (formerly Pitt Street) or from Beach Street. Click here for the Map Location.
Lor Mee
Lean Thye Coffee Shop
Ah Quee Street
Penang
Business Hour : Breakfast from 7am till around 10am
H/P No : 012 5058887
Closed on Sunday and on special occasion