Penang Seafood @ Tua Peh Kong Tanjung Tokong, Penang; Sea Pearl Lagoon Cafe
The Sea Pearl Lagoon Cafe which is famous for its seafood is situated next to the Tua Pek Kong Temple in Tanjung Tokong with a beautiful seaside view overlooking the North Channel. I went there several times with my family and friends for lunch and dinner.
The seafood is cooked in very simple method, with their signature dish of coal-baked crabs and salt-baked prawns. I've eaten baked crabs in Teluk Kumbar Seafood, Crab Village Restaurant and Khuntai Restaurant, but I find this place produces the best baked crabs. The restaurant owner relies on these two signature dishes to pull in the customers.
Straight to the delicious food!
My mouth started watering with the aroma of the baked prawns filling the air. The salt-baked prawns with the smoky taste have us sucking and licking the shell.
Baked Prawn at RM18 half a kilo
Besides the seafood there are other stalls as well. You can expect the owners from these stalls walking up to you to take your orders. For RM12, this finger food of deep fried calamari comes with a coating of flour mixture, really good. It is crispy on the outside with the fantastic tender calamari on the inside. Great to go with some cold beer.
Deep Fried Calamari RM12
Best of all, the seafood served here is very "chee" (fresh in Hokkien). I particularly enjoyed their simple Stir Fried Lala which of chili and brown beans.
Stir Fried Lala, it was indeed very fresh and enjoyable
Besides that, there is also another stall selling Satay! The Chicken Satay together with the sauce was an excellent complement to our meal.
Their range of drinks are ordinary, however we were satisfied with their Coconut Drink!
Next up was the Deep Fried Baby Chicken. It was very succulent and juicy, and it is my son's favorite!
The Grilled Stingray is one delicacy sold in many places, usually grilled on banana leaves. It was served with delicious sambal sauce with onions. This fish cost RM12.
We also had some Hokkien Char Noodles which we found to be just ordinary –  RM12.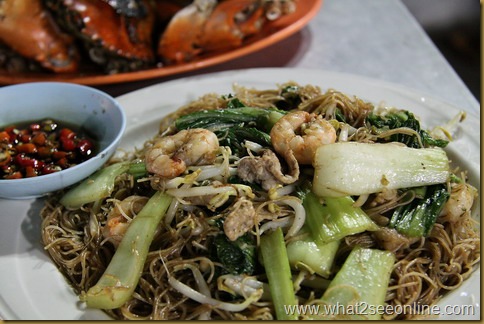 We thoroughly enjoyed the plate of fresh succulent oysters fried with egg and served with a watery chili sauce. Lip-smacking!
Fried Oysters RM12
Last but not least, no trip to this seafood restaurant will be complete without the baked Crabs! The crab was quite petite but super fresh.
Cooked with black burned marks,  the flesh was succulent & sweet which goes well with the home-made chili dipping sauce. It has the flavor that keeps me wanting more!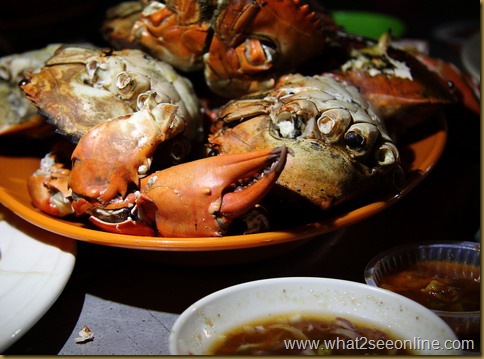 One kilo of meat crab RM40
All the food was just simply delicious. This is one place for great seafood and a combination of other food. Plastic and metal stools and tables filled up the spaces in the al-fresco dining area. For those who like to enjoy the sunset, do go a bit earlier. The view is beautiful and can be view here.
A nice place to enjoy seafood facing the sea
It is quite difficult to find the way to this restaurant, but with my
Map Location
and GPS Coordinates, it shouldn't be a problem.
Sea Pearl Lagoon Cafe
338 Mukim 18
Tanjung Tokong
10470 Penang
Tel : 04 8990375
Business Hour : 11am – 10pm
GPS Coordinates : N05 2748.8   E100 1828.9