Chinese Cuisines at Restoran City Star, Petaling Jaya
I was invited by Ken for dinner together with his friends from Tour2U at Restoran City Star in Taman Mayang, Petaling Jaya during my Kuala Lumpur trip. This double shop lot restaurant owned by Mr CM Wong has a nice and clean environment with one section of the restaurant air-conditioned.
Our meal consists of several recommended dishes by the owner. The first was the Charboiled Pure White Assam Fish. The fresh Fei Chow Yue at RM35 per kg was cooked in a slightly sourish and spicy soup which was kept warm under the charcoal fire.
Great appetizing fish to kick start our dinner!
Gold Coin at RM8 – Kam Chin Taufu.  The deep fried homemade taufu has very smooth texture, and is served topped with fried chai por, dried prawn, spring onions and shallots.
The followed up dish was the Butter sauce Mantis Prawn. The deep fried de-shelled mantis prawns were cooked in a creamy sauce which was balanced with the flavorful curry leaves. Comes in three sizes…
S – RM 20
M – RM 25
L –  RM 30
This basket carved out of the pumpkin was steamed and served filled with prawns and squid cooked in a spicy sauce. The pumpkin taste goes very well especially with seafood ingredients!
S – RM30 while  L –  RM60
The Shanghai spare ribs come well marinated with flavorful marmite sauce at RM4.50 per stick.
Some vegetables to balance it out…! Next came the Four Season Queen – Sei Tai Thin Hau which comes in a nice combination of greens with different texture. This simple and healthy stir fried dish has lotus roots, green beans, broccoli, lotus petal, red carrots and macadamia nuts. Comes in three different sizes…
S – RM 12
M – RM 16
L –  RM 25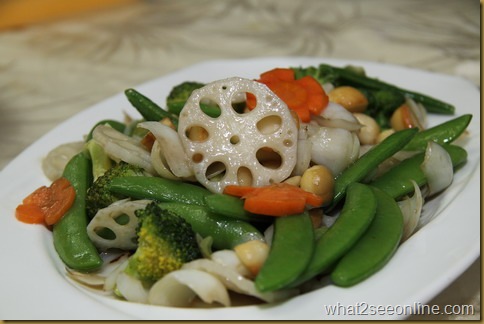 Salted Egg Prawn – Ham Tan Har Kou is a dish with de-shelled prawns deep fried in a batter with chili padi, garlic and flavorful salted egg.
S – RM 20
M – RM 35
L –  RM 50
Last but not least, we enjoyed the Fried Hor Fun with Kailan, prawns, pork and egg which was delicious; full of wok hei! The Kailan added flavor to this noodle which tasted good even eaten on its own.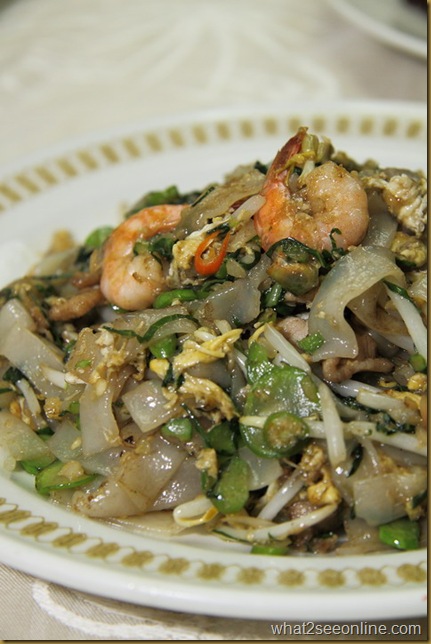 RM6 (small serving)
Everyone was full after the meal with so many varieties of dishes. Many thanks to Ken for sharing this restaurant and introducing the makan foodies, Cassandra, Tam and Anne to me and Sidney.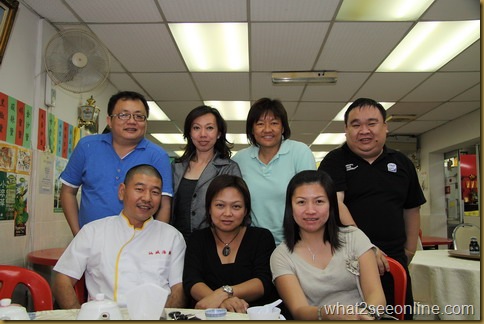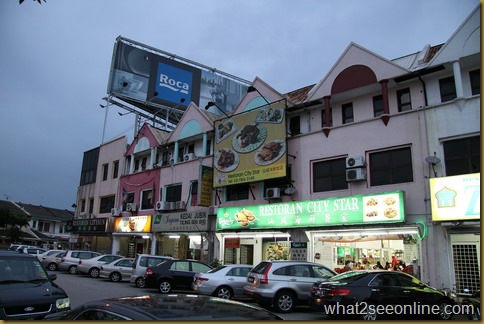 This restaurant nearby Sunway Mas Commercial Center is open daily and closes for the two days before Chinese New Year.
No 8-10, Jalan BM1/2
Taman Bukit Mayang Emas
47301 Petaling Jaya
Selangor
Tel: 03 78062168
Business Hour : 11am – 2.30pm & 5pm – 11pm
GPS Coordinates : N3 07.505   E101 35.751