Enju Japanese Restaurant Prince Hotel – New Izakaya Style Japanese Menu
There is always something new and different for me to try on my every visit to Enju Japanese Restaurant in Prince Hotel. This time around the launch of their exquisite New Izakaya Style Japanese Menu by Japanese Cuisine Master Chef Thomas Lim promises a lot of different dishes together with a large selection of sake, wine, beers and juices.
Otsumani and salada – Appetizers and Salads
The meal started off with the crispy and slightly salty sheets of Tatami Iwashi. This grilled appetizer is made of baby sardines and is great to nibble on especially pairing with sake. It gets more and more addictive after each bite.
The small fish retaining all its natural flavors!
Shake Honey No Potato Salada Yaki RM19 – The Honey and ginger grilled Salmon was served laid on mashed potato salad with roes. The well marinaded fish with sweet, spicy and salty taste was good enough eaten on its own.
Makimono and Temaki – Enju Signature Rice Rolls
Enju dynamite roll RM22 – Fresh salmon, cucumber, flying fish roe, tempura flakes, avocado and sushi rice wrapped in dry seaweed. This roll is highly recommended for diners with preference for 'riceless' roll (mostly ladies).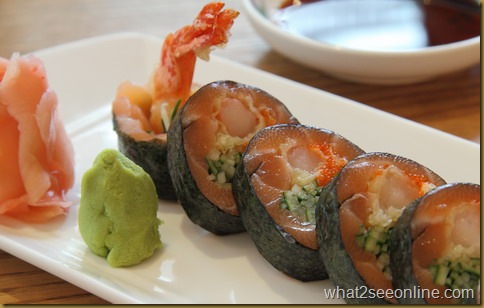 Rock & Roll RM24 – Deep fried fried tiger prawn, mango and sushi rice wrapped in dry seaweed. The savory prawn and the sweetness of the mango added a special touch to this roll. Best enjoyed with a dab of wasabi.
Colorful & tasty roll
Yakimono – Grilled Dishes
Gyuniku Kushiyaki RM15 – This dish has two beef skewers grilled with teriyaki sauce. The skewers has chunky pieces of well balanced texture beef. They were indeed very flavorful and paired well with the green pepper and teriyaki sauce.
Gindara Tamagoyaki RM40 – The rich Alaskan Black Cod was grilled with egg yolk and cream cheese, with its juices sealed inside while maintaining a crispy skin. The fish texture was tender and smooth. I'm loving it!