Koay Teow Th'ng with Duck Meat @ Cecil Street Market Hawker Centre, Penang
Koay Teow Th'ng, also commonly known as KTT is a popular hawker food for Penangites besides the overwhelmingly famous Char Koay Teow, Assam Laksa and Hokkien Mee. Lately I have been patronizing the Duck Meat Koay Teow Th'ng at Lum Lai located in Cecil Street Market Hawker Center, located just beside the bustling Cecil Street Market 七条路巴刹. This street is also known as Chit Tiau Lor to Penangites which represent the 7th Road in that precinct.
The specialty of this hawker stall is the duck meat! Even the clear soup is extremely wholesome, flavorful sweetness boiled with duck and pork. It really gives the soup a real OOMPH and I enjoyed lapping up the soup alongside the smooth koay teow!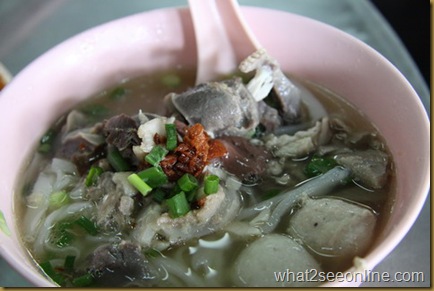 A standard bowl of Koay Teow Th'ng…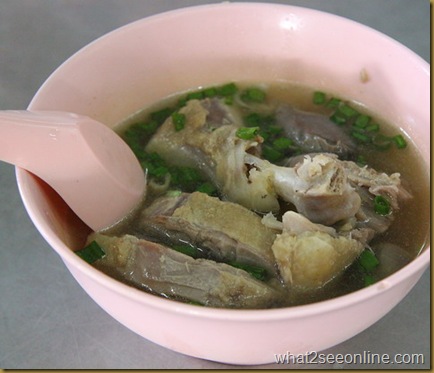 Additional order of duck drumstick… all extras charged accordingly!
A standard bowl of KTT here comes with slices of shredded pork meat, duck meat, fish cakes, fish balls and duck's blood (in coagulated form). It is garnished with spring onions and served with condiment of freshly sliced chili in soy sauce. I truly enjoyed this comforting Penang hawker food, especially having it together with a side order of duck drumstick.
Stall owner preparing another bowl of KTT!
A candid shot of the boiling soup with duck, and also the coagulated duck blood!
Do drop by the Cecil Street Market Hawker Center and enjoy this Koay Teow Th'ng! There are also other hawker food to sample in this hawker center, including pasembur, lorbak and sweet dessert (tong-sui)! Do take note that it can be very hot in the afternoon. Click here for the Map Location.
There are many more versions of  Koay Teow Th'ng, the instant KTT and the dry KTT which I will be sharing with everyone in time to come.

Lum Lai Duck Meat Koay Teow Th'ng
Cecil Street Market Hawker Center
Penang
Business Hour : 7.30am – 7pm
Closed every alternate Wednesday
Non-Halal