Singapore Hawker Food – Geylang Lor 29 Fried Hokkien Mee
I've learned several interesting foodie facts about Singapore during my recent trip there, and I've found out that Fried Hokkien Mee is the popular hit with many Singaporeans. I had the chance to try out two stalls selling this popular hawker food and the one that stands out for me is the Geylang Lor 29 Fried Hokkien Mee.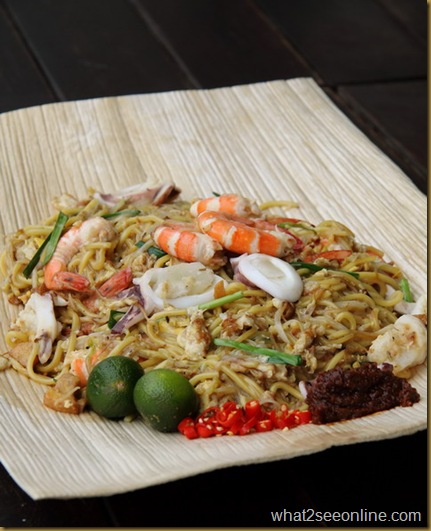 Singapore's Fried Hokkien Mee… simply unique and delicious!
The famous Singapore dish comes in a different style as compared to those sold in Penang (Hokkien Char). It is cooked with the lighter black sauce and has a starchy thick gravy. There are plenty of ingredients including large prawns, squid, pork lard and chives (ku chye).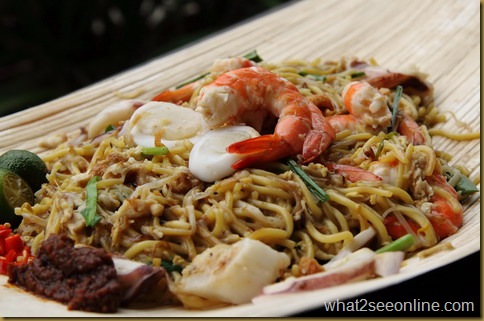 Furthermore, the taste of the noodles were greatly enhanced by the use of a charcoal stove! The Mee was fried in a big wok with charcoal fire, giving it a delicate smoky taste!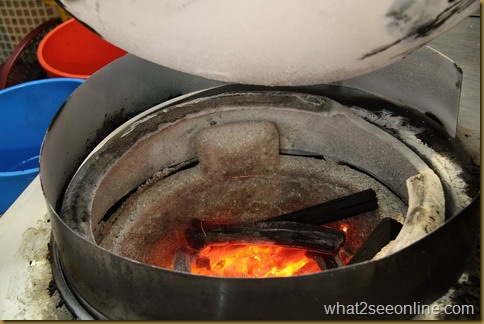 Burning hot fire…
Preparation of some of the ingredients…
Wok full of ingredients, on the way to cooking up this fantastic dish!
The noodles were smooth coated with the starchy gravy and bursting with flavors from all the ingredients. It was delicious with the sliced red chili and squeezed in lime juice. Additional dose of chili sambal is available for those wanting that extra bit of spiciness.
Fresh and juicy prawns
The owner, Mr Alex See has been selling the fried Hokkien Mee for over 40 years. He was very friendly and sat down with us at our table for a short banter.  He said that take-away wrap in the Opal leaf can be kept in fridge and taste even better reheated the next day after steaming wrap in the leaf. Maybe I can take some back to Penang?
Dr Leslie Tay, myself & Mr Alex See
The owner uses the Opeh leave (Pinang leaf) imported from Medan to serve up the fried mee. The beige colored dried leaf is part of the banana plant and food wrapped in it tends to taste better, with additional aroma. I have yet to come across this leaf in our Penang eateries as most of the food is only wrapped in the banana leaves and pandan leaves.
This fried noodle is a must for any foreigner visiting Singapore for the first time! For sure I am looking forward to coming here again. This place also specializes in other dishes such as the oyster omelette, perhaps I'll cover that in my next visit to this great island!
This place is located in a corner double storey shop house on East Coast Road surrounded with many food outlets. I'll definitely be back for more!
Geylang Lor 29 Fried Hokkien Mee
396 East Coast Road
Singapore 428994
Business Hour : 11:30am – 9pm
Closed on Mondays