Lot 10 Hutong presents Chua Lam & Friends Live Talk Show
The power of talk by Chua Lam!
Lot 10 Concourse in Kuala Lumpur was buzzing with excitement with the presence of Hong Kong celebrity food critic, scholar and media host, Mr Chua Lam. He flew in to town specially for the Talk Show Preview for his upcoming "Chua Lam & Friends" Talk Show at a special Press Conference.
The press conference hosted by Malaysia's own TV celebrity host, Ms Siow Hui Mei saw the presence of many of the invited guests giving a warm welcome to Chua Lam. It's interesting to see Chua Lam in person and listen to him sharing the insights on his life that is full of experiences. This columnist, food critic and television host kept his audience in uproarious laughter during the press conference which is highly interactive and filled with wit and humour.
Chua Lam and Emcee – Ms Siow Hui Mei
Chua Lam will be hosting the upcoming "Chua Lam & Friends" Talk Show together with some of his invited celebrity friends. Each episode featured different celebrity guests, who will share their interesting lifestyle trends and developments.
The talk show is on 19th and 20th March 2010, held exclusively in the unique venue at the country's first and only 'Theatre in the Forest' – The Actors Studio situated at the iconic rooftop of Lot 10. The showtime starts at 8pm on both nights.
It would be in two different themes over two days with each day highlighting a different topic. He will be sharing his experiences as a food critic on the first day and as a movie producer on the second day.
Chua Lam during his book signing session
Don't miss this opportunity to interact with Chua Lam and his exciting line up of guests in his first ever showcase to a live audience! Tickets are priced at RM 103, RM 83 and RM 63. All ticket prices are inclusive of Lot 10 Hutong food voucher worth RM 20 for you to experience the cuisines critically acclaimed by Chua Lam himself. Tickets are available in a choice of reservations, including online reservation at www.theactorsstudio.com.my from 3rd March 2010 onwards. For further enquiries, kindly contact Lot 10 Concierge at 03 27823566 or Ms Kelly at 03  27103803.
Two other bloggers and myself had the privilege to cover this press conference courtesy of Kelly from YTL Land.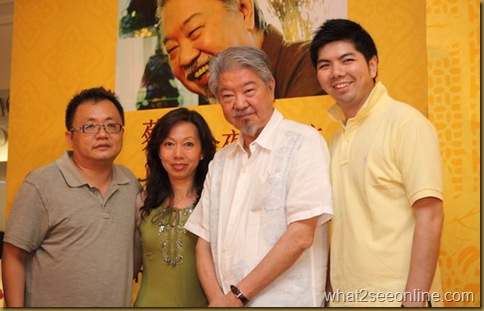 Sidney of BBO, myself, Chua Lam and Bok of Taufulou
Click here for the food we had in Lot10's iconic food court, Hutong…