Serdang Fried Porridge @ Restoran Sin Aik Kee, Kedah
We took a short and relaxing eating trip out of Penang island recently to Serdang, a small town in Kedah. It is our first visit to Sin Aik Kee, an old restaurant which is famous for their specialty 'char moay' (fried porridge) and plenty of other varieties.
The delicious fried porridge…chau jook (in Cantonese)

We started with the 'char moay' porridge. It was cooked with lots of ingredients – prawns, meats, salty meats, cuttlefish and thick black soy sauce. The right combination makes it very flavorful. I love its thick texture and had two full bowls of it! Yummy! The taste is slightly different from those I had in Ah Keat Seafood Restaurant and I personally found it more flavorful than Ah Keat's version.
With lots of green ku chai (kau choy)
The owner recommended us another very popular dish, stir-fried sweet and sour spicy cockles. It must be tried especially if you are a cockle lover. I must admit the cockles tasted very good with the spiciness and hint of sweetness! It was a nice and new experience of taste. You do not need to pry open the cockles as they are already opened up for you.
Next up was the Sa-Be Hu, or better known as three flavor fish. The deep fried fish comes with a few choices of kerabu (salad). We ended up having the pickled sweet and sour kerabu guava as the kerabu mango was sold out.
The kerabu guava was fabulous. It was the right balance of sweet & sour plus spicy taste that makes this fish simply appetizing! The kerabu can be ordered separately as a dish by itself.
Fried Cuttlefish was stir-fried kong pow style with oyster & black sauce. The texture of the cuttlefish remains firm, however its taste is rather common and easily found in other places as well.
The accompanied cold barley and longan drinks was refreshing with the meal.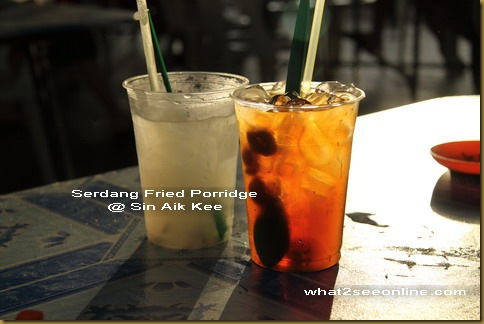 We also indulged in some delicious Curry Suah Tui Bak (curry wild boar meat). The curry was bought from the neighboring Bie You Tian Restaurant. The owner of Sin Aik Kee was kind to even prepared a plate for this curry wild boar meat!  🙂
To get to Sin Aik Kee from Penang, travel along the North South Highway to Parit Buntar and exit at the Bandar Bahru toll plaza. After exiting the toll, take a right turn on the first traffic light and continue straight for about 15km. The journey passes through several small kampung and plantations. When you reach the Serdang town, look out for the Hong Leong Bank on your left. Take the right turn and subsequently take the next available right turn too. The restaurant is on your left.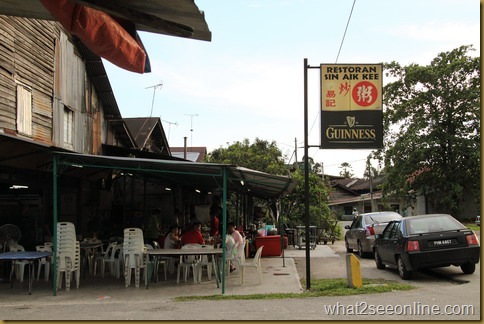 The wooden building with an extended zinc roof
This restaurant is quite new to many people although it has been around for more than a decade. I personally think it is inexpensive and worth the trip. It is probably advisable to make a booking before you travel all the way to this restaurant. As usual, do check out the GPS coordinates that I have included at the bottom of this post.
Restoran Sin Aik Kee
No 27 Jalan Tengah
09800 Serdang
Kedah
Tel : 04 4077288
Business Hours : 4.30pm – 10.30pm
Closed on Monday & Tuesday
GPS Coordinates :   N05 12.606   E100 36.779