Gem Restaurant, House of Fine Indian Cuisine
For desserts we had the traditional Kulfi (Gem's Special) and the Gulab Jamun. Kulfi, the homemade ice cream is made from the chef's own recipe using the natural flavor. This cooling delight was topped with chopped pistachios.
Gulab Jamun is little sweet dumplings made of milk powder presented in rosewater flavored sugary syrup. This dessert served in its traditional way is a little too sweet personally for me.
Gem's Special – Kulfi RM9.90
Gulab Jamun RM3.90
Gem is not only a great place to dine but also a place to chill out. After a hearty meal, diners can chill with their friends and have a couple of drinks in the lounge area. Located on the 1st floor, the lounge area has a pleasant and relaxing ambience.
Lounge on the 1st Floor
More photos of the restaurant can be seen here.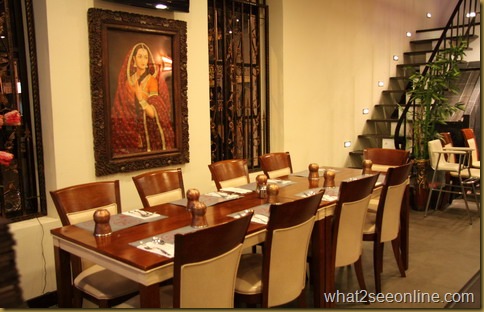 Dinning area on the ground floor
Gem Restaurant also provides catering services for functions and parties, with customizable menus and choices to suit everyone's needs. Do give them a call for more information.
Dinning area for functions and parties on the 2nd floor
Main Entrance
Its location makes it an ideal venue especially during lunch hour with the offices and shops nearby. Parking is very convenient with plenty of spaces in Bishop Street and King Street. Click here for the Map Location.
I would like to record my appreciation to P. Krishnan for being such a hospitable host.
Gem Restaurant
66 Bishop Street
10200 Georgetown
Penang
Tel: 04 2624070
Business Hour: 11am till 12am (Kitchen close at 11pm)
GPS Coordinates : N05.41929   E100.34060