Coconut Palms Delicious Seafood Restaurant; Burmah Road, Penang
The outlet has since closed down
This was our family first visit to Coconut Palms Delicious Seafood Restaurant located on Jalan Burma, Penang. Though opened recently, this restaurant is quite popular and usually crowded with diners.
Coconut Palms Delicious Seafood Restaurant has a wide spread menu ranging from pork, chicken to seafood. The place has a large dinning area, air-conditioned in the front and  non air-conditioned at the rear of the restaurant.
Steamed fish to get the appetite rumbling!
The favorable dish for the night was the house specialty, Bangkok Chicken RM10. The meat was tender and deliciously coated with a thick marvelous sauce of lemongrass, tumeric and ginger torch flower. Simply scrumptious!
After the delicious spread of chicken, came the vegetable dish. The French beans was stir fired with prawns and sambal RM10 with a crispy bite and a pungent chili flavor.
Spring rolls RM11 with fillings of mangkuang, mushroom and carrot was served to go with the dipping sauce. The rolls have a light taste and is less enjoyable as the skin is not that crispy.
The arrival of the Steamed fish with Chai Por RM46 had everyone asking for additional rice. The delicate flavor of the soy sauce was enhanced with the slightly sweet chai por. The fish itself was very fresh and was steamed just right!
We topped off the meal nicely with the Steamed clams & prawns! Many other restaurants offer this dish but the clams are usually smaller in size, however at Coconut Palms the clams that we had were larger in size and is definitely worth the try. Steamed with lemon juice and lots of chopped garlic and chili, the clams were delicious.
Parking places are plenty in its own surrounding compound and also beside the road next to the Sokka Gakai Association. Click here for the Map Location.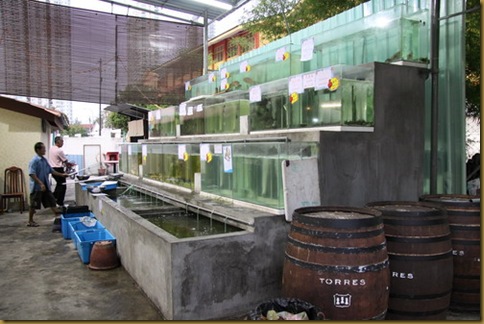 Rows of tanks containing live seafood
Coconut Palms Delicious Seafood
188 Jalan Burma
10350 Georgetown
Penang
Tel: 04 227 6686
Business Hour: 11.30am till 2.30pm & 6pm till 11pm (daily)
GPS Coordinates : N05.42720   E100.31661