Sakae Teppanyaki & Izakaya at Autocity, Seberang Jaya Penang
Sakae Teppanyaki & Izakaya, a stand-alone teppanyaki and sushi dining place has been in business for a number of years in Auto-City, Seberang Prai. They have recently launched a NEW 2-in-1 Dining Concept. Teppanyaki lovers can now enjoy Teppanyaki in the Teppanyaki Dining Place downstairs while sushi lovers can enjoy delectable variety of sushi and cocktail in the Sushi & Cocktail Bar @ Mezzanine.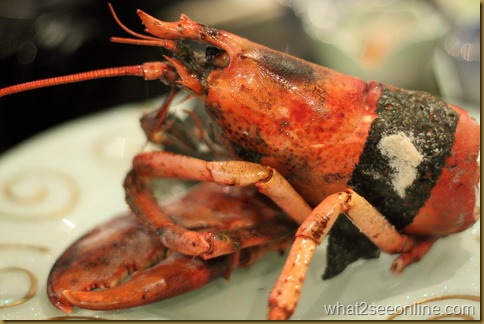 In conjunction with the launching, several Penang bloggers were invited to attend the " Sakae Teppanyaki & Izakaya Event", thanks to the invitation by Yi Wen. We had a great time learning the art of making sushi and cooking teppanyaki besides enjoying a feast of Teppanyaki, Sushi and Cocktail.
The Teppanyaki Cooking Demonstration and the Izakaya Sushi Making Workshop was extremely fun, interesting and interactive. Every blogger had their hands on at sushi making while a few took part in the teppanyaki event. It looks easy but in reality it is not what it seems!
Chefs at work…teppanyaki cooking and sushi making
Our group sat around the cooking area while the Teppanyaki chef entertained us with his special performances with his skills. Catch him in action in my vblog below…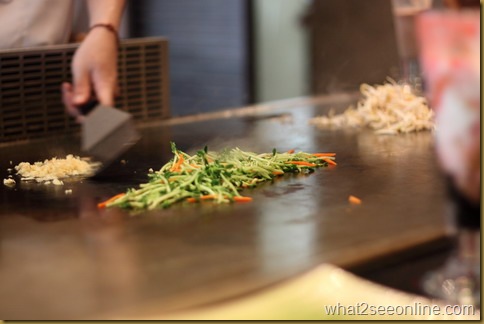 We had a variety of mouth-watering dishes including several of their specialties. We were firstly introduced to a series of rolls.
First up was the Sushi Platter – Rainbow Maki. The maki with raw salmon, red snapper, broiled prawn and crabmeat salad was topped with avocado & mango. I always like the refreshing and creamy taste of avocado with sushi. This roll with six pieces is priced at RM 12.80.
Next up was the Sushi Platter – Mango Soft Shell Crab Maki RM12.80. Mango lovers would love this roll with the refreshing fruit, fried soft shell crab, mayonnaise and shrimp roe.
My attention was drawn to the fiery display of the next dish. The Sushi Platter – Fire Dragon Maki comes with raw salmon, tempura prawn, salmon roe, shrimp roe, mango & mayonnaise. The roll RM13.80 was served with a flaming cucumber! All the ingredients combined well together in taste and presentation.