Teik Seng Chinese Restaurant Shifted to New Outlet at Carnarvon Street
Teik Seng, one of the popular Chu Char stall in Penang has made its way to a new outlet to cater for its increasing number of customers. Opened its door for business on the 8th April 2010, the new outlet is just a few doors away and very close to its previous site in Carnavon street.
*Update 25/04/2010: This restaurant recently has a new signboard, with the name of the restaurant changed to TekSen Restaurant. No worries, it is the same owner and shop!
Its menu remains the same, with the wide choice of dishes and soup and even with the cold beverages of leong fun (black jelly) and Chinese herbal tea. We could still enjoy all their signature dishes which we have been eating all these years. Their Char Siew Bak and Kankung Sambal Belacan have always been special for us. This is the place to savor these two dishes.
The lunch began with the kankung which was stir fried with the pungent chili sauce and belacan (shrimp paste) together with prawns. The strong wok hei and the combination of ingredients were excellent.
Next was the Char Siew Bak ( fried barbeque pork). The meat sliced into long strips were fried with black soy sauce, coupled with a bit of sweetness and slightly charred smoky flavor. We love to have it cooked with some chopped chili padi for the extra touch of spiciness which goes well with the meat.
The meat is skillfully fried with a well composed flavor of sweetness, spiciness and with crispy and chewy texture.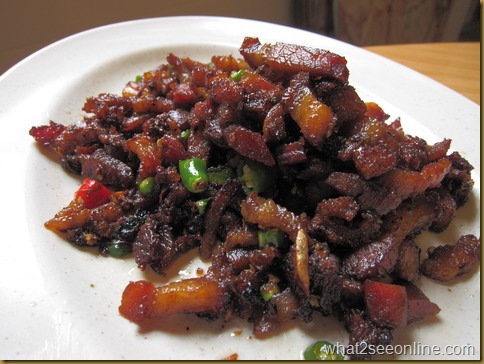 For those who love something soft, try out the tau foo (beancurd) which was steamed with soy sauce, oil, and topped with some red chili and spring onions. The beancurd is not the soft and silky version but rather firm in texture.
Instead of sticking to their usual Asam curry fish, we opted for the stingray fish to be cooked in thicker gravy of spice and tamarind with cucumber pieces.
The pieces of fish were fresh and extremely tasty with the sourish and savory gravy which was just great with rice.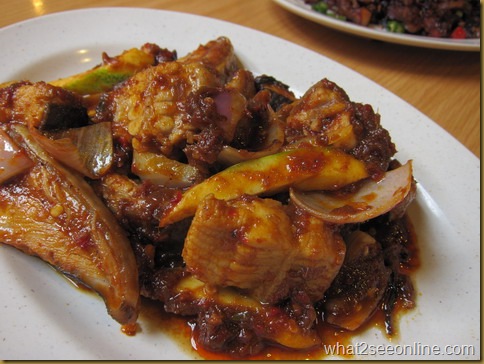 This family-run eatery headed by Mr Choo occupies the ground floor of the double unit shop house. It provides basic comfort for its diners, providing an airier dining area with the wind from the side windows and the many ceiling fans.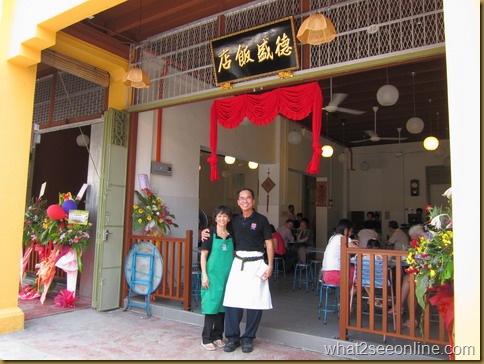 The owner, Mr & Mrs Choo
It's great to know that the authenticity and taste of the food is well maintained by Mr Choo. Even the metal stools and tables are still in use together with the new plastic ones.
This should be a nice time to visit Teik Seng. It is definitely a great Chu Char place with its wide range of tasty food with reasonable prices. Look out for this eye catchy yellow building that can be seen as you enter the street. Click here for the Map Location.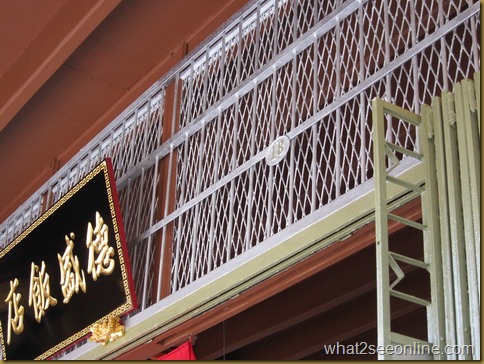 If you are a regular to Teik Seng, you will figure out that there are never enough parking spaces on the busy Carnavon Street. It is advisable to start looking out for spaces along Campbell street.
Kedai Makanan Teik Seng
18 & 20 Ground Floor
Jin Beng Coffee Shop
Carnavon Street
Penang
Business Hour : 12 noon till 2.30pm & 5.30pm till 9pm
Tel : 012 4939424
Closed on Tuesday