Breakfast at Eng Loh Coffee Shop, Church Street Penang
*** Updated on 1/5/2011 – The coffee shop has since been taken over by a new owner.
One of my favorite breakfast joints in Penang is Eng Loh Coffee Shop in the heart of Georgetown. It is located at the end of Church Street, diagonally across the Pinang Peranakan Mansion and is exceptionally crowded during lunch hour.
Besides serving good coffee, the coffee shop operator also serves choices of Western breakfast of sausages and egg together with toast bread. There are ten over choices of bread and my favorite is the Roti Taiwan.
Delicious Roti Taiwan
The Roti Taiwan version has a creamy and fragrant topping. The thick toasted Benggali roti comes with layer of majerin and smooth peanut butter spread, topped with a plenty of crushed peanuts. Till date, I have not come across any coffee shop that serves Roti Taiwan as good as theirs. This irresistible crusty roti goes well with a cup of kopi-o kau!
Another popular choice is the French toast. Nothing beats this simple breakfast which is best eaten sprinkled with sugar.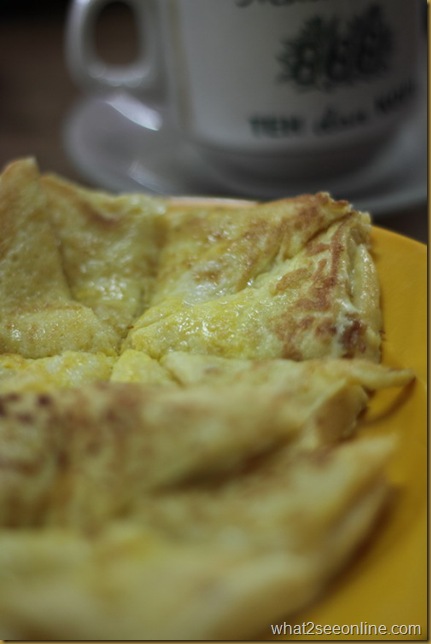 There are other mouthwatering delights of sweet and savory kuihs. The steamed sticky kuih kosui / kuih koswee with a soft and lumpy texture comes in a larger size as compared to those in small teacups size. I usually have both the pandan and the palm sugar version with fresh grated coconut.
The savory Chai Kuih (vegetable dumpling) with stuffing of shredded yambean is a delight with the accompanied chili sauce. The soft dough skin has a nice chewy texture.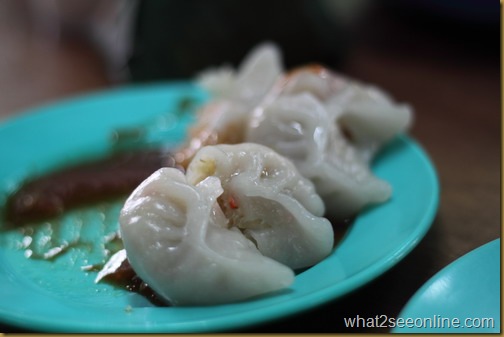 Do drop by this coffee shop whenever you have an appetite for these snacks or a filling meal.  Other specialties from this coffee shop are the Char Koay Teow and the Wanton Mee. Click here for the Map Location.
Eng Loh Coffee Shop
48 Church Street (Lebuh Gereja)
10200 Penang
Opening Hours : 8am – 3pm
Closed : Sunday
GPS Coordinate : N05 25.106   E100 20.457