Penang Japanese Restaurant – Sakae Teppanyaki & Izakaya, Autocity
* This article was published in the New Straits Times (Life & Times) on 23rd June 2010.
Sakae Teppanyaki & Izakaya outlet in Autocity Penang has a unique 2-in-1 dining concept under one roof. Its menu has a wide selection of sushi, teppanyaki and fusion specialties; not many Japanese restaurants has the variety of fusion specialties as found in Sakae!
During this visit, I opted to try out the latest items in the menu rather than having the usual Japanese fare of sushi and sashimi.
The Sakae Izakaya Special
Straight to the fine cuisines that we enjoyed!
A light appetizing appetizer was served to kick start the taste buds! Following this was the different flavored sauces and condiments which made good accompaniment for the dishes.
First up was the Live Lobster Mentaiyaki! The live lobster grilled with codfish roe & mayonnaise @ RM25 per 100 grams was served up extremely well. It was very easy to remove the flesh from the body as part of it had been shelled. A bib was included to crack open the claws which had a huge amount of flesh. Seafood lovers should not miss out on this scrumptious and creamy lobster. It was just heavenly.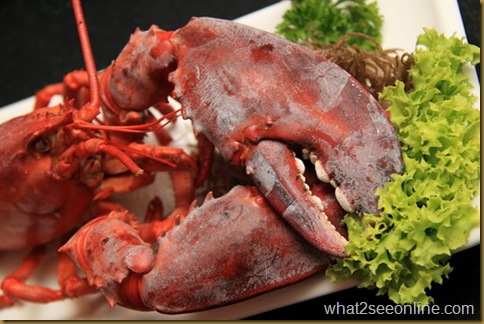 Live Lobster Mentaiyaki with fleshly claws

The lobster grilled with codfish roe & mayonnaise
Drunken Ebi Soup – The chef had the tiger prawns cooked with assorted vegetables and wine on the teppanyaki counter. In a short time, the dish @ RM9.80 was served sizzling hot. The wine added another dimension to this seafood dish. It was a joy indulging in the fresh and juicy prawns in the flavorful broth.
Drunken Ebi Soup cooked on the teppanyaki counter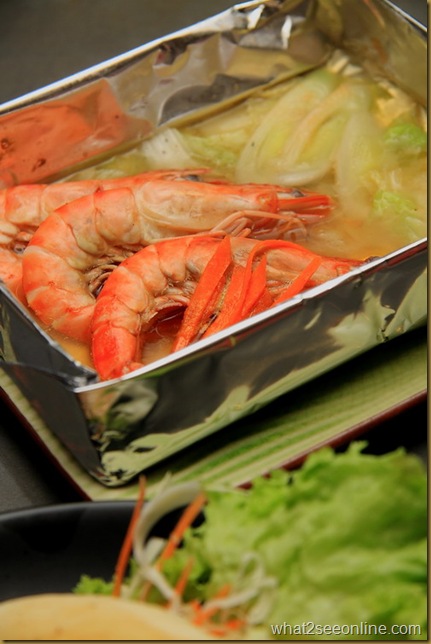 Besides that, I was also gastronomically seduced by the innovative Teppanyaki Wrap with Pita. You can choose to have the wrap with fillings of Salmon, Beef or Chicken. It was a nice change of routine to have pita bread instead of rice and I truly enjoyed it.
My pita bread was warmed on the teppanyaki counter and stuffed with the teriyaki Salmon and a basic salad. The blend of the salmon oil and the teriyaki sauce was perfectly balanced. A reasonably size yet pretty filling! The pita wraps are priced at RM 7.80 for Salmon, RM 6.80 for Beef and RM 5.80 for Chicken.
Salmon Teppanyaki Wrap
If you are inclined to relax after the meal, do head for Izakaya on the upper floor furnished with comfortable sofas and high stools by the bar counter. It is the place to chill out with drinks, accompanied by desserts and light food.
Teppanyaki counters located downstairs with the Izakaya area upstairs
Izakaya seating area – a great place to chill out
Moving on to the unique drinks!
The meal was well complemented with a selection of wines and cocktails. The few that I enjoyed were excellent. The Sakae Izakaya Special @RM 39.80 is one enormously popular drink and good to share with friends. Made of Sake, umeshu, cointreau & blue curacao, this unique concoction was absolutely irresistible in taste and sight!
Free Sakae Izakaya Special Promotion – Diners to Sakae will be pleased to know that this drink is free for diners whose birthday falls on the day of visit. Just present your identity card for verification and you are entitled to one free Sakae Izakaya Special (valid for one per table).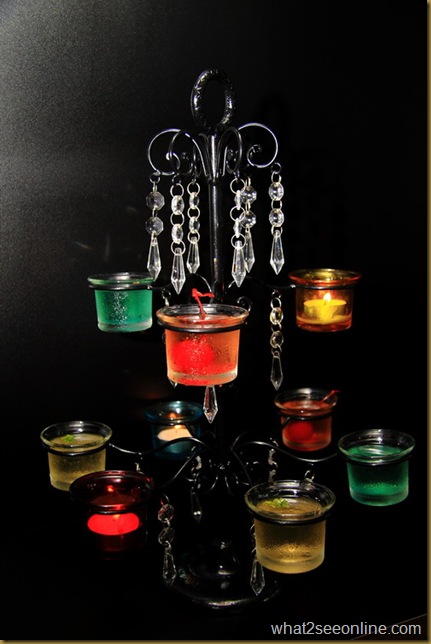 Next up was the Love Potion which is an ideal couple drink @ RM19.80. The drink has a lovely refreshing combination of blue curacao, vodka, umeshu, lemon juice and soda. The blue curaçao with an orange-flavor and citrus aroma gave the drink its blue color. The drinks were served in bottles topped with fruit.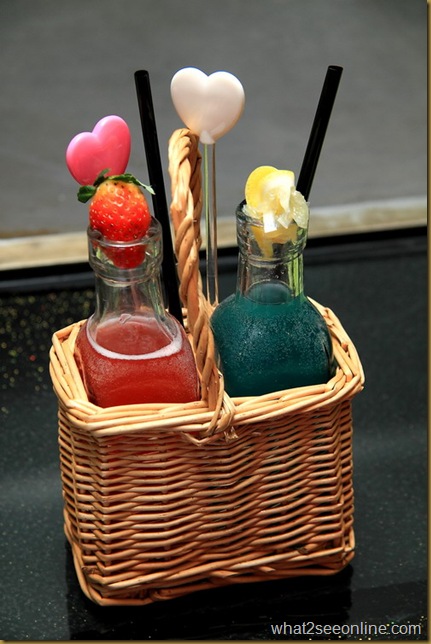 Pink for the ladies and blue for the gentlemen
Lastly, served in a small glass was Sweet Paradise with a mixture of sake, umeshu and grapefruit juice with a sweet and fruity taste. Placed in a unique cup holder, the shot was moderately strong but its sweetness was a sensation to savor!
Sweet Paradise (single shot) RM 6.80
The Love Fondue and the Trio Ice Cream ended the meal. Love Fondue is suitable for everyone with a plate of fresh strawberry, banana, green tea mochi served with decadent chocolate dip @ RM19.80
The much awaited Trio Ice Cream is available with three different flavors of peanut butter, shochu & rock salt made from their own special recipe. It is recommended leaving a space for these homemade ice creams. All the three flavors are good and you would definitely want to have all three of them.
One irresistible flavor is the rock salt ice cream which has a slightly sweet and salty taste to it. It was certainly a delightful new taste! The other creamy peanut butter ice cream has a heavenly aroma of peanut which has me hankering for more.
The Trio Ice Cream comes with flavors of peanut butter, shochu & rock salt
Sakae Teppanyaki & Izakaya has been kind enough to extend an excellent deal to all What2seeonline.com readers! With every spending of RM30 and above, there will be two complimentary homemade ice creams! Do print the voucher below for your visit!
The voucher is valid until 31st July 2010!
On the last visit with the food bloggers, many of us gave the feedback that the air-conditioned system around the teppanyaki counter was relatively warm. True enough, the management did look into it. The cooling air-conditioned now makes Sakae Teppanyaki & Izakaya a comfortable dining place!
Sakae Teppanyaki & Izakaya
1815-B Jalan Perusahaan
Auto City
North-South Highway
Juru Interchange
13600 Prai
Penang
Tel : 04 5080268
Business Hours : Mon-Thu (11.30am to 10pm) &  Fri-Sun (11.30am to 11pm)