Angliss Gold Bobby Veal Launch Event in Penang
There were a lot of events in town lately, and one event was the launching of the "Angliss Gold Bobby Veal". I had the pleasure of attending the event hosted by Angliss Food Sdn Bhd, one of the pioneers in the distribution of Halal temperature – controlled food products. The event exhibited their 1st ever Halal Chilled Veal in Malaysia at The Traders Hotel with the presence of food industry professionals and chefs.
Angliss Food was appointed by Pizern Marketing Sdn Bhd, the strategic partner of EP Marketing Sdn Bhd as the sole distributor of the Halal Bobby Veal.
The event started off with a presentation from representatives of both the company, giving everyone a little more insight into these young cattle, including where the animal comes from, the breeding and aging process before it gets to our plate. We learned much about the different cuts of meat, with different kind of cooking – grilling, braising and roasting.
Veal has the least fat of all the red meats. The meat is from the male dairy calves about four to six months old that have been fed solely on milk. The calves have a live weight not more than 170 kg (average 100kg).


Different cut comes with different tenderness and also different price tags…
The calves are halal slaughtered and chilled. Delivery of the meat to the neighboring states is much faster as EP Marketing has its own feedlot center in Rantau Panjang in Kelantan. This in turn guarantees freshness.
Banner displaying the different cuts
Several cuts of meat were slow cooked by Chef Siva till rosy pink, with a lovely brown crust.
Chef Siva hand cut the cooked veal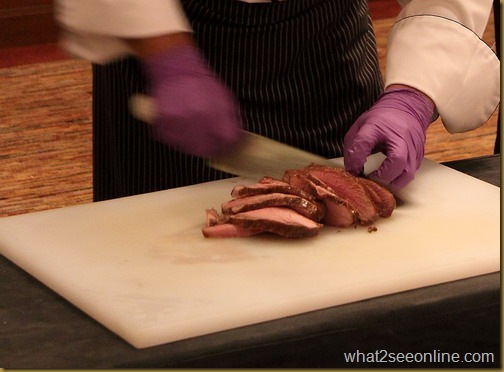 The meat of the young calf was tender, with a delicate mild beef taste. I leisurely savor every bite of it. I enjoyed the event, which enhanced me with much information to the origin of the meat.
Beautiful meat with tender texture
As much as I liked eating the veal, I would love to have it with an assortment of greens too. I am really looking forward to seeing the restaurants and hoteliers introducing the veal in their menu.