Wantan Mee @ Chee Meng Cafe in Jalan Dato Koyah, Penang
Breakfast on a Sunday morning was Wantan Mee at Chee Meng Cafe located in Jalan Dato Koyah. This stall, which was previously located in Tai Wah Cafe in Jalan Argyll, has it's regular customers coming back for more of  the noodles in this new location.
My plate of wantan mee at RM2.50 was dressed in dark soy sauce, garnished with pieces of lean red barbecued pork (Char Siew), shredded chicken, two reasonable sized wantan and vegetable. Besides the condiment of pickled green chili with soy sauce, the noodle also comes with homemade sambal. As for me, I am thoroughly happy with the sourish sweet pickled green chili.
Also recommended are the dumplings (sui kow) at RM0.60 each. The slippery smooth wrappers filled with fresh minced meat were served in an anchovy and meat based soup. The soup was clear and brimming with taste.
The main attraction of this stall is the noodle which is available in both flat (chor mee) and fine version (eu mee). It is either served dry or in soup with reasonable prices ranging from RM2.50 to RM3.30 (extra large). I love the noodle with the springy feel, al dente to bite and served without the excess strong flavor of sesame oil. The lean red Char Siew may not be the best texture compared to those juicy with caramelized edges but the chicken pieces and wantan were tasty nonetheless.
Dry fine noodle (eu mee)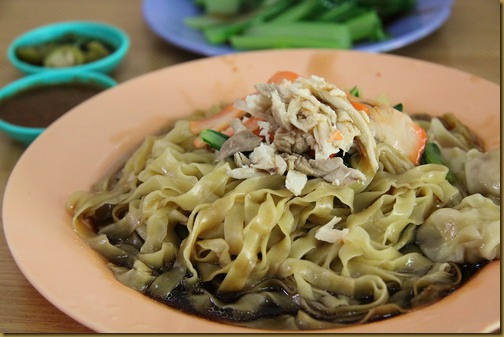 Dry flat noodle (chor mee)
It is best to go early to try out this wantan mee. Waiting for a table and having to sharing tables are the norm here especially during peak hours.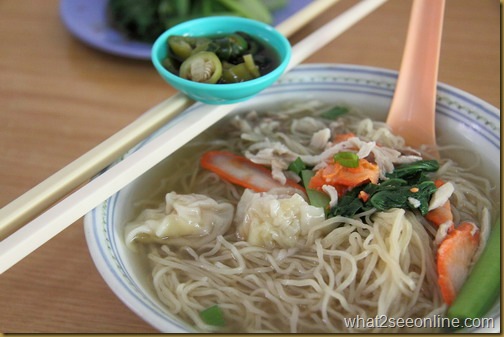 Bowl of fine wantan mee served in clear broth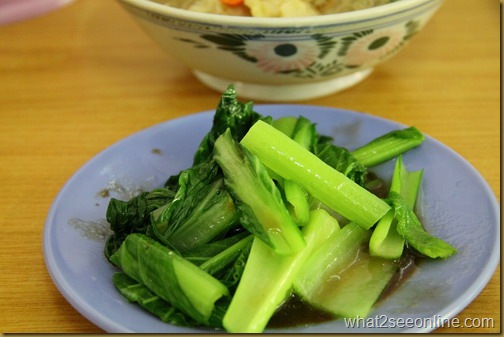 Plate of blanched vegetable
Click here for the Map Location. This wantan mee stall is located in Jalan Dato Koyah, a short road that joins Clarke Street and Penang Road.
Wantan Mee
Chee Meng Cafe
20 Jalan Dato Koyah
Penang
Business Hour : 7am till 1pm
Closed on Tuesday
GPS Coordinates : N05° 25.193′   E100° 19.899′
***Updates  1/7/2011 – The owner has since shifted back to Tai Wah Cafe in Jalan Argyll.