Penang Hokkien Mee for those with heat-proof hands at Air Itam!
Dining with a twist would be more appropriate! Imagine holding a piping hot bowl of Hokkien Mee with your bare hands, while eating the steaming hot noodles! It is indeed an interesting experience, all taking place with the bustling traffic of the busy intersection of Jalan Air Itam and Jalan Kampung Melayu just mere steps away!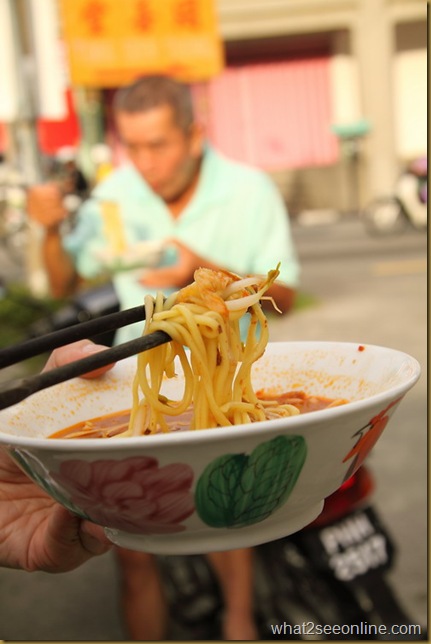 Air Itam's famous Hokkien Mee
Eating Hokkien Mee at this stall is really an experience of its own! Customers who turn up for a bowl of noodle at this stall has to make do with either standing or squatting, as there are no tables or chairs!
Amazingly even without it, Mr Neoh and his wife has successful run this Hokkien Mee stall for the past thirty years!
This unique Hokkien mee comes in a slightly spiced broth with basic ingredients of lean meat and tiny prawns, garnished with plenty of fried shallots. The ingredients are simple and basic, unlike other stalls that offer plenty of add-ons! This really maintains the authenticity of the original Hokkien Mee.
A basic bowl of Hokkien Mee with strips of lean meat and slices of prawns cost RM2.50. Any additional add-on of these ingredients will be charged separately.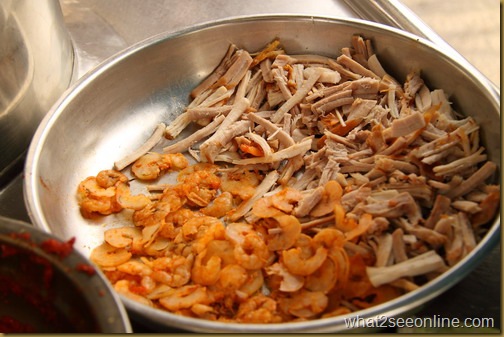 The noodle is served in a piping hot soup with a spoonful chili paste and topped with fried shallots. The soup was light yet flavorful, much better than many of the Hokkien mee that I had tasted around the island!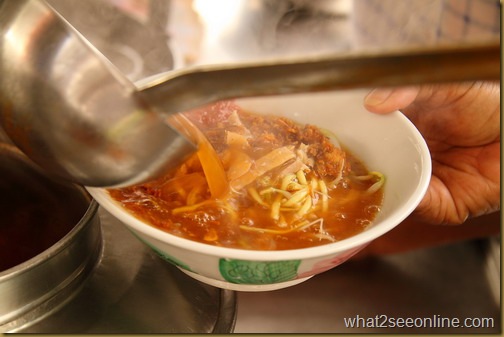 The hilarious part about my dining experience there was that the bowl was so hot that I have to stop and put the bowl down several times on the stall throughout the meal! I definitely don't have heat-proof hands as compared to their other customers. The owners were smiling at my little antics, and advised me to bring along a hand towel on my next visit!
The scalding hot pot of soup was heated up and kept warm using charcoal fire throughout their entire duration of business hour. It was really a pleasure sipping up the flavorful soup while chewing on their smooth noodles!
Perhaps many would think twice of patronizing this stall but many of its die-hard customers are willing to brave the heat just for the bowl of Hokkien mee! The business is very good with customers dropping by on and off, with a number of them eating there besides the takeaways.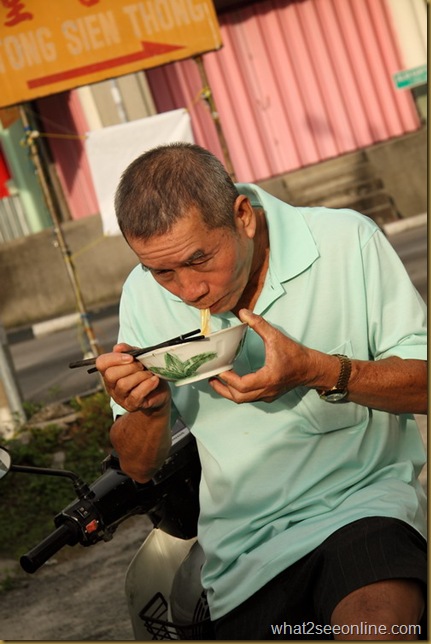 This regular customer indulging in the delicious Hokkien Mee!
Click here for the Map Location. The stall is located directly opposite Min Jiang coffee shop.
Hokkien Mee
Junction of Jalan Air Itam/Jalan Kampung Melayu
Pulau Pinang
Business Hour : 3pm till around 7pm
Closed on Tuesday
GPS Coordinate : N05 24.271   E100 17.290