Villa Maria Wine Dinner Extravaganza at Cassis, Penang
*This article was published in the New Straits Times (Life & Times) on 16th October 2010.
The Villa Maria wine dinner held in Penang bought many food connoisseurs together for a night of fine indulgence. This event was held in the trendy Cassis Restaurant, the fine dining restaurant outlet in the bustling Pulau Tikus area.
The guests were greeted with a warm welcome by William Chong from Asiaeuro Wines & Spirits and Villa Maria's Asian Market Manager, Charlotte Read. The enchanting night saw the serving of the refreshing white, Villa Maria Private Bin Marlborough Sauvignon Blanc 2009. The taste was delightful, vibrantly bursting with flavors of ripe gooseberry, passion fruit and fresh citrus lime!
Charlotte introduced the varieties of wines offer from the different regions in New Zealand which was paired with the six-course meal. The dinner started with the versatile Villa Maria Private Bin East Coast Gewurztraminer 2009. This wine was blended from fruit sourced in Gisborne, Hawkes Bay, Auckland, Marlborough and Waipara.
This aromatic wine was paired with the rich Foie Gras, seared with its side slightly crispy and melt-away tenderly on the inside. It was a fine pairing, as the delicate and classic varietal aromas of rose petal, quince and ginger spice went hand in hand with the foie gras.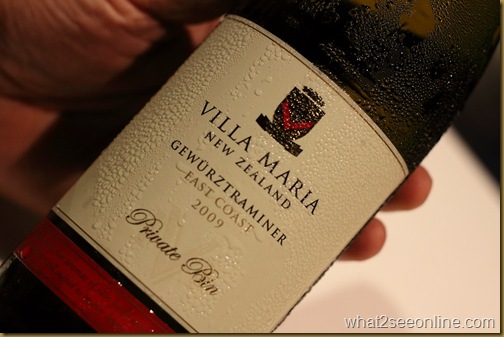 Gewurztraminer – a pleasant and full-bodied wine
The next course of Scallop with hon shimeiji, truffle cream and chervil was paired with the Villa Maria Reserve Chardonnay Marlborough 2007. This rich complex wine with a youthfully tight nose and core of lemon and mineral is slightly acidic on the palate, with a long lingering finish.
Followed up was the Duck Breast served with wild rocket, poached pear accompanied by black pepper jus. I was pleased to discover that the gamey flavor of the duck goes well with  the rich red wine of Villa Maria Cellar Collection Hawkes Bay Syrah Gimblett Gravels 2006. This full bodied wine with soft tannins was packed with dark fruits of ripe blueberry, red plum and peppery spicy aromas.
The Syrah fruits are source from selected sites throughout Hawkes Bay region, which is known for producing some of New Zealand's best Syrah, Cabernet Sauvignon, Chardonnay and Merlot due to its ideal climate and type of soil.
The Atlantic Salmon is a lovely fish fillet laid on spinach, truffle mash in Villa Maria cab-merlot reduction. The full flavored fish was deliciously fresh with flaking meat and paired well with the chilled Villa Maria Private Bin Hawkes Bay Merlot Cabernet Sauvignon 2008.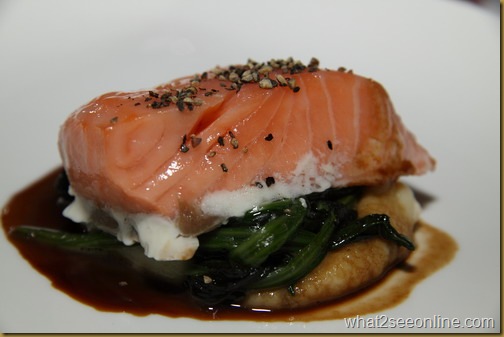 This wine is delightfully easy on the palate! Featuring sweet elements such as red cherry and raspberry, its taste is further enhanced with fine grained tannins! Simply delightful!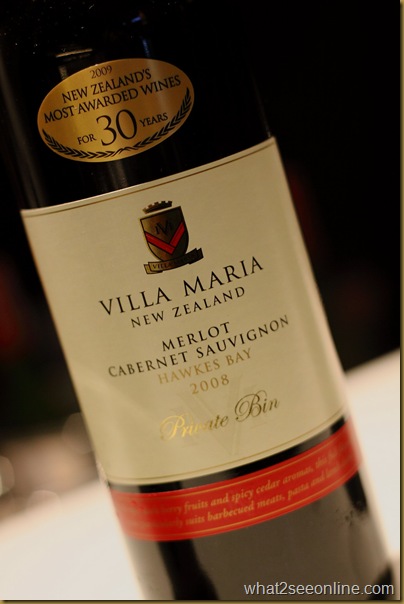 Another highlight for the evening was the Villa Maria Private Bin Marlborough Pinot Noir 2007. The wine was crafted with fruit from several vineyards in the Awatere and Wairau Valleys of Marlborough.
Dissimilar to the other wines for the evening, this complex yet spicy ruby red wine was perfumed with ripe cherries and raspberry fruits. Silky fine-grained tannins defined the wine strongly, but it was absolutely optimum for immediate consumption.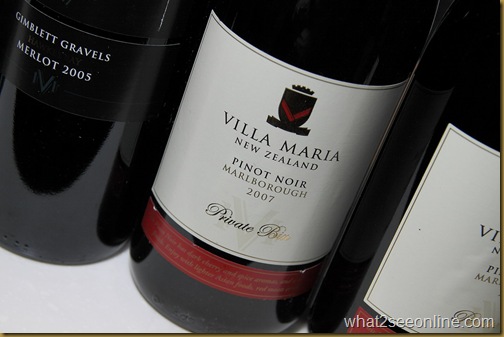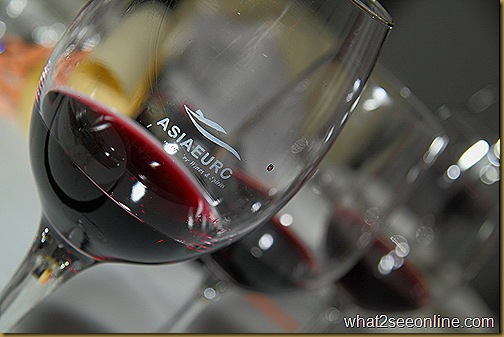 The main course of pork belly was soon served. The rich flavor of Villa Maria Reserve Hawkes Bay Merlot 2005, worked well with the piece of pork marinated with cherry. The succulent piece of pork was served on creamy white bean puree, topped with watercress foam.
A dense nose peppered with black berries, floral violets and spices would be a fine way to describe this wine, it is simply seductive as any great Merlot should be!
The night ended with dessert of White Chocolate Mousse with Fresh Berries and Cookie Crumbs, echoed by the many more clinking of glasses. It was a fantastic event and I was absolutely intrigued by the vast variety of wines from Villa Maria. More information of the Villa Maria wines can be found at http://www.villamaria.co.nz/
What2seeonline had the pleasure to attend this event at the invitation of Asiaeuro Wines & Siprits.