Taiwan Foods (Hawker Style) near Queensbay Mall, Penang
* This article was published in the New Straits Times (Life & Times) on 17th November 2010.
Taiwan Foods is located in Double 33 Kopitiam, a corner shop lot along Jalan Aziz Ibrahim, with the Queensbay Mall just a stone's throw away. This place is perfect for a simple quick lunch. The menu is pretty straight forward, serving mostly rice dishes and noodle dishes with several types of braised meat.
Whenever we are near the area, we would drop by for a meal in this stall, which is on the same row with the Kampar Fish Jelly Restaurant.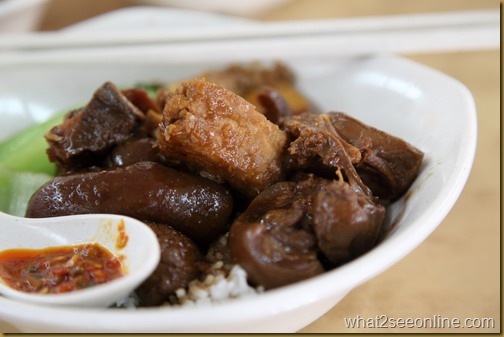 One of their best sellers is the Kung Fu Chicken Rice RM3.50, cooked in a flavorful gravy that complement the chicken's taste and texture. The tender braised chicken meat was spread over the bowl of rice, accompanied with vegetable and half an egg.
The Popcorn Chicken RM3.50 (small) is a Taiwanese street fare which many of us are familiar with. The pieces of deep-fried chicken meat was sprinkled with seasoning of pepper, chili and fried basil leaves. It particularly stands out because of its crispy and tender taste. The seasoning is the magic ingredient for this dish, creating a burst of flavors.
It is definitely worth trying the JokBal Yam Rice. Priced at RM5.50, the bowl of rice comes with many thick pieces of comforting braised pork trotter in a rich gravy with half an egg and some vegetables. The melting flavors of the pork along with the delicious soy sauce and its tenderness from long hours of braising was fabulous. The accompanying yam pieces were soft and flavorful too!
The pieces of yam have been infused with the flavor of the gravy
Braised minced pork in black gravy was laid over the bowl of white rice accompanied with vegetable and half an egg. The taste of this simple bowl of Minced Pork Rice RM3.50 was rather bland if compared to the rest but anyway, it is a hearty dish.
Taiwan Food offers several delicious side dishes as well, including the Stewed Tofu RM2.50 which comes served in a delicious soy sauce with a pleasant aroma. Do request this humble dish with some added chili sauce for that extra flavor. Taiwan Foods do churn out surprisingly appetizing chili sauce. It is simply irresistible that I requested for another small serving.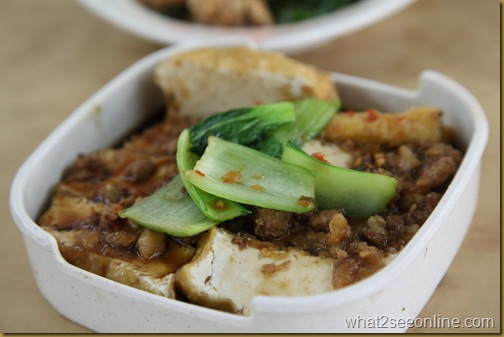 Beside serving rice as an accompaniment with the dishes, Taiwan Foods also dishes out some impressive noodles as well. During recent visit, we enjoyed the Braised Pork Noodle and the 3 Cups Phoenix Noodle! The springy noodle was tossed with slight dash of black sauce. The pork noodle packs a punch, with two beautifully stewed slices of meat, however the taste of the braised chicken with basil leaves was too thin in flavor.
Braised Pork Noodle RM5.50
3 Cups Pheonix RM5.50
These noodles and rice dishes are perfect for a quick lunch, especially for the throngs of office workers around! Taiwan Foods certainly gives a ground running with it's pricing and the varieties.  If you have an appetite for these simple dishes, then head over to Taiwan Foods. Click here for the Map Location.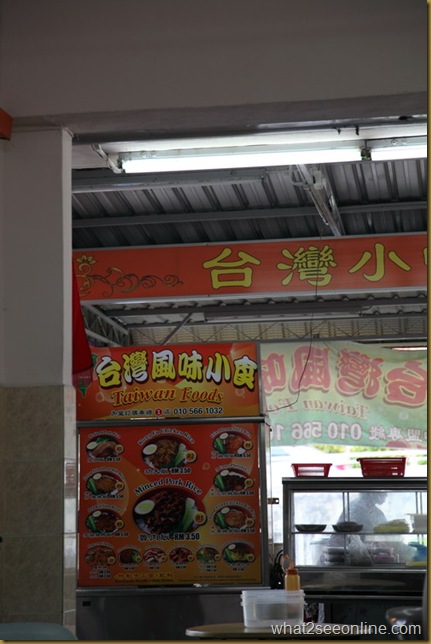 Taiwan Foods
Double 33 Kopitiam
Jalan Jerjak
Penang
Tel : 010 5661032
Business Hour : 11am till 4pm
Closed on Wednesday
GPS Coordinates: N05° 20'20.5″    E100° 18'17.8″