Chef Nizar Achmad cooking up a storm at Suffolk House, Penang
* This article was published in the New Straits Times (Life & Times) on 26th November 2010.
An evening had me driving to Suffolk House to meet up with guest chef, Nizar Achmad. It was great to know that the chef is invited to cook at the restaurant which is situated in the "Great House of Penang". Originally from Surabaya, Chef Nizar Achmad love affair with food and wine has inspired a culinary sojourn that has taken him to all corners of the globe, including Australia, New Zealand and Stockholm where he lived there for 14 years before returning to his homeland, Indonesia.
The 35 year-old Nizar had cooked for the 2008 Nobel Prize Dinner held at City Hall Stockholm as well as at the Michelin Star restaurant Feichmaker in Norway. To add a feather to his cap, one of his own restaurants in Sweden, Carpe Diem earned 2nd place among the "Top Five Restaurants in Sweden" while his Lugnet Bar & Restaurant regularly saw Crown Princess Victoria as diner.
After being exposed to two diverse gastronomic culture altogether, Chef Nizar has intertwined and harmonized them to create dishes that are beyond the stereotypical. His food concepts are green fusion with an organic focus, seasonal, back to basics, heartfelt and passionate – all which partially drawn from his Indonesian heritage with a little bit of fun and modern taste kicks tossed in.
For his stint in Penang, Chef Nizar has the Table D'Hote Menu lined up with a nice selection of seafood, poultry and steak with prices ranging from RM95 to RM150. The price comes with a set consisting of amuse bouche, soup, salad, cheese platter, dessert and coffee/tea.
TABLE D'HÔTE MENU
AT SUFFOLK HOUSE
~*~
Creamy chanterelle soup, rum & ginger crème
*Handpicked chanterelle mushrooms from the Swedish forest, picked by chef Nizar.
~*~
Lime beetroot, salad & lemongrass balsamic
***
Choice of mains
Rooibos tea cured Swedish salmon, feta black rice risotto, black & red rom, crab orange bisque
RM 135
Or
New Zealand lamb, "quesadilla" chevre ala chapatti, lamb confit, ginger sour peel, rosemary jus
RM 140
Or
Australian grainfed beef tenderloin rolls in variety of nuts, Swedish trumpet mushroom
Anna potato, French truffle, aioli, Provencal tomato, red wine sauce
RM 150
Or
Vegetarian pasty lasagna, plum sauce, walnuts, parmesan
RM 95
Or
Szechuan duck, yogurt and rose soya tatin, thyme sauce
RM 130
~*~
Assorted cheese with homemade compote
***
Raspberry tart, chili ginger whisky truffle, homemade pistachio ice cream
***
Nespresso coffee/tea
The food kicked off with the amuse bouche of appetizing Harissa baby octopus, followed by the chanterelle soup. The delicious creamy decoction was packed with the flavor of mushroom and pleasant with hint of rum and ginger. "Chanterelles mushroom are hard to come by and these wild mushrooms were personally handpicked by me from the Swedish forest," he says.
Light and deliciously flavored Harissa baby octopus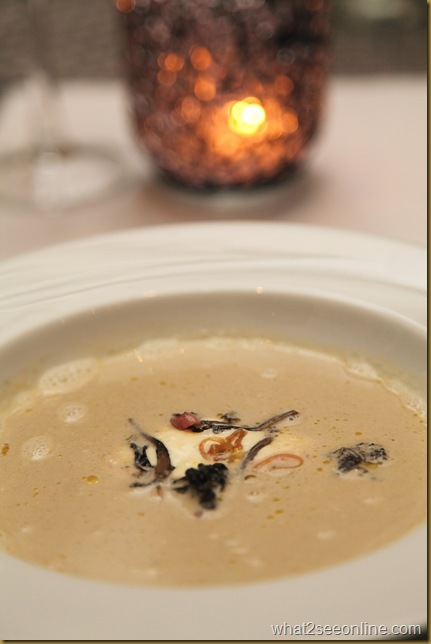 I feasted on the salad which was mesmerizing with an array of colors and textures. The dish with diced lime beetroot, cashew nuts, tomatoes and lettuce was deliciously enhanced by gentle use of lemongrass balsamic with a slight hint of lemon flavor.
Bright and flavourful salad
The main courses were robust. The Rooibos tea cured Swedish Salmon was topped with black and red rom. Chef Nizar had incredible flavors and colors brought together to this dish by adding in feta black rice risotto and rich crab orange bisque. The rice was rich yet slightly chewy. The salmon flesh was smooth in the center, while the skin slightly crispy by the edges; it is perfect for salmon lovers. It teamed beautifully with the refreshing Malan Cape Blanc with fruity aromas.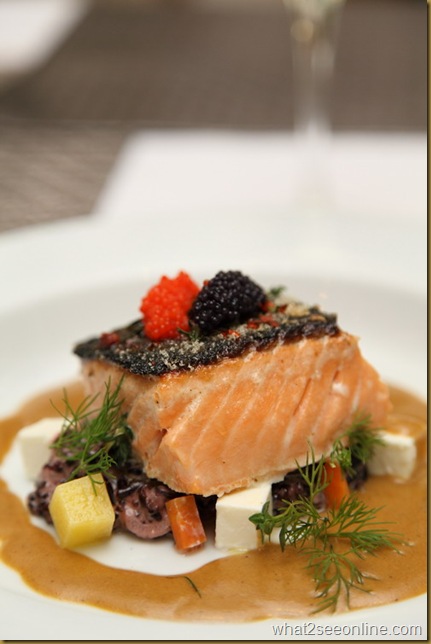 The Szechuan duck was different from the ordinary Chinese roast duck. Though it sounds Oriental, the duck was served with yogurt, rose soya tatin and thyme sauce. Chef Nizar recommended that the duck be slightly pink in the middle to retain its tenderness. This poultry with its lean and firm texture paired well with the Arrabel Merlot.
The fine plate of assorted cheeses was served at the end of the meal. It comes with Chef Nizar's very own sensational compotes: jackfruit with cinnamon, tomatoes with chili and rosemary with pineapple. The compotes were pleasantly delicious with the cracker and cheese, particularly the Camembert which was my favorite.
Life is sweet with the dessert plate of scrumptious homemade pistachio ice-cream, raspberry tart and chili ginger whisky truffle. In case you have not tasted chili, ginger and chocolate together, you really have to give it a try. The ice-cream on the other hand was rich and packed full of pistachio nuts. The dessert and a cup of Nespresso  rounded up the meal which was exquisitely prepared with impeccable service.
Chef Nizar's style is evident in his cooking, as he places his signature on every dish. The combination of different ingredients and a bit of fantasy might sound slightly bizarre but after tasting them, it was indeed a pleasant dining experience.
Chef Nizar expressed appreciation to Yeoh Kah Hock, the main man behind the running of Suffolk House restaurant, for inviting him to over to Penang. He would be staying on till 18th December 2010, which gives Malaysians an opportunity to sample his delicacies. What I had might not be in the menu tomorrow as Chef Nizar will be replacing them with other flavors.
Click here for the Map Location. Suffolk House is located on Jalan Air Itam, next to the Malaysian German Society. If you are coming from Air Itam, look out for the left small lane before Methodist Boys School. This lane will take you passing by the Malaysian German Society and eventually to Suffolk House.
Suffolk House Restaurant
Suffolk House
250 Jalan Air Itam
10460 Penang
Tel: 04 2283930
Business Hour:
Lunch from 12 noon – 3pm
Tea from 2.30pm – 6pm
Dinner from 7pm – 11pm
Website : http://www.suffolkhouse.com.my/