Fish Head Curry at Chee Wah, Lebuh Melayu Penang
 * This outlet has since closed down

Fish head curry is an all time favorite delicacy for many. The fish head curry is categorized into many different styles of cooking with their respective combination of spices: Indian style, Nyonya, Chinese and Malay! There are those which are spicy and sourish while others laden with thick coconut milk. All in all, there is plenty of variety when it comes to Fish Head Curry.
There are several good places for folks to enjoy a fish head curry meal in Penang and one worthy destination is at Chee Wah. Nestled amidst a row of shoplot in Lebuh Melayu (Malay Street), it is a popular place among office workers during lunch hour.
When it comes to fish head curry, Chee Wah has a fine version, with the fish head cooked in an Indian-style curry sauce with a generous dose of spiciness without the usage of coconut milk. It is indeed a healthier option as well, especially with everyone getting health conscious nowadays.
The commonly used fish for the curry is "kalak", which is also known as the gold band jobfish. Besides that, Chee Wah does offer add-on seafood ingredients of sotong (squid) and prawn.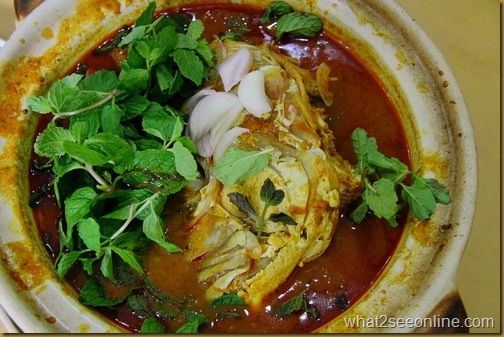 The fish head curry came piping hot in a fairly big clay pot. Its steamy aroma wafted around the place when the lid was lifted. The medium size fish head had a good portion of flesh.
The semi-thick curry was garnished with toppings of fragrant mint leaves and raw pieces of onions which enhanced the flavor of the curry. It was warmly spicy and delicious coupled with tomatoes and young tender lady's fingers. The aromatic curry sauce with the distinctive fragrance of the curry leaves had us whipping up our appetites, with additional plates of rice!
There are a few side dishes which complemented the fish head curry. We thoroughly enjoyed the delicious fried garlic chicken which was well seasoned. Every bite was bursting with flavor, and the fried chicken was a good complement to the piping hot curry!
Chee Wah offers a decent choice of greens! As our main dishes were heavily curried and flavored, we opted for the Choy Sum and Yau Muk stir fried with garlic. These two simple dishes rounded off our meal perfectly!
While the fish head curry is arguably the most popular dish in this restaurant, the economy rice counter does attract many customers too. There are a few varieties of dishes that you can choose from the counter, including deep-fried prawn fritter and braised pork.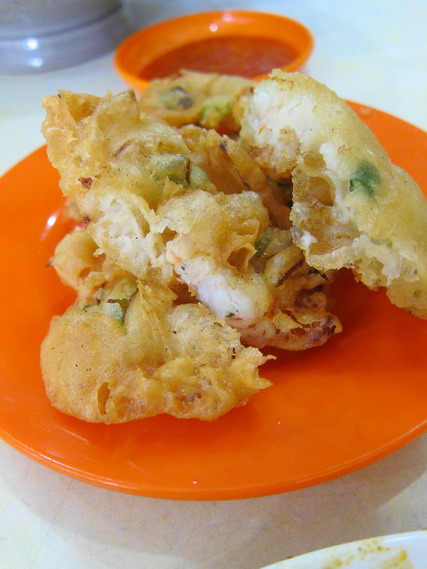 Deep-fried prawn fritters to munch on while waiting for the food
Get a taste of this fish head curry from this eating place which is noticeable from afar by the blue and white umbrella. The interior is fully air-conditioned. Click here for the Map Location.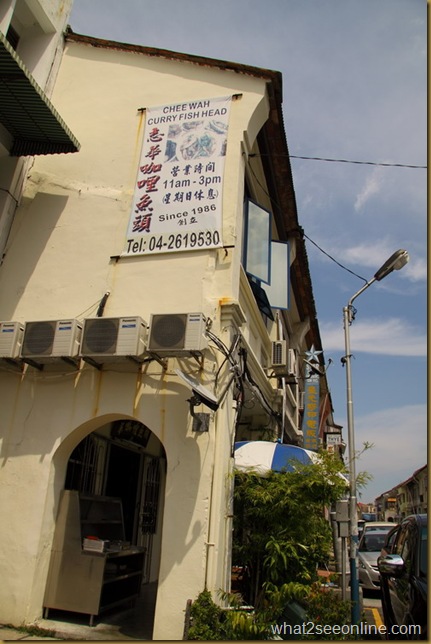 Traffic is one-way in Lebuh Melayu
Chee Wah Fish Head Curry
68 Lebuh Melayu
10100 Penang
Tel : 04 2619530 & 012 5607042 (Loke Chee Wah)
Business Hour : 11am – 3pm
Closed on Sunday
GPS Coordinates: N5.414007   E100.334878
* This article was published in the New Straits Times (Life & Times) on 22nd November 2010.