Agua Mediterranean Cuisine in Straits Quay, Penang
BY CK Lam
* This outlet has since closed down and replaced by Five27

The newly opened Agua is another addition to the booming food scene at Straits Quay, Penang. This restaurant offers Mediterranean cuisine with flavors from Morocco, Spain, France, Middle East and Italy. I recently visited this outlet as we celebrated the farewell of  beloved friends, Adam & Ryan.
We had our appetite well stimulated with several starters. The Agua Special was a platter of delicious imported sausages and ham packed with herbs and spices. Everyone enjoyed the taste of these finely sliced delicacies which was wonderful with the accompanied olives and cheese. This was indeed a perfect dish to start off with.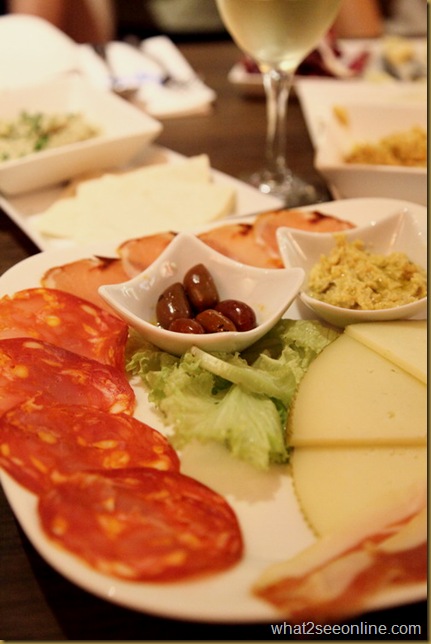 Agua Special RM42.90 – combination of meat and cheese
We settled for a few Tapas from the menu – some classic others novel. The dishes arrived with a wonderful selection of breads. Some highlights included Pan Con Tomate (RM6.90) with pieces of toasted Ciabatta bread grated with garlic, tomatoes and topped with olive oil. The Baba Ganoush (RM11.90) of roasted aubergine mousse with Tahini and the Humus of Lebanese chickpeas and Tahini mousse was served with the pita bread.
Other simple and tasty Tapas included Baked Sardines, served cold with bread. The fish with a lovely blend of flavors was drizzled with freshly squeezed droplets of lemon juice.
Baked Sardines RM18.90
The homemade Chicken Liver Parfait was an exciting Tapas dish. The brandy flavored spread was smooth and went well with the crispy toast. The addictive taste and texture will definitely appeal to most pate lovers but for many who have yet to taste it, pate is an acquired taste.
Besides the Tapas, there was a colorful Salad Nicoise, prepared with a medley of vegetables, including beans, tomato, potato, hard boiled eggs, tuna, anchovy and olive. The ingredients combined well with the saltiness of the anchovies and sourness of the olives. This salad rounded up the meal nicely.
The main course followed and our tastebuds were treated to the Medallions Pork. The slightly brown pan-fried meat was piled on the plate with servings of caramelized shallots alongside baked herbed potatoes. The pork was tender.
Medallions Pork RM36.90
We also had the seafood Paella, Agua Signature Authentic Rice Dish. Everyone was rather impressed when the flat pan of paella emerged from the kitchen. The serving was big in size, and it was very filling. This piping hot dish has a distinctive flavor from the prawn, squid, mussel, chicken, pork and spices. We finished this dish with slightly toasted rice from the bottom of the pan – an absolutely interesting texture!
This dish is priced at RM42.90 per person, for a minimum of two people. Do bear in mind that there is a minimum twenty-five minute  wait for this dish.

Paellas – best known dish from Spain
Agua has a small yet nice selection of wines. Our dinner was complemented with a bottle of Tyrrell's Wines Chardonay (RM145 nett), a Michel Lynch Merlot (RM155 nett) and a BYO bottle of Piper-Heidsieck Champagne. At Agua, the corkage charge is RM25 nett.
Last but not least, was the Frozen Banana Lemon Mousse. I thoroughly enjoyed the cool smoothness of this appetizing sweet-sourish dessert.
Frozen Banana Lemon Mousse RM12.90
It was a great outing, with awesome company and delicious food. Click here for the Map Location of this restaurant which has great indoor and soothing sea-facing al fresco seating.
Agua Mediterranean Cuisine
3A-G-18 &19 Straits Quay
Jalan Seri Tanjung Pinang
Tanjung Tokong
10470  Pulau Pinang
Tel: 04 8908668
Business Hour : 11am – 11pm Daily
* This is a reproduction of my article published in New Straits Times