Edgecumbe Road Pasembor & Mee Goreng @Kompleks Makanan Persiaran Gurney
* This article was published in the New Straits Times (Northern Streets) on 2nd February 2011.
It's been sometime since I last visited Kompleks Makanan Persiaran Gurney (KMPG). It is located along the Gurney Drive seafront promenade. It is small by any standard, and is occupied by a few Mamak hawker stalls. However, despite its size, this place has built a reputation for offering delicious mee goreng and pasembor, known also as the Indian rojak.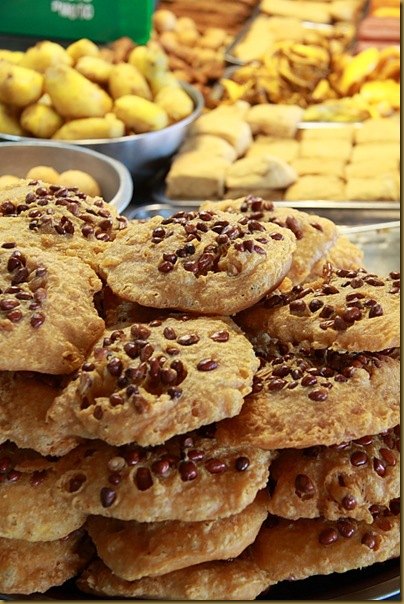 Till today, the Edgecumbe Road Pasembor still dishes out a great plate of  the pasembor to its customers. There is a wide selection of specialty items besides the common ingredients that everyone can choose from to suit their appetite. The fresh and fried items are neatly displayed along with the prices clearly stated.
The pasembur ingredients are usually drizzled with the orange-ish spicy and sweet peanut sauce to offer a unique mix of textures and flavors. It is filled with strips of cucumber, sengkuang (yam bean), blanched bean sprouts, crispy bits of crackers, cucur udang (deep-fried prawn fritters),  slices of bean curd, hard-boiled eggs and boiled potatoes. For those who do not like the pasembor covered with gravy, you can consider having it serve separately.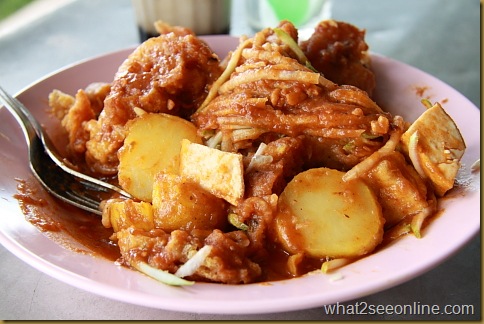 The choice of beverages are aplenty and I just adore the refreshing coconut drink  and the three layer iced tea. The latter has the comforting flavors of tea (top layer), milk and gula Melaka (palm sugar). Needless to say, the cool coconut drink is a great match to the food.
Besides the pasembor, this food court also houses the Edgecumbe Road mee goreng stall. The mee goreng is fried moist with sweet and spicy chili sauce, together with boiled potatoes, bean sprout, spicy cuttlefish stewed in thick sauce and cucur udang (prawn fritters). Topped with crispy fried shallot and chopped spring onions, the plate of mee goreng is best enjoyed with a drizzle of  lime juice.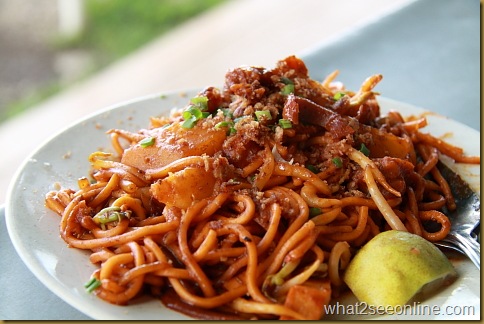 The combination of pasembor and the mee goreng makes this place very popular. Click here for the Map Location.
Kompleks Makanan Persiaran Gurney (KMPG)
Persiaran Gurney
10250 Penang
Business Hour : 8am – 7.30pm
Closed on Friday
Halal Food
GPS Coordinates : N5.434161   E100.314981