Lavish Meal on Valentine's Day at Parkroyal Hotel, Penang
For the coming Valentine's Day, Parkroyal Hotel has prepared their menu with a lavish selection of dishes. Diners get to celebrate this event on 14th February over a romantic 8-Course Set Dinner either in the romantic ambience of The Tiffins or in the relaxing surroundings in Uncle Zack By-The-Beach.
The set dinner priced at RM398++ per couple is inclusive of a Valentine Champagne Cocktail, a bottle of wine, a beautiful red rose and heart shaped pralines. There is an amazing array of offerings in the set dinner, starting with the amuse bouche and Cured Salmon Carpaccio. The Crepinette of Quail had the Quail leg stuffed with foie gras, served with potato gnocchi and poultry cream sauce.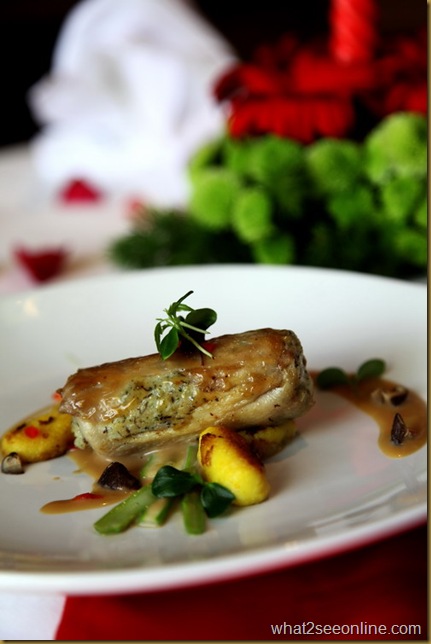 The menu had the plate of Chicken Consomme. The clear broth delightfully flavored with the sweetness of the chicken, was served with candy shaped pasta filled with porcini mushroom.
Love potion with a candy shaped pasta
There are several choices for the main course to choose from: Porcini Crusted Beef Tenderloin, Braised Lamb Shank and the Broiled Seabass Fillet.
The thick pieces of seabass were lightly sauteed in extra virgin olive oil. Piled high on top of the greens, the fish was complemented with souffle potato, roasted vine tomatoes and set with citrus and fresh diced tomato butter sauce. All the flavors melted together wonderfully.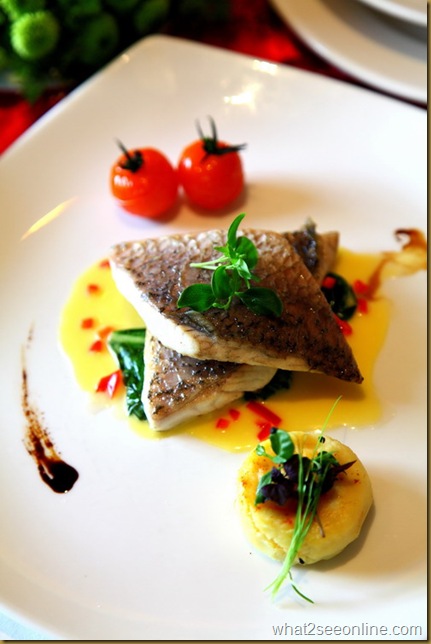 Broiled Seabass Fillet
A harmonious suite of flavors come together in the Caramel Chocolate Mousse which was paired with the apricot confit and the jamoca almond fudge ice cream from Baskin Robins. Furthermore, this meal includes a cup of Cappuccino or Espresso together with heart-shaped chocolate pralines.
Caramel Chocolate Mousse (2 person sharing)
The optional drinks for the occasion include red wine and cocktail. The Love Bite Cocktail with gin, cream of banana, orange juice, pineapple juice, lime juice and dash of Geraldine is definitely one of the better cocktails around.
Love Bite Cocktail @ RM36
Parkroyal Penang
Batu Ferringhi Beach
11100 Penang
Tel : 04 8811133  ext 8888 (for reservation)