Beef Noodle & Steamboat at Kang Beef House, Penang
BY CK Lam

Kang Beef House is the place for all things beef, and it is the ideal place to explore if you are a beef lover. The beef is served in a variety of ways, be it soup noodles, stir-fried dishes or steamboat. We made several visits to Kang Beef House since its opening last year.
The most common dish here is the bowl of Beef Koay Teow, priced at RM6, RM8, RM10, RM12 and RM15.  It comes with a light broth, drawing flavor from an assortment of beef parts, including beef slices, meat balls, brisket and stomach. We enjoyed slurping the smooth koay teow along with the tasty soup.
Steaming bowl of Beef Koay Teow

In addition to the soup noodles, Kang Beef House also offers a range of stir-fried beef dishes. Among the crowd pleasers is the Dry Fried Hor Fun with Beef. The noodles are cooked with intense fire (wok's breath), and a quick stir-fry keeps the lean pieces of beef moist and tender.
Dry Fried Hor Fun with Beef – RM9.80
The Beef Fried Rice proved to be a hit with us. Kang had the rice done with fresh slices of beef, egg and spring onions. Every mouthful is tasty.  It is definitely a nice change from the usual fried rice sold elsewhere!
Beef Fried Rice comes with a bowl of meatball soup
Another highlight is the well-known beef dish – stir-fried beef with ginger and onion. The beef is perfectly cooked, juicy and tender, with an addictive balance of flavors from the ginger and spring onions. It is warm and comforting with a bowl of white rice.
Kang Beef House serves beef balls in an interesting way, as they are prepared golden brown, covered with croutons and flour. The crispy bouncy beef balls are addictive with the home made chili sauce.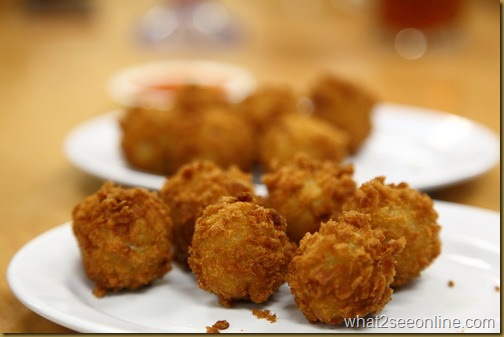 Crispy Beef Ball (6pcs) – RM4.80
Also available is the beef steamboat. Kang beef steamboat comes in a simmering metal pot of  broth with a selection of ingredients. The mild soup boiled with radish and preserved vegetable has a light clean flavor. It is priced at RM20 per person with a minimum order of two persons.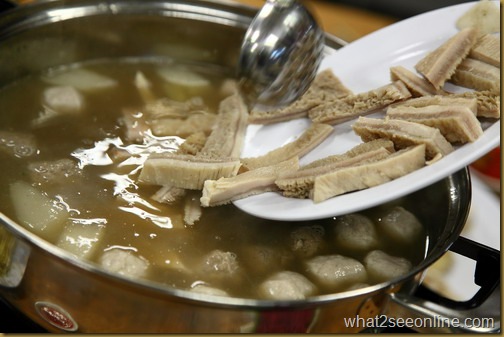 Beef Steamboat
For the big pot of beef soup, we ordered a bountiful of ingredients – thinly sliced beef, leafy vegetables, beef balls, brisket, intestines, tripe and  tendons.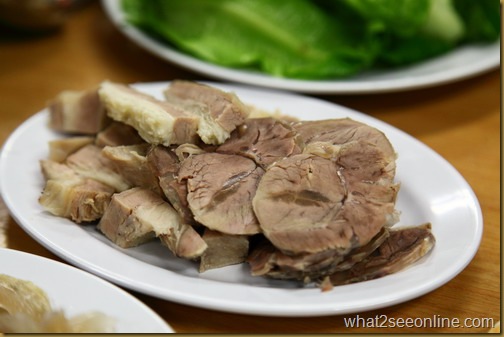 There are standard condiments, namely the chili sauce and cut chili padi in soy sauce.
Other dishes on the menu include claypot beef soup and herbal beef soup. The smallest claypot costs RM8 while the herbal version is at RM7.
 This beefy restaurant is always a delight to visit for a wholesome meal or just a simple bowl of noodle. It is located in between Jalan Jelutong and start of Jalan Perak. Click here for the Map Location. Car park spaces are available in Jalan Perak and right  infront of the shop.
Kang Beef House
474 Jalan Jelutong
11600 Penang
Tel: 04 2810892
Business Hour: 12pm – 2.30pm &  4.30pm – 10pm
Close on Tuesday
GPS Coordinates : 5.392588   100.313886
* This article was published in the New Straits Times (Life & Times) on 11th March 2011.