Hotel Penaga – Penang Heritage Boutique Hotel
Penang is abuzz, especially in the heritage and cultures scene with the newly opened Hotel Penaga. The beautifully restored boutique hotel is conveniently located in the heart of Georgetown, which is a UNESCO World Heritage Site. Situated along Hutton Lane intersecting Clarke Street and Transfer Road, the hotel is within walking distance to many eating outlets and attractive historical places.
The hotel is converted from a collection of fifteen pre-war shop houses, which once contributed to the bustling economy of the town. International architect Hijjas Kasturi and his wife Angela Hijjas have given a new lease of life to the place, after spending multi-million ringgit on refurbishment and makeover. They have kept it with a glimpse of the past, with its façade built to resemble old shop houses. It is indeed their labor of love!
For anyone who has visited Hotel Penaga, they would totally agree that the hotel provide a home away from home! The boutique hotel offers 45 charming rooms with modern facility of a city hotel.
The hotel has a small library, restaurant, bar, lounge, hair salon, spa, pool coupled with a serene garden. Penaga Spa will have you feeling refreshed, rejuvenated and revitalized with its exclusive treatment in its three double treatment rooms. The water  heating system is eco-friendly as it is heated by solar panels, and the rainwater is harvested for sanitation. All the rooms are cooled by inverter air-conditioning and ceiling fan.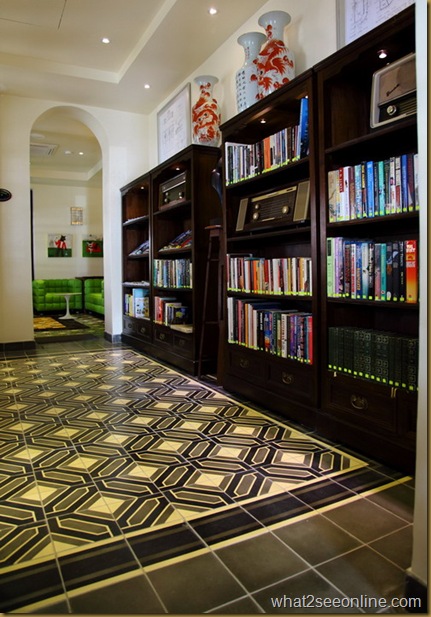 Library
Penaga Spa with three double treatment rooms
The wall beside the entrance to the spa is adorned with a striking mozaic piece. The artwork was done with hand-cut stone, strips of glass and salvaged Chinese porcelain under the collaboration of American George Fishman and Australians Helen Bodycomb, Dominic Johns and Glenn Romanis. It depicts the founder of Penang firing the cannon filled with coins into the tree during the clearing of land.
The hotel has its own restaurant, The Cinnamon. This verandah styled all- day dining restaurant located on the ground floor serves buffet breakfast and Western cuisines with Asian influence. Running the length of this restaurant is the inviting lap pool.
A refreshing dip in the lap pool
A step away from the restaurant is The Tanglung Bar, with an extensive selection of wine. It is a relaxing place to unwind with a drink or a cocktail.
There are many choices of rooms in Hotel Penaga, and guests can choose the deluxe rooms, traditional terrace house or suites. The rooms are located in three blocks – Clarke Terraces, Transfer Suites and Hutton Rooms. All the rooms come with large bedrooms and living room, equipped with double bed, Jacuzzi bath, walk-in shower, and many other amenities including complimentary internet access, television, mini-bar and tea and coffee making facilities.
Each room is individually decorated, furnished with restored furniture, including antique Chinese cabinets, benches and chairs. The walls are art-filled with selected pieces of Rimbun Dahan's collection of contemporary paintings. Indeed impressive, with plenty of character! The place is brightened up with old Indo and Indian lightings, using old fashion brass switches made in Australia.
CLARKE TERRACES
The five units in Clarke Terraces along Lebuh Clarke have a living room, two bedrooms and an internal staircase. The interior is furnished with antiques, stunning art works, classic modern pieces and sculptures together with woodcarvings from China.
Living room
It presents beautiful interiors and a private back yard with a small plot of green including a Jacuzzi spa bath.
Guest can access the courtyard through the back gate
A few of the units still maintain the original colorful Peranakan tiles gracing the lower façade while others were replaced with decorative tiles imported from China. Even some of the chimneys are original pieces! The interior flooring and the five-foot way is laid with encaustic floor tiles, imported from Jogjakarta.
Facade with decorative tiles

Several original chimneys can be seen in Clarke Terraces
TRANSFER SUITES
Transfer Suites contain eight suites and each of them comes with a sitting room. However, there are only four suites with two balconies. The large ones overlook Hutton Lane and smaller ones at the back view the courtyard surroundings. Guests need to do some climbing as these suites are only accessible by stairs.
A large bedroom beside the bathroom with a Jacuzzi bath and separate shower
Balcony overlooking the courtyard
HUTTON ROOMS
On the other hand, Hutton Rooms are deluxe rooms and are accessible with a lift. The three spacious corner suites with two bedrooms, two bathrooms and a sitting room are ideal for families.
Airy room with high ceiling
This hotel with character and style in a heritage site is a must visit destination for travelers! Its location makes it very convenient to walk around the town and enjoy the charm of the local lifestyle. Click here for the Map Location. For more information on the hotel rates, do drop an email to info@hotelpenaga.com
Hotel Penaga
Corner of Jalan Hutton & Lebuh Clarke
10050 Penang
Tel : 04 2611891
Website : http://www.hotelpenaga.com/
GPS Coordinates :  5.42038,  100.330687
A huge thank you to Richard for the arrangement, and general manager Hugh Cameron for having me in Hotel Penaga.