CK Lam visit Bangkok as Guest of The Royal Thai Consulate-General
The city of Bangkok has been an enigmatic jewel of South East Asia, with its mythical traditions complementing the modern and vibrant capital of Thailand. We were in Bangkok recently at the invitation of the Royal Thai Consulate-General, enjoying a host of activities and savoring many different types of food in this haven for food lovers and shoppers. The trip was filled with many experiences!
HOTEL
Upon arrival at the Suvarnabhumi Airport via Thai Airways, we travelled down town to Dusit Thani Bangkok where we checked into a suite, with a level of comfort and privacy. This hotel which has recently celebrated its 41st anniversary still retains its charm and elegance.
Located right at the heart of Bangkok, the hotel is very convenient with the Bangkok Mass Transit System (BTS Skytrain) and Mass Rapid Transit (MRT subway) just adjacent from its doorsteps.
CULINARY SCHOOL
We had a welcome drink at the hotel lobby and not before long; we were whisked away to the Le Cordon Bleu Dusit Culinary School for an introductory tour. Situated right next to the hotel, this premiere school is the first in the global network of Le Cordon Bleu schools that is offering Thai Cuisine courses besides French Cuisine and Patisserie.
Students can opt to undertake either the Professsional Thai Cuisine Programme (Diploma) or the Culinary Discovery Programme (Certificate), with the classes conducted by Thai Cuisine Chef – Chef Rapeepat Boriboon.
TRAFFIC & TRANSPORTATION
Bangkok itself is constantly abuzz with traffic throughout the day, with vehicles bustling and navigating through its busy roads. Various mode of public transportation are available around the city center, with the motorcycle taxi, motorised tricycles Tuk-Tuk, taxi, BTS and the MRT. It is fun to try out the motorcycle taxi and the Tuk-Tuk which plies through most of the vital tourist spots. The quickest way is by the motorcycle taxi!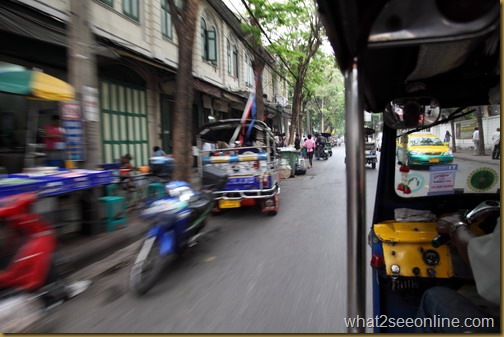 Motorised tricycles Tuk-Tuk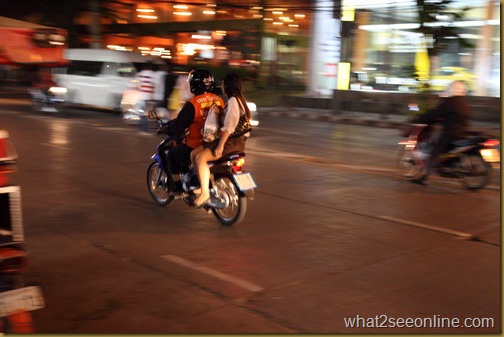 Motorcycle taxi – fast and furious
Efficient and convenient on the BTS
SHOPPING
The next day, we ventured out travelling on the BTS to Siam Station to explore the vast shopping district. This is an ideal place for shoppers with its many retail outlets and mega shopping centers, such as the Siam Centre, Siam Discovery, MBK and Siam Paragon.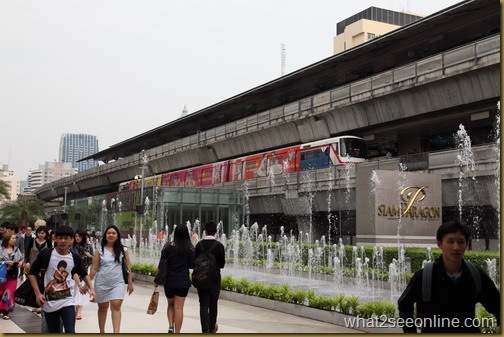 The mega complex of Siam Paragon has almost everything you need to buy – from everyday needs to the luxury brands. It even has amazing vehicles such as Maserati, Lamborghini, Ferrari and Aston Martin gracing the showrooms on the third level.
On the ground floor is the Paragon's Food Mall, with a smorgasbord of fragrances and flavors. It is an excellent place to savor different cuisines and Thai street food with its many upmarket cafes and restaurants.
While strolling along Saladang Road, we stopped by July Tailor. This well known tailor shop headed by Sompop Louilarpprasert is bestowed with the honor to tailor for the Thai Royal family! We browsed through the displayed collection of suits and royal patterns, and also articles showing him tailor for the many politicians, dignitaries and officials that attended the 2003 Apec conference.
Sompop's son, Praphab is learning the trades of the business
EATING
There are plenty of quick bites with reasonable price available throughout Bangkok. Even the BTS stations are filled with an enviable variety of snacks to serve waiting commuters! Surprisingly you can even find Japanese food at the Oishi express, with rows of sushi and desserts.
We took some time to travel to Thonglor and Chinatown for the street food. During the walking tour down these two streets, we stopped by many hawker stalls. Besides those stalls on the main road, do check out those along the sois or lanes as well. We laid our hands on some grilled hawker food, ranging from grilled Sai Krok (Thai sausages eaten with raw cabbage), Kluay Ping (Grilled Banana) and grilled fish.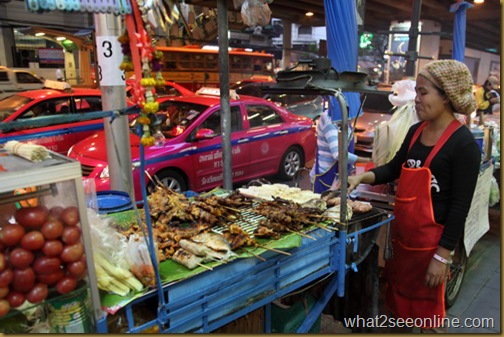 Sausages pierced on barbecue sticks grilled on charcoal stove
Cool drinks are easily found from the street vendors. Besides the popular coconut juice, another favorite was the freshly squeezed tangerine juice (Nam Som), priced at 20Baht for a small bottle.
We stumbled across a Som Tam hawker walking around with a stall balanced over her shoulder. This green papaya salad is a favorite among the Thai people and is prepared with red chili, fish sauce and lime juice. We got a packet of this sour, spicy and salty delight of fruits and vegetable for 30Baht.
Next we headed to a stall that sells fried mussels in batter (Hoy Thod). The mussels, prawns and squids are pan-fried in a batter together with egg on a flat-bottomed pan.
Mouthwatering street food …
My host highly recommends this pancake with fillings of minced meat, sausage and quail egg. It is a favorite snack during his studying days, and remains a favorite up till this very day.
On top of that, there are abundant of convenient 7-Eleven stores in numerous locations! The choices are aplenty, with nice selection of drinks and wide range of noodles, including hard boiled eggs with soy sauce!
Lemongrass & Kiwi and Rasberry with Butterfly Pea juice
S&P Chaophraya
Maharat Rd, Phra Borom Maha Ratchawang, Phra Nakhon, Bangkok, 10200
We enjoyed lunch with the unique Khao Chae at S&P ChaoPraya, overlooking the Chao Praya River. The bowl of rice in jasmine water is eaten with a variety of condiments, which include balls of deep-fried shrimp paste, fried sweet pepper, sweet fish, salty beef, onions and a plate of vegetables. This cooling dish is available during Thailand's dry season, namely from April throughout May. We were lucky to have tried this rice dish as it would not be on the menu for another year!
Thip Samai Noodle Shop
313 Mahachai Road. Samranrat, Pranakorn, Bangkok 10200
Tel : +66 2221 6280

Bangkok has dozens of places selling Thai Fried Noodles (Pad Thai), and one local favorite is Thip Samai Noodle Shop. A special plate of soft and yielding rice noodles was prepared in a fiery blaze of fire. It comes with a generous amount of seafood, beancurd, dried shrimp, chili powder, bean sprout, tamarind juice, fish sauce and garnished with crab meat, grinds of cuttlefish and sliced mango. All the ingredients combine together for the sweet, sour and spicy taste at a pricy 200Baht. On the other hand, a standard plate without the add-ons will cost 40Baht onwards.
The meal goes well with the icy coconut frappe. This 40 year old eatery is not to be missed by visitors. Click here for the Map Location.
Pad Thai is served with a side dish of bean sprout, banana flower, coriander and lime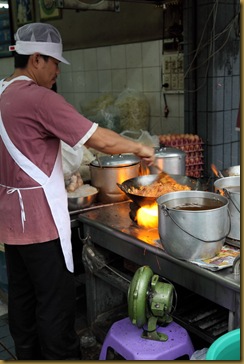 Benjarong Royal Thai Cuisine Restaurant
Dusit Thani Bangkok, 946 Rama IV Road, Bangkok 10500
Tel: +66 (0) 2200 9000
Besides hawker food, we experience delightful Thai cuisine in elegant surroundings at several Thai restaurants. For Royal Thai Cuisine, the elegant Benjarong is hard to beat with its refined cuisine. The delicate appetizer of Khanom Jeeb Thai, which is steamed bird shaped dumplings with minced chicken, really caught our attention tastewise.
Patara Fine Thai Cuisine Bangkok
375 Soi Thonglor 19 Sukhumvit 55, Klongtonnua Vadhana, Bangkok 10110
Tel. 0-2185 2960-1
On the other hand, Patara, part of the S&P group, serves authentic yet innovative fine Thai cuisine. We were captivated by their Turmeric Scented Crabmeat Yellow Curry, served with traditional rice noodles. The curry was creamy with plenty of betel nut leaves. The full review of Patara can be viewed here.
Inn-Chan Thai Restaurant at The Rose Garden
Km 32, Pet Kasem Road, Sampran, Nakorn Pathom 73110
Tel: (034) 322544-7
Visiting the cultural Rose Garden, we enjoyed an excellent lunch at the Inn-Chan Thai Restaurant. Dishes that really stood out were the Spicy Galangal and Coconut Milk based soup with chicken and the Nakorn-Chaisri pomelo salad. Click here for the Map Location.
SIGHTS AND SOUNDS
Ratanakosin Island, the heart of old Bangkok city houses some of Bangkok's most celebrated architecture and esteemed universities. Several majestic Buddhist temples and the Grand Palace are located here. Ratanakosin is best visited in the early morning as the place can be highly congested with traffic in the late afternoon. Take a walking tour or just hop on the Tuk Tuk to take in the sights of the surroundings.
Sightseeing around Ratanakosin Island in a Tuk Tuk
CULTURE
It was well worth spending the day in Rose Garden. The morning trip from Bangkok to the resort took an hour. We enjoyed watching Thai cultural shows, and visiting booths that feature authentic Thai way of life such as harvesting of rice, making pottery, silk weaving, fruit carving and many more.
In the afternoon, we proceed with a boat ride by traditional rowing boat across the Ta-Chine River to the Organic Farm. We got a guided tour through the hidden 10-acre of land which was planted with vegetables, fruits and herbs. The tour also had us tasting flowers and vegetables tempura and freshly plucked fruits. For more details, visit http://www.rosegardenriverside.com/
Boat ride to the Organic Farm
The tranquil organic farm
Adding a visit to Siam Niramit was a great idea. There were plenty to see and do in the traditional Thai Village, with demonstrations of silk weaving, cooking, musical performances together with a boat ride and feeding the elephants.
Besides touring the village, we watched the Siam Niramit show. It cost 1,500Baht per person,  while the Golden Seat cost 2,000Baht. Cameras and video camcorders are strictly prohibited in the theater. Done with the state of the art technology, the one and a half hour performance introduces Thailand arts and cultural heritage. A spectacular performance it was and all of us totally agree with its tagline – Thailand's Must-See Show. I even bought the Siam Niramit book as a souvenir. For more info, visit http://www.siamniramit.com/oldweb/applause.php
Part of the traditional Thai village
Outdoor entertainment
The journey around Bangkok was a wonderful eye-opener, with great food, interesting culture and nature. Being one of the world's most exotic and culturally fascinating cities, it is no wonder this city is aptly named the Great City of Angels.
Face to face with the elephant in Siam Niramit
I would like take this opportunity to express my thanks to The Royal Thai Consulate-General for the invitation.