Nasi Campur Melayu at Pinang Delicious Food Court
* This article was published in the New Straits Times (Northern Streets) on 14th April 2011.
Nasi Campur Melayu is a relatively new addition to the nasi Melayu stalls in George Town. This stall was set up a few months ago in Pinang Delicious Food Court on Macalister Road by siblings Roslina and Rosniza binti Mansor.
Originally from a coffee shop in Island Glades, the sisters have since moved their business down town. The dishes taste different from those around Georgetown as the dishes have a greater Perlis influence, said the owners.
The stall offers a good mix of mouth-watering dishes. The chicken rempah cooked in thick curry gravy is flavourful right to the bones. The fried cincaru with sambal stuffing is worth a try. Not duly overcooked, the flesh remains moist and the sambal stuffing goes well with the fish.
Other dishes in the offering are the ikan bakar, perut lembu bakar, chicken curry, daging curry (beef), sambal tofu and prawn curry. Some of these razing spicy dishes leave tinkling sensations in the mouth.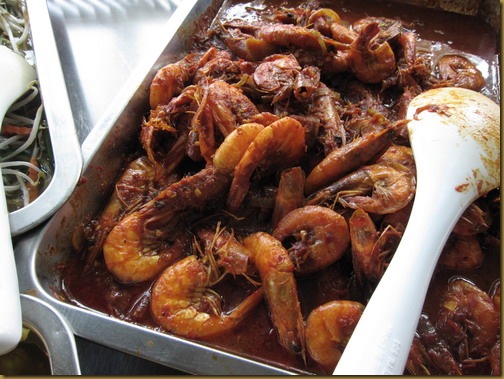 There is also a selection of non-spicy dishes, including Chicken Kurma, well marinated deep-fried pandan chicken, stir-fried cauliflowers, bittergroud, bean sprouts with tofu and anchovies.
In addition, you can have your plate of nasi with warm daging soup! The aromatic soupy dish boiled with pieces of meat and variety of spices is unique compared to the other stalls around town.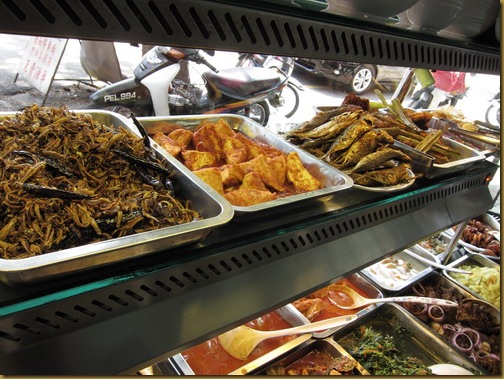 An array of spicy and non-spicy dishes
The countless dishes and soup go well with the choice of white rice, nasi tomato and the fragrant nasi lemak boiled with coconut milk. Delightful dipping sauce and ulam which consists of four-angled beans (kacang botol) and cucumber slices is also available.
Do head over to Nasi Campur Melayu for a wholesome meal where the choices are abundant. The stall is open from mid-morning till 5pm and it is closed on Sunday. Click here for the Map Location.