Chin Bee Tea Restaurant – Good Food and Chinese Tea
* This article was published in the New Straits Times (Northern Streets) on 9th May 2011.
Penang is dotted with many restaurants, with some hidden unnoticed even though we often pass by it. One such place is Chin Bee Tea Restaurant. Located on Noordin Street, or commonly known as 'Ji Tiau Lor' among the Hokkiens here, this tea house is unique in its own way. This place is not all only about serving Chinese tea, but also serves appealing Chinese dishes.
One of their best dishes offered here is the Hainan Kampung Chicken. Dosed in the chef's concoction of light soy sauce and oil, the chicken is tender and juicy. The condiment of fresh and fragrant chilli sauce blend with garlic and ginger is a must-have. I highly enjoyed the chicken with its natural sweetness flavor.
Worth trying out is the Kam Heong Spare Ribs, well marinated and stir-fried with an amazing flavourful sauce and with lots of colourful vegetables. The tender meat falls off the bone with a light tug, and the aroma from the hot wok makes this a hearty dish.
The Pang-Pang Chick is a dish with chicken stir-fried in thick spicy sauce with chunky pieces of cucumber, onion and fresh red pepper chilli. The appearance of this dish is almost similar to the sweet and sour pork but taste-wise is totally different. The spicy sensation is best accompanied with white rice.
Chin Bee offers two versions of steamed egg. The classic steam Three Egg Yolk (duck, chicken and century egg) is smooth and firm like tofu which is great to enjoy on its own. The seafood version with prawns, fish and scallops together with salted and century egg is just simply excellent and deliciously good.
Steamed egg with seafood RM30
Another unique dish is the Steamed Patin Fish garnished with plentiful green scallion, coriander and sliced chilli. This freshwater fish is uncommon in Penang and Chin Bee prepared it excellently. It is tasty with flavoursome light fish sauce dressing and garlic oil.
Some of the notable dishes are the Stir-Fried Tofu with minced meat, Claypot Fish, Vietnamese-style Pork Leg, Special Ribs and the Sambal Four Vegetables with many textures and aroma of spiciness. For those who may prefer noodles, do try the Hong Tou Mee where the noodle is served in thick creamy broth.
Stir-fried Tofu with minced meat and Sambal Four Vegetable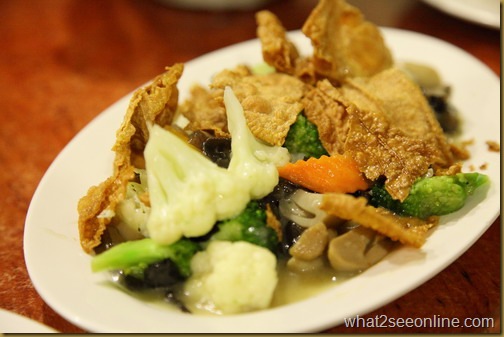 Mixed vegetable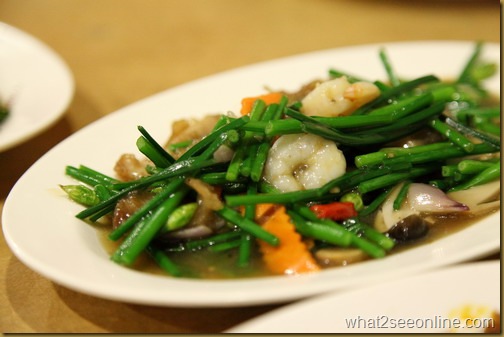 In addition to the staple dishes, there are also many tempting and exotic fine Chinese dishes that need to be pre-order! Besides good food, a wide array of good Chinese tea is available at Chin Bee, including the Long Jing, Wu Yi, Pu Er and Tie Guan Ying.
Pu Er @RM2 per person
This restaurant in the middle of a row of old houses has simple seating deco and is fully air-conditioned. Parking spaces are available by the roadside, and if you are early, you might be lucky enough to get the parking space right in front of the shop. Click here for the Map Location.
Chin Bee Tea Restaurant
124 Lebuh Noordin (Jee Tiao Lor)
10300 Penang
Tel 04 2611761
Business Hour: 12noon – 3pm &  6pm – 9pm
Closed on every alternate Wednesday
GPS Coordinates : 5.412422   100.329947