Muntri Mews – Penang Heritage Boutique Hotel
Located at the heart of the UNESCO heritage zone in George Town Penang is Muntri Mews. This beautifully refurbished boutique hotel on narrow Muntri Street is successfully done up by renowned hotelier Christopher Ong of Clove Hall and the UNESCO award winning hotel Galle Fort in Sri Lanka.
Opened in March this year, the hotel is currently the newest restored boutique hotel in Penang!
Iron gate opening to the hotel
Muntri Mews is home to Mews Cafe, a small and comfortable place which serves Asian and international specialties. The cafe offers breakfasts and lunches, all prepared with sauces and spices, without the usage of MSG. The menu may not be varied as others but there is definitely something for everyone.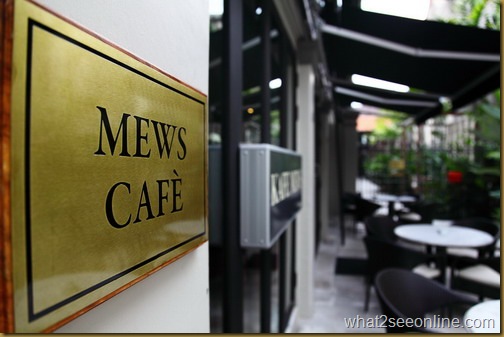 Located at the entrance of the mews, the air-conditioned cafe opens up to the garden of greens. Meals are also served in the open air dining area.
Breezy open air dining area
Comfortable indoor air-conditioned dining hall
The breakfast list has offerings of sandwiches, croissant, toast, muesli, fruit platter and egg prepared in several variants. I chose a croissant, filled with wonderful slices of ham served with tomato and vegetables. There is also the beverage menu with freshly squeezed juices, fruit frappes, mocktails, tea, freshly ground coffee and delightfully refreshing float.
The dishes are created and supervised by Christopher Ong, who is a pretty capable cook himself. The presentation of the food with his own style sets Mews Cafe apart from the rest. Every dish is plated on unique mix and match porcelain from his private antiques collection. The pieces are available for sale in their in-house shop.
Croissant with a hot cup of coffee
Fresh fruit frappes, juice and float
I followed up with a lunch visit. The visit had me sampling several dishes, including the Mixed Mesclun & Rocket Salad, a mix of greens with thick pieces of nicely charred smoked duck.
Mixed Mesclun & Rocket Salad with Smoked Duck RM22
It was a pleasure tucking into the Beer Batter Garoupa Fllet Fish & Chips. It is a huge favorite for seafood lovers as the garoupa fish fillet is coated with a crispy and light batter. The dish comes with a light touch of tartare sauce and a side bowl of thick cut crispy fries.
Beer Batter Garoupa Fllet Fish & Chips RM24
The Helen's Curry Mee is a must try especially for those who love lemak (rich with coconut milk) soup with aromatic spices flavor. The owner takes no shortcuts in making the full-bodied soup, well balanced with equal tones of spiciness, sweetness and creaminess.
With generous portions of chicken, fish balls, prawns and crispy soya skin, I would say it has more ingredients than noodle! Fragrant chili paste is served separately for those who want it extra spicy.
Helen's Curry Mee RM16
I was recommended to try the Nyonya Laksa Lemak in a thick flavorful coconut based fish prawn stock. The portion was just right, with plenty of garnishing. The soup taste nice and refreshing, as it draws special flavors from the chopped kantan flower, pungent prawn paste and droplets of lime juice. I finished most of the soup!
Nyonya Laksa Lemak RM16
Christopher likes to experiment and pop up new ideas of presentation. Instead of serving the mango and sweet glutinous rice with coconut milk, he offers something exceptional. The coconut milk is replaced with a scoop of coconut ice-cream. Indeed a nice change from the usual presentation!
It was exceptionally delightful sampling the Cheng Th'ng, a dessert which is commonly found in restaurants instead of cafes. It has a balance of sweetness drawn from the many ingredients of longan, winter melon, red dates, sea coconut and sugar. This dessert can be served either hot or cold.
Cheng Th'ng RM6
Other desserts offered include the Sago Pudding. This dessert synonymous with Nyonya cuisine is served with its traditional accompaniment of coconut milk and Gula Melaka. The ingredients are simple but were well prepared. The taste is truly as good as its presentation.
Sago & Gula Melaka RM8
While the breakfast and lunch menu is a good reason to visit this cafe, the warm and friendly atmosphere is just as inviting.
Muntri Mews is housed in a converted row of 19th-century carriage houses. The place is beautifully restored, infused with Malay, Chinese and European influences. Antique, artwork and retro furniture plays its part in setting the theme for the entire hotel.
Capitalizing on the original layout of the carriage houses, the owner has created a total of nine suites, with four Twin Suite downstairs and five King Suite upstairs. All the suites are equipped with air-conditioned, LCD television, free broadband internet connection and ensuite toilets.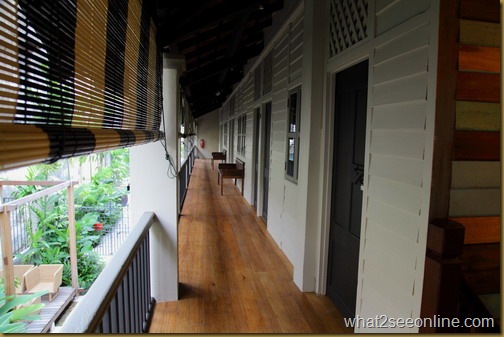 These suites with affordable rates, comes with comfortable separate living area, bright white linens and are embellished with local art. The larger units, dubbed as the 'Suite King Bed', have verandas overlooking the garden below.
Suite King Bed with separate living area
The four Twin Suites downstairs are smaller and each of the unit occupies two original carriage houses.
Twin Suites with marble flooring
Click here for the Map Location of this hotel. Its location is convenient, with easy access to a plethora of other attractions nearby.
Muntri Mews
77 Lebuh Muntri
10050 Georgetown
Penang, Malaysia
Tel : 04 263 5125
Fax : 04 263 4125
Email : info@muntrimews.com
GPS Coordinates : 5.420084   100.33557