Official Launching of Tropical Spice Garden Cooking School, Penang
* This article was published in the New Straits Times (Northern Streets) on 19th May 2011.
The Tropical Spice Garden Cooking School was officially launched in May 2011. The event took place in the pavilion of the beautifully landscaped Tropical Spice Garden in Teluk Bahang, Penang. Named after the four and a half acre garden itself, the cooking school began operation in late April.
The official launching of the Tropical Spice Garden Cooking School was graced by the presence of Food Ambassador of Malaysia, Chef Wan and YB Danny Law Heng Kiang, Penang state exco for tourist development and culture.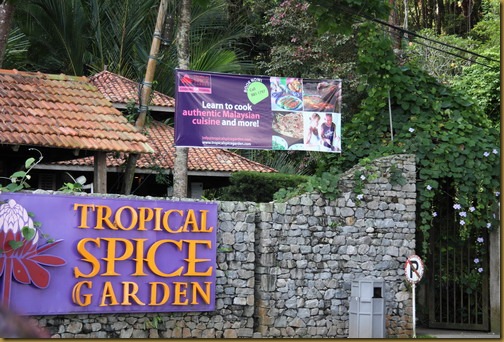 In addition to the launching event, a group of us was invited to a guided tour of the Tropical Spice Garden, headed by Joseph. The garden was an amazing place of plants, herbs and spices. Joseph explained how they are used in cooking and their medicinal values. We learned a lot from him, for example nutmeg seeds are prohibited in Arab, Australia and United States while freshly grinded dried black pepper mixed with water can cure food poisoning.
It was an enjoyable educational walk, exploring the serene garden wafted with the scents of spices and fragrances of flowers. After the tour, we headed back to The Tropical Spice Garden Cooking School for the arrival of VIPs.
The cooking school offers a host of hands-on cooking classes, lead by three resident chefs. Among them is Pearly Kee offering her specialties of authentic Nyonya food. She was a student from Dato' Lim Bian Yam's cooking school in the 80's.
Azizah Othman prepares Malay cuisine and produces the finest spider web 'roti jala' in town. Her accolades include preparing lunch tiffins for the first Governor of Penang. Lily Tan specializes in Chinese home cooking and hawker food.
Besides the three resident chefs, there is an array of guest chefs sharing their skills and passion –  from SiTigun, Choc Artisan, Ecco Cafe, Lighthouse Coffee, Soul Kitchen Trattoria, and Permai Village Cafe. It was great meeting them in person.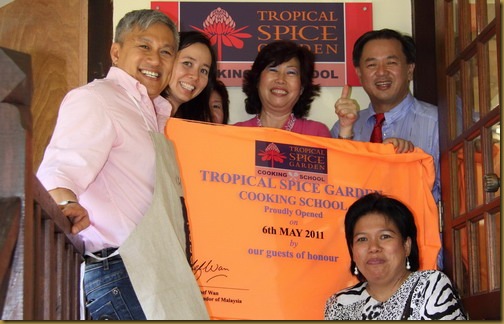 From left – Chef Wan, Katherine, Lily Tan, Pearly Kee, YB Danny Law & Azizah Othman
The idea to start up the Tropical Spice Garden Cooking School was conceived by Katharine. Some of the benefits of joining the cooking class will include a walking guided tour of the spice terraces and a coffee/tea introduction session.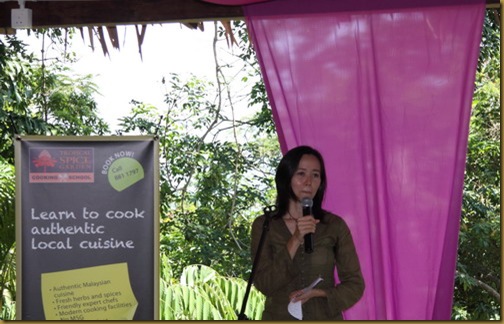 Spaces are limited to 10 students and the class is held in the fully-equipped kitchen located in the peaceful surroundings of nature. Students will have their hands-on in creating their own dish and savoring their meals together at the end of the class!
Besides officiating the opening of the cooking school, Chef Wan performed a cooking demonstration! Together with YB Danny Law, resident chefs and guests chefs, he conjured a marvelously sumptuous dish of Nasi Ulam using a variety of local herbs including the kaffir lime leaves, galangal leaves and wild betel leaves.
It was a fun filled afternoon, in all the cooking and meeting everyone!
YB Danny Law and Chef Wan signing the plaque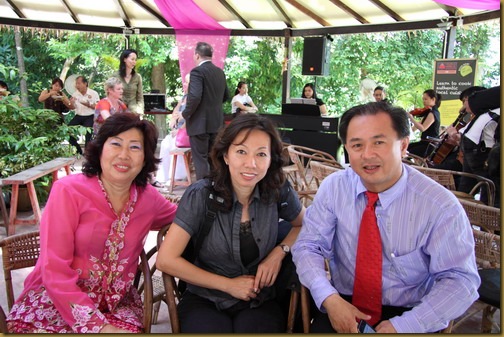 Pearly Kee, myself and YB Danny Law
The cooking school is closed on Monday, whereas the garden is open daily from 9am till 6pm, with the last admission at 5.30pm. For more information on Tropical Spice Garden and the Cooking School, do visit www.tropicalspicegarden.com
Visitors can stop by Tree Monkey which is located just beside the cooking school. This restaurant with a relaxing atmosphere offers some great bites. Click here for the Map Location.
Tropical Spice Garden Cooking School
Lone Grag Villa
Lot 595 Mkm 2
Teluk Bahang
11100 Penang
Tel : 04 8811797  (Cik Azimah)
Fax : 04 8813794