SiTigun at Nagore Road, Penang – Pit-Stop Cafe for Cakes & Coffee
 BY CK Lam
SiTigun, located in two double-storey pre-war shophouses on Nagore Road, Penang is a wonderful cafe for a light meal and a cup of coffee. Tagged as "a bicycle pit-stop cafe", it  is pleasant and relaxing.
The menu offers several types of croissants, with choices of condiments ranging from butter, jam and smoked salmon to rendang. I thoroughly enjoyed the Croissant with Smoked Salmon served with a spread of cheese (RM10.80).
The Cheezy Egg Jaffle came with wheat bread, filled with scrambled egg and melted cheddar cheese (RM5.50 ). I liked its savory taste. For those seeking sweet toasts, do check out the Peanut Butter Jaffle and Nutella Jaffle.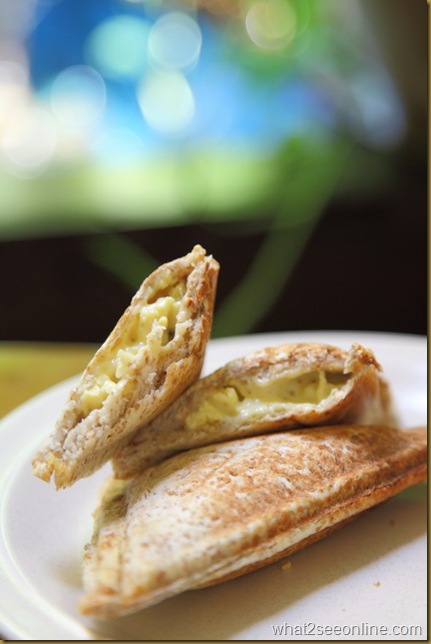 Spaghetti Bolognese (RM11.80), served with marinara sauce and generous portion of ground beef, is ideal for those seeking a filling and satisfying meal! But I found the pasta with the thin gravy – ordinary at best.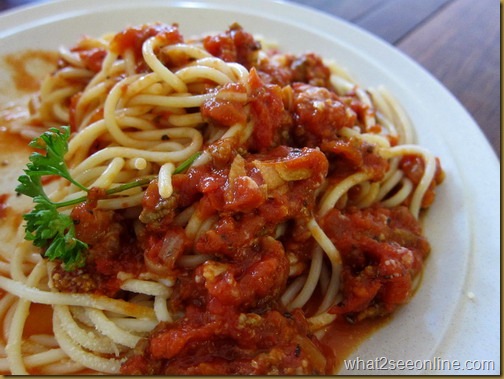 A lovely plate of small bites was the Holland Fries served with Dijon mustard and mayo (RM7.20).
Sitigun serves double-shot espressos – with home-roasted, rich Robusta coffee beans from Bali, Indonesia. I had a taste of  Latte, Ice Americano and the Crash Coffee. Commonly known as Kopi Toebroek in Indonesia, Crash Coffee is a strong flavored brew. The Ice Americano packed a punch with its pungent coffee aroma.
Crash Coffee RM6.80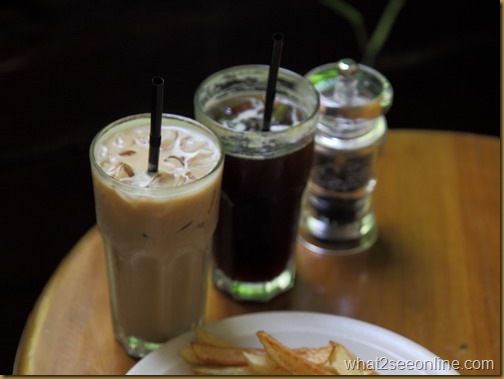 Latte & Ice Americano RM7.60
Spotted on display on a glass counter were baked Tiramisu, Chocolate Mousse Cake, cinnamon rolls and muffins. Everything is homemade, including cookies and biscotti. I indulged in the delightful Tiramisu, which is one of Sitigun's best-sellers.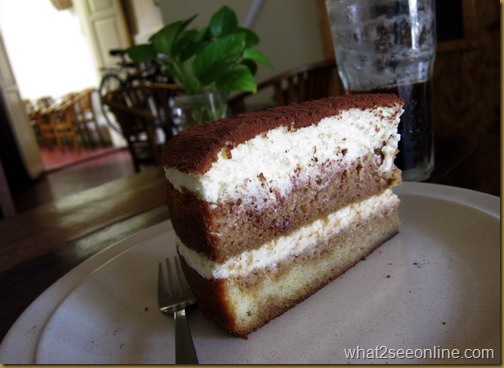 A piece of Tiramisu RM9.80
The vast interior of the two shophouses is kept simple and neatly decorated with Balinese furniture, big old luggage and sofas amid a huge coffee roaster. One side has a bigger sitting area with long wooden tables and benches, with the other is  furnished with round tables.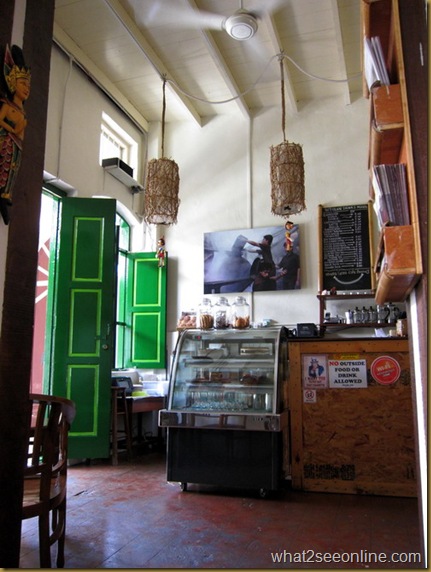 The air well at the back is airy and cool. It has a water fountain with water flowing from the ceiling, next to a man-made well!
Sitigun offers Sumatra Arabica Coffee too. The owner roasts the coffee every two weeks.
The cafe is named after its Indonesian owner, Tigun Wibisana. The idea behind his cafe is simple.
"Tigun suggests that you leave your car behind and ride the bicycle over to siTigun Cafe. SiTigun boasts a varied menu of coffee drinks for all tastes and desires."
Click here for the Map Location.
SiTigun
15 – 17 Jalan Nagore
10050 Penang
Tel : 04 228 7108
Business Hours :
8am to 8pm Tuesday till Thursday
8am to 9pm Friday till Sunday
Closed on Monday
For more, visit http://www.sitigun.com/
GPS Coordinates : 5.421884   100.326498
*** Updated on September – The cafe has since shifted to 30 Jalan Nagore
* This is a reproduction of my article published in New Straits Times