In the Mood for Thai at Patara Fine Thai Cuisine, Bangkok
 * This article was published in the New Straits Times (Life & Times) on 22nd June 2011.
BY CK Lam
I have been eating my way around several Bangkok's restaurants and many street food stalls during my recent Bangkok trip. One tantalizing meal was at Patara Fine Thai Cuisine situated in Soi Thonglor 19, away from the bustling Sukhumvit 55. The dinner was a welcoming experience, featuring several well crafted traditional dishes with authentic taste in contemporary new arrangements.
Patara cocktail
The restored bungalow offers indoor air-conditioned comfort and alfresco garden dining areas, accommodating up to 300 guests. The artfully dining areas are further intimate by the tables drenched in white table wares, Thai designed cutlery and chairs layered with vibrant silky cushions. In the evening, candles, lanterns and dim lightings transform Patara into a place with warm and relaxing atmosphere.
Patara cooking style emphasizes the importance of texture and flavor, combining the freshness of the ingredients. The liberal use of Thailand's rich herbs and spices turns dishes that are staples into an indulgence.
Before the meal, drinks and light snacks of taro chips were served. The drinks included herbal tea – ginger tea, Bael tea and the Patara cocktail which has a combination of vodka, midori, peach, lychee, pineapple and lime juice.
Taro Chips
Things started admirably with the serving of the Seafood Coconut Cream Soup which focuses more on galangal. The coconut milk gives a creamy texture and flavor to the soup which is boiled with prawns, fish, bamboo shoots, dried chili and galangal. The warm and comforting bowl of soup with distinctive peppery and galangal taste is a delicious dish to whet the appetite.
Our starter is the Thai style cold cuts appetizer, a dish with a plethora of different texture and flavors. It includes Chilled braised beef shank roll with sea salt, fresh tiger prawn on-the-rock in a very spicy mint and lime dressing and an assortment of rice noodle rolls; prawns, crabmeat, shrimp roe, crisp softshell crab and herbs. I favor the fresh raw prawn eaten together with the raw bitter gourd and spicy dressing, simply divine.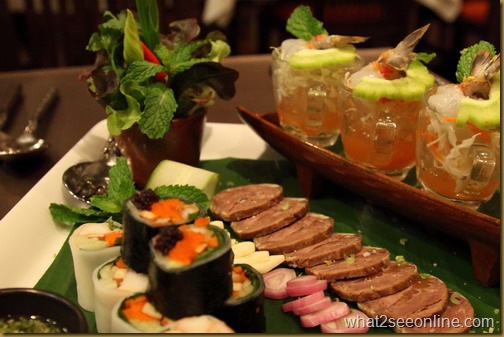 The dish of warm butterfly pea, primrose and sesbania flavors salad topped with prawns is a perfect light choice. The accompanying dressing with apparent heat and saltiness enhances the flavor of this bowl of light crispy fried ingredients decorated with a sprig of mint.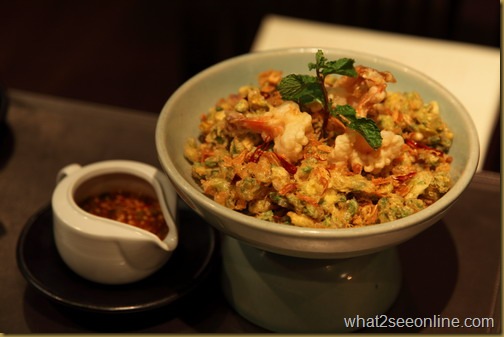 Another dish you should not miss is the Turmeric scented crabmeat yellow curry serve with traditional rice noodles. The creamy aromatic dish came to the table piping hot with lots of crab meat and betel nut leaves. Cooked with a mild amount of spices, the warm curry combined well with the neatly coiled noodles.
A huge golden fried garoupa was served in the basilic chili sauce. Despite the red hue colour, the sauce is quite mild tasting with depth of sweetness. It brings out the satisfaction of taste like no other.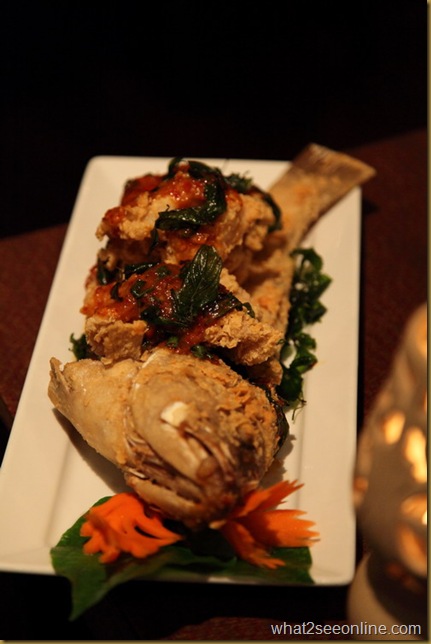 The next course was the Sautéed New Zealand lamb roll. The dish was prepared with peppercorn, garlic-chili sauce and topped with plenty of crisp basil. The lamb is very tender and particularly nice eaten with the fragrant deep-fried basil leaves and the peppercorn with a lingering aftertaste.
We went on with the wok-fried dishes of Garden sweet greens and Moon flower. The garden sweet greens wok-fried in chili paste sauce was basically normal whereas the seasonal moon flower stir-fried with high heat using lots of garlic, red chili and soya sauce was delicious!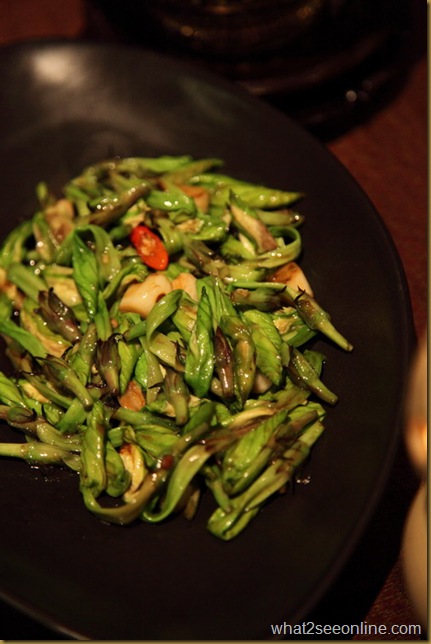 The dishes are accompanied by rice. Each of us was served with an individual bowl of steamed rice, delightfully divided into four quarters. It is filled with Pandan green rice, yellow saffron rice, white rice and brown wild rice.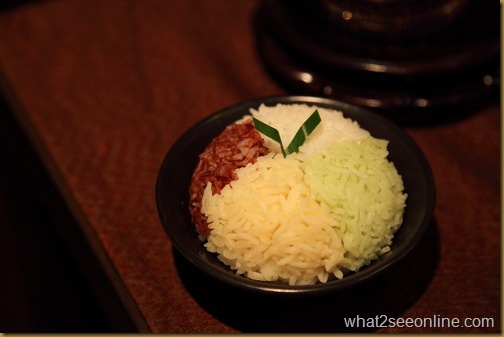 The meal ends with varieties of dessert. Besides the Pandan crème brulee with passion fruit meringue, the other interesting dish is the warm tropical fruit dish which comes with slices of pineapple, strawberries and fruit balls of dragonfruit and watermelon in perfumed mint syrup with hint of cinnamon. These two desserts superbly rounded up the meal.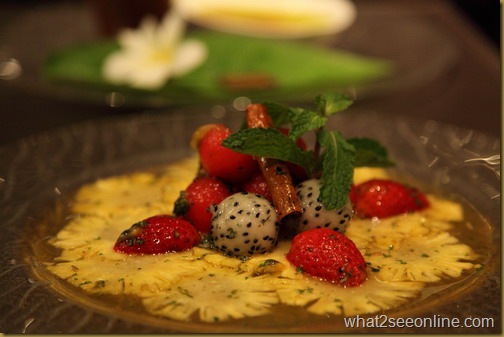 Pineapple with dragonfruit, watermelon and strawberries in perfumed mint syrup
Patara certainly live-up the almost refine dining experience in Bangkok with its plethora of flavors from the combinations of ingredients, which is special in its own way. Since opening in August 2002 the restaurant was awarded with a string of awards. Not only it is rated the top Thai restaurant for its exceptional cuisine and service by Thailand Tatler's Magazine 2010, it is also awarded as one of Asia's finest restaurants by The Miele Guide 2010/2011.
Patara has since opened branches in distinguished capital like Geneva, Singapore, London, Vienna and Beijing.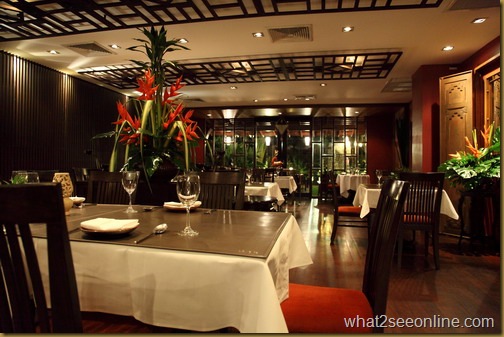 Together with a great wine list, Patara is the place for Thai cuisine and drinks. This restaurant opens every day for lunch and dinner. Click here for the Map Location of this great dining spot with warm atmosphere!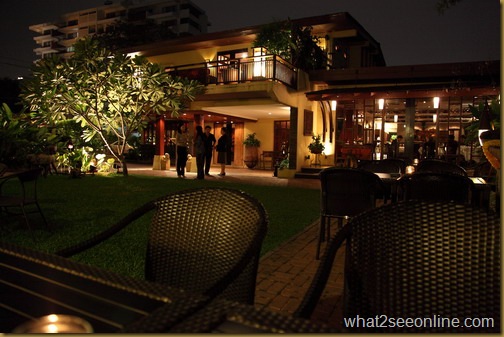 Patara offers outdoor dining area
Patara Fine Thai Cuisine
375 Soi Thonglor 19
Sukhumit 55
Klongtonnua
Vadhana
Bangkok 10110
Tel: (66) 2 185 2960 – 1
Fax: (66) 2 185 2962
Business Hour :
Lunch 11.30 – 14.30 hours
Dinner 18.00 – 23.00 hours
* I was a guest of Patara Fine Thai Cuisine.  Many thanks to Panurit for laying on this invitation.