Mee Udang at Selera Sri Tambang, Bukit Mertajam Penang
* This article was published in the New Straits Times (Northern Streets) on 8th July 2011.
I had the pleasure of being introduced to a wonderful place for mee udang. The makan outing had brought us to the mainland. Located in Bukit Mertajam at Seberang Perai, this place is known as Selera Sri Tambang.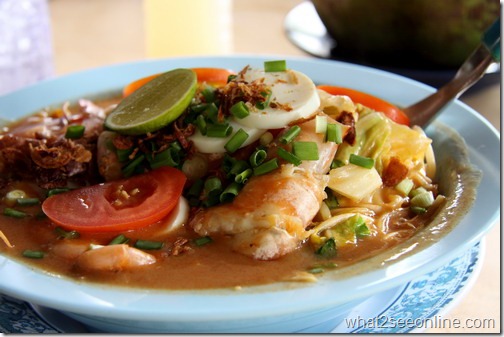 The scrumptious Mee Udang from Selera Sri Tambang!
Situated by the banks of Sungai Dua, Selera Sri Tambang has been churning out lip smacking mee udang with huge prawns and crabs for the past 20 years. The owner,Azlina Safiee is in charge of the business which was started by her parents in the mid 1980s. The place is surrounded  by greens and can accommodate twenty tables.
Customers are usually torn between choosing between the both as each has its own delicious taste. The seafood is sold by weight. The flower crabs are sold at RM5 per100g while the higher-priced Udang Galah is at RM7 per 100g and the Udang Kertas at RM9 per100g.
Fresh seafood offered at Selera Sri Tambang
The noodles are done with an interesting style, Mee Goreng (fried) or the Mee Kuah (soup version). The first dish up on the table was the Mee Kuah, with a spicy sweet broth boiled down with most of the basic ingredients, prawn heads and lots of tomatoes. The prawns, bean sprouts, cabbage and other ingredients are cooked in the stock and laid on the blanched noodles.
Large scoops of the flavorful thick and rich broth are poured over, followed by toppings of tomatoes, slices of hard-boiled egg, crispy shallots and a piece of lime.
A large bowl of mee udang with sweet juicy prawns
On the other hand, the Mee Goreng is a dish enriched with sweet spicy flavors. Most customers will have the noodles fried with huge prawns! The texture of the noodle was just right, and every spoonful was just a treat to the taste buds.
Selera Sri Tambang also offers an assortment of drinks, and they are particularly known for their fresh nutmeg and coconut juice. I am definitely going back again as I am looking forward to try out their crabs!
Directions: On the PLUS North-South Expressway heading towards Alor Setar, exit at the junction where the Butterworth Outer Ring Road and Jalan Sungai Dua meets. Turn right into Jalan Sungai Dua. Travel on passing by the Masjid and followed by Taman Desa Murni, both on the left. Cross over the Perai river and the restaurant is on the left. Click here for the Map Location.
Selera Sri Tambang
No1 Pengkalan Tambang
13500 Permatang Pasir
Bukit Mertajam
Seberang Jaya
Tel: 04 3971918, 012 5759662 &  017 4633944
Business Hour : 12pm till 12am
Closed on Hari Raya Puasa & Hari Raya Haji
Halal
GPS Coordinates : E100.431363 N5.430582