Penang Hawker Food – Kota Selera Food Court adjoining Fort Cornwallis
BY CK Lam

The Kota Selera Food Court adjoining Padang Kota Lama (Fort Cornwallis) is a favorite eating place for both locals and visitors to Penang. This spacious food court has several outstanding stalls doing brisk business with the lunch crowd looking for a quick bite.
One stall that stands out among the crowd is Makanan Hainan, serving local and Western fare, Hainanese style. Its small menu of 12 items includes the all-time favorites – chicken chop, fish and chips, prawn fritters, lamp chop and beef steak. Its popular all-day breakfast set is sausage and eggs.
The lamb chop (RM15) comes with two pieces of meaty lamb, pan-fried in a delicious flavour. The addition of fried onions gives a nice contrast of texture and sweetness, wonderfully complementing the tender meat, vegetables, french fries and baked beans.
The chicken chop has a thick, crispy batter. As the meat is not soaked in gravy, you get a good crispy bite. The sauce is a nice balance of sweet, salty and tangy. Refreshing vegetables, french fries and baked beans are served on the side.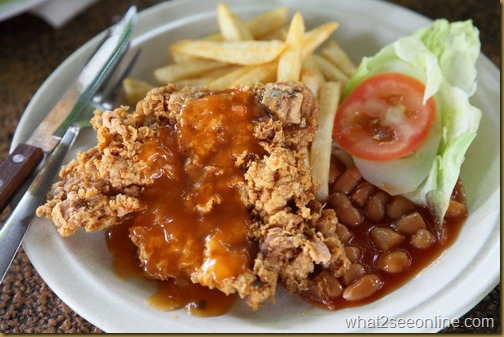 There is also the fish and prawn fritter set. The prawn fritters, coated with golden brown batter, are crispy on the outside and slightly moist inside. The fish fillet, topped with light and crispy breadcrumbs could have been a bit thicker, though.
This set is served with a wedge of lime, cucumber, tomato, lettuce and sides of baked beans and french fries. Additional flavour is courtesy of a separately served creamy tartar sauce, with a light and tangy taste. If you need extra, just ask for it and the workers will gladly oblige. The portions are generous and value for money. The chicken chop is just RM7, fish and chips, RM7.50, and the fish and prawn fritter set, RM8.50.
For local fare, there are fried noodles, fried vermicelli and fried rice. Be sure to order fried yellow noodles. It has a riot of flavours from the prawn, squid, chicken and vegetables. Let the noodles sit for a few seconds to absorb the rich stock, making the whole dish more wholesome. A side plate of sambal is perfect with the noodles.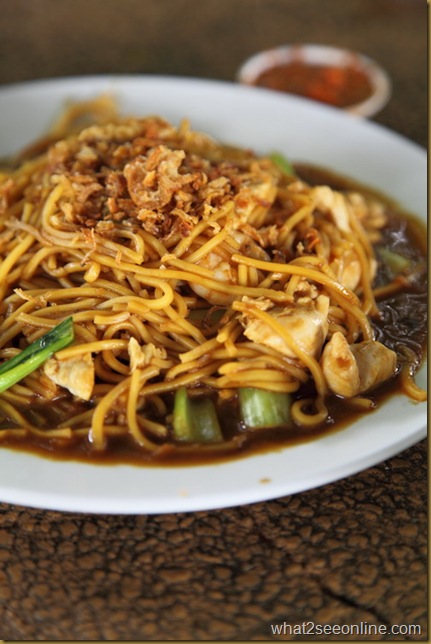 The owner has been dishing up these few Hainanese-style western items since he started business. And he has a strong clientele, including Muslim diners, as the outlet is pork-free.
Besides Makanan Hainan, Hameed Pata never fails to please diners with its mee goreng and mee rebus, with squid in delicious spicy sauce. The mee rebus with sweet potato and spicy tomato sauce topped with pieces of prawn fritter is also a favorite for many.
Busy time for the workers
Non-spicy mee with add-on squid
Then head for Jalil Special Ice Kacang, which has been around since 1974. It offers coconut water, milkshake, cendol, ice kacang and coconut-shake with slices of coconut flesh and ice- cream.
The food court is naturally cool as its corrugated metal roofing is shielded from the sun by tall shading trees. There are ample parking spaces next to the food court. Click here for the Map Location.
Kota Selera Food Court
Padang Kota Lama
10200 Penang
Business Hour : Late morning till early evening
Closed on Sunday
Pork Free
* This article was published in the New Straits Times (Life & Times) on 31st May 2011.