CNNGo voted Penang Assam Laksa as World's No.7 most delicious foods
Penang's Assam Laksa has been voted No. 7 under CNNGo International Food Survey as "foods worth traveling the world to gorge on". This is indeed a great testament to the hawkers who work hard to make sure Penang Assam Laksa is not only delicious but as authentic as to what their forefathers did.
The fish base soup noodle combines many tastes – tangy, spicy, herbal, and salty with slight sweetness to give this dish a unique flavour. The spicy and fishy soup is sour because of the large quantity use of tamarind, which is also known locally as assam.
On the other hand, the generous use of Chinese lettuce, shredded cucumbers, onions, chopped pineapples, mint leaves and finely chopped ginger buds give the dish a distinct aromatic and pungent flavour. Finally the thick sweet and salty shrimp paste, also known as hae ko enhances the dish with a strong fishy taste.
I have met several foreign food journalists and each time we met, assam laksa seems to appear in their top list of cuisines they would like to try. I have never given it much thought. I guess like many Penangnites, we took this dish for granted as it can be found nearly in every street corner. I could never have imagined their eagerness to try this dish.
I recalled bringing Dustin Roasa from the United States to my favourite assam laksa stall at Air Itam. He took a mouthful and his eyes immediately lit up! To simply put it, he summarised this dish as having a powerful flavour with full of character from the extremely strong fish smell. This was however balanced out by the intensity of the aroma of the rich herbs to give it a taste like none other.
Assam Laksa Air Itam Market
Pasar Road (Beside the Air Itam Market)
11500 Air Itam
Penang
Business Hour : Lunch right up to around 8pm.
Click here for more info and the Map Location.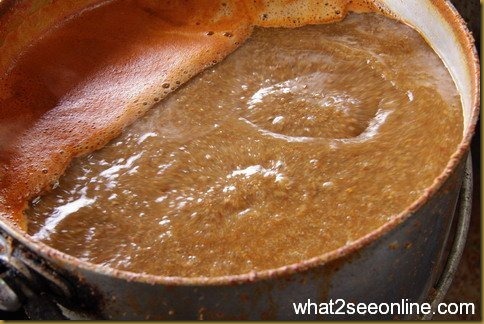 Ivy's Kitchen
58 Jalan Chow Thye
10250 Penang
Business Hour : Lunch till 9pm
Closed on every Ist Week Monday and 3rd week Monday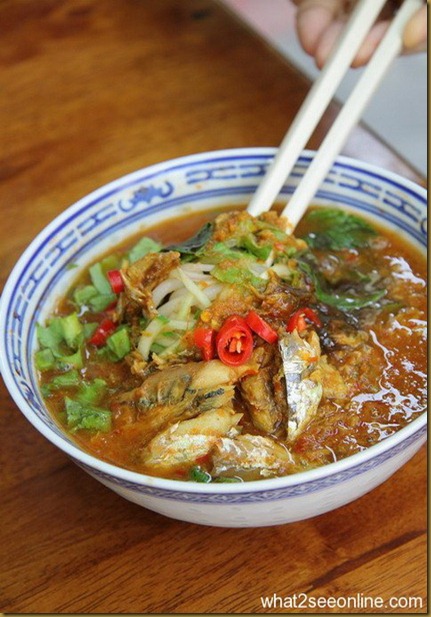 Taman Emas coffee shop
Gottlieb Road
Penang
Business Hour  :   2pm till 5pm
Closed on Monday
The corner lot coffee shop is directly opposite Penang Chinese Girl's High School. Very pack on weekends and public holidays. Click here for more info and Map Location.
Penang Assam Laksa
Khean Hooi Restaurant
Perak Road
Penang
Business Hour : late noon till 5pm
The corner coffee shop is located on Perak Road with its frontage facing Sum San Primary School and its side on Perak Lane. Click here for more info and the Map Location.
Chuan Heong Café
Balik Pulau|
Penang
This laksa stall is located opposite the old market at Balik Pulau.
Assam Laksa at Chuan Heong Café in Balik Pulau
We can talk and write about the taste and ingredients paragraphs after paragraphs but the credit should be given to the Penang hawkers who toll with long hours, taking the painstaking effort to prepare this splendid dish.
We are very proud that Penang Assam Laksa gets to be voted No. 7 under CNNGo International Food Survey. More info of the world's 50 most delicious foods can be view here.
Besides that, the state is also listed as :
1) " the culinary capital of Malaysia" by New York Times
2) "20 Best Islands To Live On" by ISLANDS Magazine
3) George Town listed 64 positioned by ECA International's Location Rating Survey of 400 locations globally