Deen Nasi Kandar at Kedai Kopi Toon Leong, Transfer Road Penang
BY CK Lam

Penang is left with a handful of places serving simple breakfast of local coffee, toasts as well as hearty nasi kandar. One such place is Kedai Kopi Toon Leong, an old-style kopitiam located in a heritage shop house at the corner of Transfer Road and Argyll Road.
Located in front of this coffee shop is Deen Nasi Kandar, which offers an excellent fare of nasi kandar. This stall has a variety of spicy dishes which provides a riot of flavors and choices such as beef, squid, fish and chicken.
The signature catfish fish head curry (Ikan Keli) is a must-have. Business is brisk and quite often the dishes are sold out by mid-morning.
The catfish is offered both in flesh and head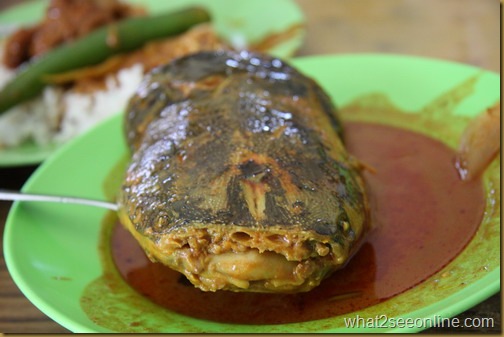 Catfish Fish Head Curry at RM5
Preparing a plate of wholesome Nasi Kandar
Appetizing plate of Nasi Kandar drizzled lavishly with a mixture of curry gravy
Besides Nasi Kandar, Toon Leong coffee shop also offers a simple local breakfast of toast bread and coffee. There are many customers seen enjoying a cup of kopi-o kau with toast slathered with margarine and homemade kaya. The bread in Toon Leong however is oven-toasted.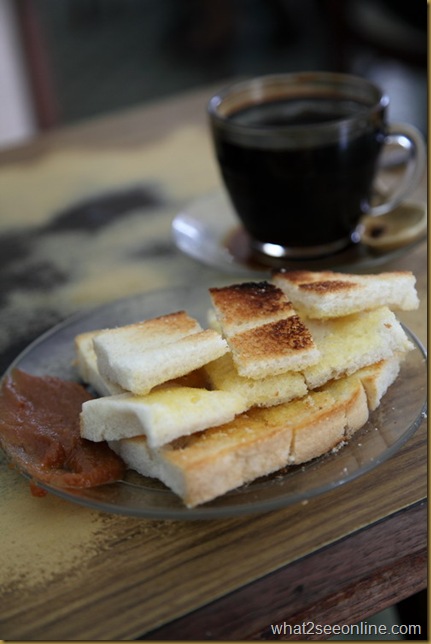 Dark, thick, and fragrant kopi-o with toast bread
Besides toast bread, Toon Leong also offered half-boiled egg. Served in a cup, the egg was done with a good consistency, soft white mousse texture. It was great mixing the runny egg yolk with the white and eaten warm with a dash of pepper and soy sauce.
Toon Leong's is known for its high quality coffee powder. The homemade coffee powder is available for sale.
Toon Leong has been around for a few decades, since 1936. The wood booths lining one side of the coffee shop, marble top tables, mosaic-tiled flooring and old lighting provided the old school feeling.
Wooden chairs and marble top tables at Toon Leong
The owner, Teoh runs the coffee shop with the help from his son. Once in a while you will still find him around serving the customers in his signature pair of flabby shorts!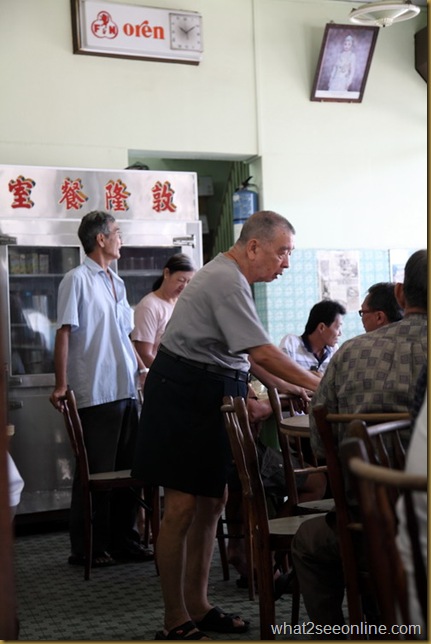 Apart from the breakfast of toasts, half-boiled egg and nasi kandar, Toon Leong also vows the morning crowd with some hawker food, including the wantan mee. Depending on the crowd, you might have to share tables!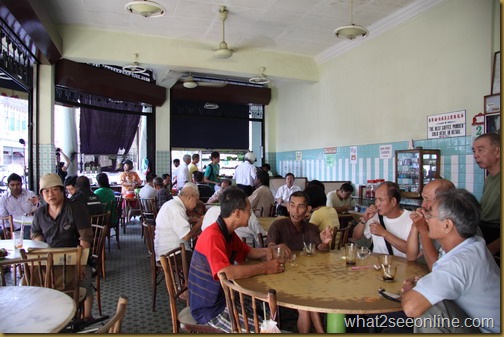 The coffee shop retained much of its old world charm with its facade well maintained. It is located four shops away from the famous Nasi Padang Minang.
Toon Leong Coffee Shop
Transfer Road/ Argyll Road junction
Penang
Business Hour : Early morning till afternoon
Closed every alternate Sunday
GPS Coordinates : N05.421461   E100.330823
*  This is a reproduction of my article published in the New Straits Times