Liberty sizzles with its Claypot Fish Head Curry
* This article was published in the New Straits Times (Northern Streets) on 23rd August 2011
Beach Street remains as one of the longest, busiest streets in Penang. Many heritage buildings along the road have been restored and converted into upmarket eateries and franchise restaurants that offer a wide variety of multicultural cuisine.
Located at the intersection of Beach and Chulia Street is Lam Ah, a small coffee shop with a zinc roof that sells the popular local delicacy – fish head curry. The Liberty Claypot Fish Head Curry is an excellent place to visit, especially for the adventurous gourmand.
The menu at Liberty is kept simple, with its signature fish head curry, few poultry dishes and stir-fried vegetables of the day. The fish head curry is made to order and the dish comes piping hot in a claypot.
The aroma of the curry wafts around the place once the lid is lifted. Plenty of ingredients are used in preparing this dish. Prawns, tomatoes and young lady's fingers are added to the curry. Once cooked, it is garnished with mint leaves and finely sliced onions.
The chef steams the fish head before cooking it in the tangy, fragrant curry. The curry is not too spicy and has the right amount of tang. The flesh is tender, moist and not overcooked. The fish bones dislocate easily and you can savour the lip-smacking jelly bits. The fish head is priced at RM20, RM30 and RM36. A medium-size fish head is large enough for a family of three.
Add-ons of squid is available too
Liberty's Inchi Kabin is also a tasty dish. This deep-fried chicken goes well with the fish head curry. The chicken is flavourful because of its marinate and the way it is fried as the meat is nice and tender in the inside.
Liberty's other dishes include fried kangkung, yau muk, siew pak choy and egg with onions.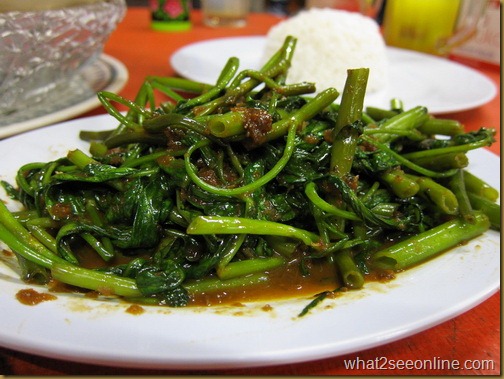 Stir-fried kangkung RM6
Liberty is housed in Lam Ah coffee shop. This place is known for its fresh nutmeg juice and beef koay teow. There is parking spaces nearby as most of the offices and banks are closed at night. Click here for the Map Location.
Fresh mango juice RM2.50 and nutmeg juice RM3
Liberty Claypot Fish Head Curry
Lam Ah Kopitiam (opposite Beach Street Bomba)
Beach Street/Chulia Street junction
Penang
Business Hour : 6pm till 10pm
Close on Monday