Ming Garden Restaurant at Penang Times Square
* This article was published in the New Straits Times (Northern Streets) on 5th September 2011.
Over the last few months, several Chinese restaurants marked their opening on Penang island, and the latest to go full swing is Ming Garden. Located in Penang Times Square, the restaurant is decorated in a modern Chinese style.
The efficient supervisor comes over to introduce what the menu had to offer as soon as we were seated. As with most Chinese restaurants, the supervisor verbally listed out the popular and signature dishes. We chose several dishes to go along with their signature Peking duck and braised goose web.
The crispy Peking duck is a house specialty
The dishes are served without delay, and the Peking duck is the first to arrive. The supervisor sliced off pieces of the duck skin and then placed them on homemade pancake spread with a thin layer of sweet sauce.
It is garnished with a strip of cucumber and carrot. The combination is flavourful, with the nice aroma of the crispy roast duck skin.
Crispy Peking duck skin and pancakes with sweet sauce and garnishing
The remaining duck meat is stir-fried with shredded Chinese mushroom and bean sprouts. The great aroma of the shredded meat matches well with the seasoning and fragrant soy sauce, and it is best eaten with the freshly cut lettuce.
The goose web is another dish that is worthy of accolade. The perfect braised goose web in full body gravy boasts a tender smooth texture and it breaks off easily from the bones. This sensational dish is accompanied by braised tofu.
Braised goose web stew
Among other dishes, the stir-fried Hong Kong kai lan with garlic is nicely done – simple yet tasteful. The lor hun chye with fermented bean curd deserves high marks on our list. We specifically requested for the dish to be cooked with less gravy and the chef did it with strong wok hei which gave the dish an added aroma.
Stir-fried Hong Kong kai lan with garlic
Lor hun chye (mixed vegetables) with fermented tofu
The steam cod fish with soy sauce by itself is a simple dish; however it contained little things that made it simply delicious, such as the freshness of the fish, the soy sauce mixture being light and fragrant and the appropriate portion of garnishing. The gravy complemented the steamed rice very well.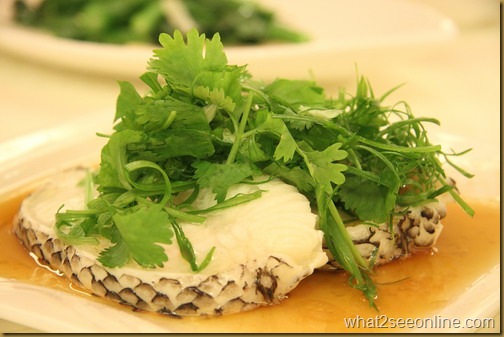 Steamed cod fish with soy sauce
The service was excellent, with our Chinese tea constantly being topped up. They even made the effort of constantly changing our individual plates. We have returned to Ming Garden several times since its opening, and we still enjoy the same good service.
At the main foyer are several large fish tanks displaying live fishes and seashells. The place with 20,000 sq ft of dining space is ideal for hosting wedding reception and corporate functions. Click here for the Map Location.
Ming Garden Restaurant
2nd Floor
Lot 77-2-28
Penang Times Square
Jalan Dato Keramat
10150 Penang
Tel: 04 226 9977