Toast with homemade kaya at Ah Wang Cafe
* This article was published in the New Straits Times (Northern Streets) on 8th October 2011
Operating for more than 30 years, Ah Wang Cafe serves the standard fare of coffee and toast with home-made Kaya. The name is synonymous with the owner who runs the business with his wife and several helpers.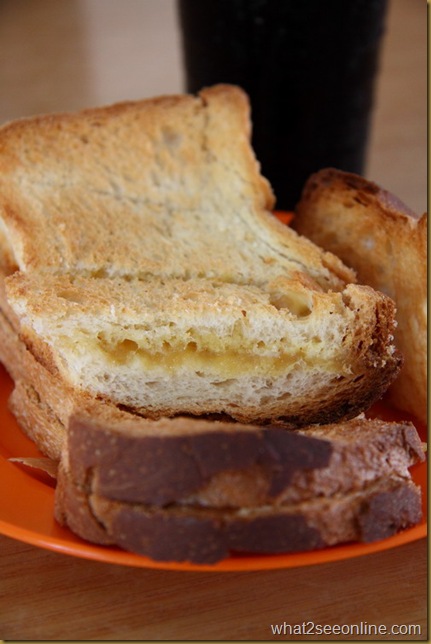 According to Ah Wang, the family operated business began almost 30 years ago by his parents. However, they only moved to their current premise approximately 14 years ago. Despite the rapid modernization and construction in Tanjung Tokong, Ah Wang Café still remains an old favorite with the locals.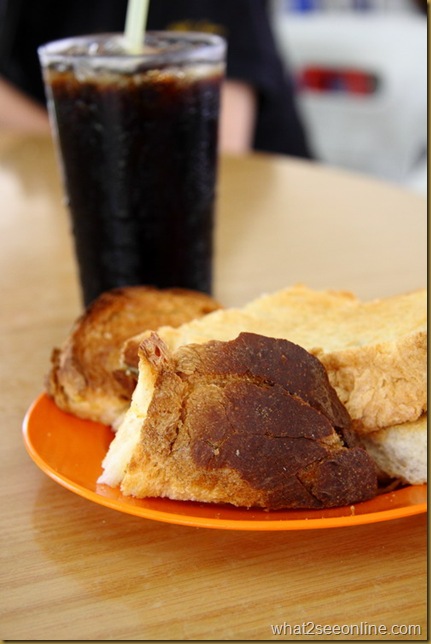 The method of toasting bread at Ah Wang's cafe is by the electric toaster, and the bread is done evenly browned on both sides with crunchiness. The toast is traditionally served with kaya or a combination of kaya and butter for a savoury-sweet taste.
Toast with a creamy filling spread of kaya and butter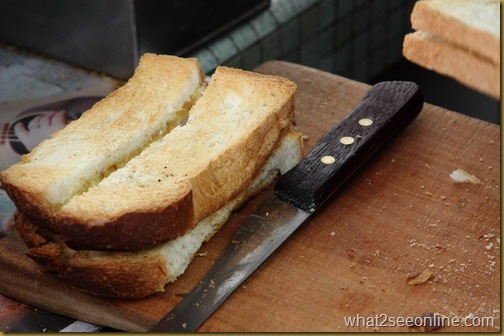 The kaya spread has always been home-made since the earlier years using a secret recipe of only three ingredients, namely coconut milk, sugar, and eggs. It comes in a custardy texture and a balance sweet flavor. And best of all, no preservatives are used and the kaya is for sale as well.
There are several customers who prefer to dip their toast into a hot cup of coffee. Ah Wang serves a fairly good cup of thick local coffee. Choices of combination include the ever famous Kopi O Peng, which is iced sugared black coffee to the Kopi Peng; essentially iced coffee with milk!
Besides coffee and tea, there is a relatively wide range of drinks. The sirap limau which cost RM1.40 is not to be missed. Made with fresh lime, the lime juice with added red sugar has the refreshing lime zest and color.
The owner mixes the drinks for the customers
Kopi O Peng, Kopi Peng and sirap limau
On top of that, the half-boiled egg is a popular dish too. Served in a cup, the egg with runny yolk is well complemented with some pepper powder and soy sauce.
The food is available throughout the afternoon into the night, from 1pm till 8.30pm, making it a great place for afternoon tea break and after work teatime.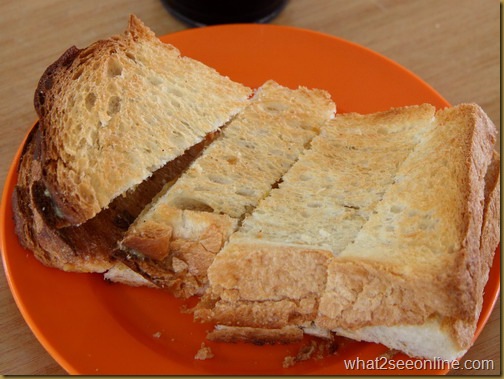 The stall is located below the UDA flats; just minutes walk from the popular Sea Pearl Lagoon seafood restaurant. Click here for the Map Location. The cafe is closed on Sundays.
Ah Wang Cafe
J-6 Gerai UDA,
Flat UDA Fasa 3
10470 Tanjung Tokong
Penang
Tel: 04 8982318