Baron Edmond de Rothschild's French Winemakers Dinner at Tiffins
* This article was published in the New Straits Times (Life & Times) on 19th November2011
BY CK Lam
It was an evening of dining and French wines at Tiffins, the fine dining restaurant in Parkroyal Penang Resort. The evening gave us the chance to explore wines from the estates of Baron Edmond de Rothschild.
Florent J. Mougin, Asia-Pacific export manager was on hand to introduce his company's wines with an entertaining and educational speech. We were introduced to several wines, which were mostly red. Besides the champagne of Nicolas Feuillatte Reserve Particuliere N/V, there were vintages of Chateau Malmaison and Chateau Clarke.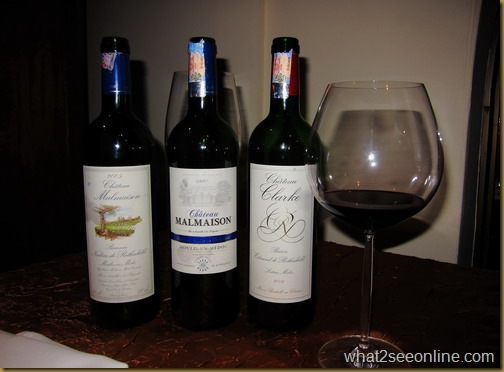 Some of the many fine wines
Richard Murphy, myself and Florent Mougin
The first course was the Nicolas Feuillatte Reserve Particuliere N/V, served with canapes. The champagne possessed a golden color, light acidity with a fine lingering finish.
From the champagne, we moved on to the next wine, the Chateau Malmaison 2007. This young wine with a deep red hue and aromas of dark fruits was paired with the cod fish wrapped with potatoes, served with white asparagus in vine tomato fondue and cognac- yabbie bisque. The freshness of the cod fish with firm lean texture went well with the rich tasty sauce.
Cod fish with yabbie bisque flavored with vine tomato and cognac

There was a good selection of meats. The Duck Confit was served with caramelized onion, foie gras pudding, seasoned winter spinach and blueberry jus. For wine, Chateau Malmaison 2005 was chosen to be paired with the dish. With its full bodied texture with silky tannins, the wine decanted for two hours, went well with the gamey taste of the duck.
The duck confit was followed by the Melon Granita to refresh the palate. Its zingy flavored prepared us for the next savory meaty course.
Duck confit and the refreshing melon granita
Florent Mougin sharing some history of the wines
The main course was presented with a duet of Australian Wagyu Beef Fillet and oven baked Lamb Rack in herb crust. The dish provided greens of potato-leek coulis, stewed morel mushroom, fava beans and was served with "Bordelaise" sauce.
The dish was paired with the Chateau Clarke 2006, my favorite wine of the evening. The  full bodied and masculine wine with deep cherry color accented the flavors of the meat.
Australian Wagyu beef fillet and lamb rack in herb crust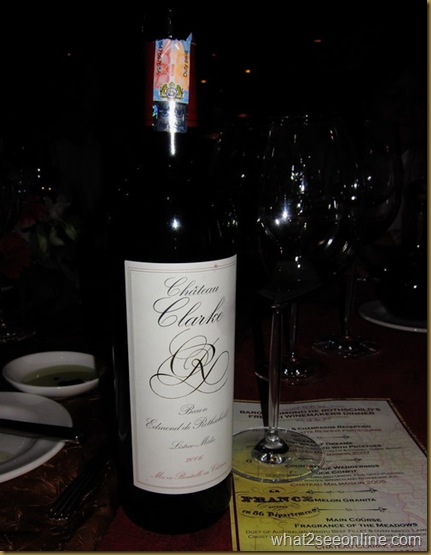 Chateau Clarke 2006
For the perfect finish, it was the dessert of Chocolate Delight. The light chocolate mousse with dark pitted cherry compote and warm banana pudding was a lovely surprise.
It was a wonderful evening experience, with not only great wines from the estates of  Baron Edmond de Rothschild, but also excellent food from Tiffins.
A round of applause to the chefs
Tiffins
Level 1 Parkroyal Penang Resort
Batu Ferringhi Beach
11100 Penang
Tel: 04 8811133
* Many thanks to William for laying on this invitation.