Sukhothai Beef Noodles House in Pulau Tikus
*The outlet has since closed down
Sukhothai Beef Noodles House is located on the ever bustling Burmah Road, right in the heart of the Pulau Tikus neighborhood. The restaurant is situated along a row of shop houses between the Pulau Tikus police station and the popular Jones Road Loh Mee.
Since its opening last month, Sukhothai Beef Noodles House with a short menu has been attracting customers with its Thai beef noodles. The short menu includes three desserts and five other dishes, namely the Pad Thai, Fish Maw Soup, Thai Fried Rice, Tong Yam Fried Rice and also the Green Curry or Massaman Curry.
The Sukhothai Beef Noodle at RM12.90 comes with 3 options – namely the original, glass noodles and instant noodles. Each bowl of beef noodle comes with a complimentary basket of raw bean sprouts and minty basil leaves.
The bowl of noodles comes in a hearty and flavorful dark beef soup. Boiled with various herbs and spices, it is served with a generous chunky portion of tender meat, beef balls, bean sprouts and garnished with lots of chopped coriander. The beef chunks are tender and the beef balls have a bouncy texture. To pep up the taste of the food, condiments of chili flakes and Thai chili sauce is provided on the table for the customers.
Another dish that we also ordered is the Phad Thai, a dish found in most Thai restaurants. For RM12.90, the thin Thai noodle was lightly charred with generous amount of bean sprouts, chopped chives, Chinese sausage slices, deep-fried bean curd cubes, prawns, spices and served with coarsely pounded roasted peanuts. The dish has much sweetness with the added Chinese sausage and a few droplets of tangy lime provided a more balanced finish.
The Massaman Curry with chicken is an excellent complement with white rice. This yellow curry cooked with specially prepared massaman curry paste incorporates creamy coconut milk and served topped with roasted cashew nuts and mint leaves. This fragrant curry with a sweet, rich flavor is rather mild and suitable for all ages.
Furthermore, the brownish fish maw soup made with chicken stock and spices has Chinese black mushrooms, bird's egg and gelatinous pieces of the fish maw. Served garnished with plenty of cilantro, this pot of thick soup cost RM19.90.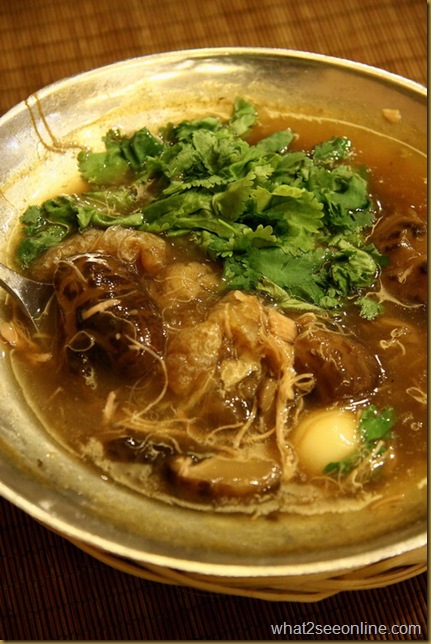 The dessert section has three irresistible rich and creamy offerings; Banana Sago (RM4.90), Mango Sticky Rice (RM8.90) and Durian Sticky Rice (RM8.90). The latter is definitely a noteworthy dessert. This warm dessert has a combination of black and white glutinous rice with creamy custardy durian flesh and fresh mildly sweetened coconut milk. On the other hand, the banana sago features banana cooked in a mixture of sugar and coconut milk.
Sukhothai Beef Noodles House is a comfortable air-conditioned place for Thai cuisine. Besides that, they offer set lunch at RM15.90 which includes appetizer, main course and dessert. Click here for the Map Location.
Sukhothai Beef Noodles House
238 Jalan Burmah
10350 Penang
Tel: 016 438 7788 Joanne Ang
016 433 5588 Ce Ang
Business Hour: 11am –3pm & 6pm –10pm
* This article was published in the New Straits Times (Northern Streets) on 19th November 2011