Noble Season Chinese Restaurant (Hei Yeong Seng), Penang Plaza, Penang
Penang Plaza in Burma Road has been given a new lease of life with the opening of the Hei Yeong Seng Chinese Restaurant. Also known as Noble Season Chinese Restaurant, it is a subsidiary of the Chinese Recreation Club Restaurant. Its cream-coloured table cloths and simple decor give it a bright and cheery ambience. There is an aquarium at one side of the restaurant that is filled with thriving fish of all kinds. There is also a mini-stage at the rear to cater for mass banquets and company functions.
Its menu is a selection of seafood and meat dishes, as well as noodles and desserts. The steamed chicken is garnished with plenty of spring onions. Prepared with Chinese wine and wolfberries, the chicken can be enjoy on its own, or with some pounded ginger.
Steamed chicken with Chinese wine
Its braised fish (hong siew yue tau) comprises deep-fried pieces of fish and roast pork sauteed and braised in flavourful gravy made from a variety of ingredients such as bamboo shoots, ginger and black Chinese mushrooms.

Braised fish (Hong Siew Yue Tau)
The steamed fish is served with with soy sauce. Patrons have the option to season it further by adding on a bottle of essence of chicken. Although everyone loves the essence of chicken for its nourishing goodness, some may prefer their steamed fish with just soy sauce.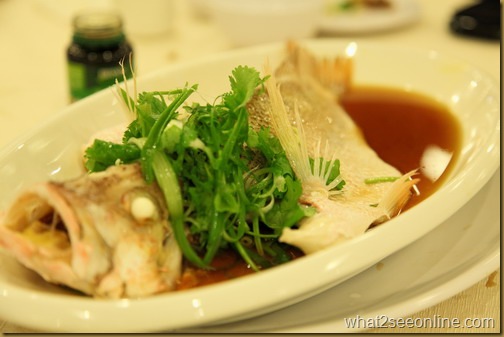 Steamed fish with essence of chicken
The home recipe tofu (RM12) is a piece of steamed tofu with prawns, black Chinese mushrooms and minced meat cooked in a flavourful black soy sauce.
The sambal asparagus is especially tasty. The spicy, crunchy vegetable is prepared just right, with a rich, salty-spicy sauce and belacan, which intensifies the flavour. The dish is best eaten with white rice.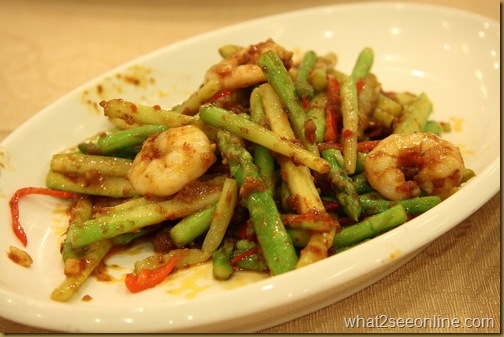 Portions for the stir-fried flowering Chinese chives (ku chai hua) was a little small for most appetites. However, the delicate garlic flavour of the vegetable, and dried prawns, deep-fried crullers (you tiau) and carrot more than made up for it.

Stir-fried flowering Chinese chives
The restaurant's large interior and its ample car parking space make it a great venue for both simple meals and mass banquets. Open daily, the business hours are from 11.45am until 2.30pm for lunch and from 6pm until 9.45pm for dinner.
Hei Yeong Seng Chinese Restaurant
Lot 207-221 & Lot 231-245
2nd Floor Penang Plaza
126 Jalan Burmah
10050 Penang
Tel : 04 2291623
* This is a reproduction of my article published in New Straits Times