Cooking Lessons in Tropical Spice Garden Cooking School
BY CK Lam
Recently, I was invited to a cooking session at Tropical Spice Garden Cooking School in Teluk Bahang, Penang. The school offers cooking classes for Nyonya, Chinese, Malay and Indian cuisine and is set in a building surrounded by the lush Tropical Spice Garden.
Under the guidance of Pearly Kee, who is well-versed in Nyonya cooking, the participants and I gained some insight into Nyonya cuisine. We were handed recipe sheets for otak-otak and jiu hu char and Kee guided us through the two dishes.
Both recipes were simple. The jiu hu char had several ingredients put together, each with its unique flavour and texture. This stir-fried dish was so fresh and light and paired nicely with lettuce and sambal belacan.
-Jiu Hu Char
You'll need:
30g chopped garlic
30g chopped shallot
4-6 tbsp cooking oil
3 dried Chinese mushroom, soaked, cut to strips
30g shredded cuttlefish, washed, squeeze dry before use
600g cooked chicken meat, cut to strips
900g bangkuang or jicama
90g carrot, cut to fine strips
300g cabbage, cut to fine strips
3 big onions, cut to slices
Salt to taste
2 tsp soya sauce to taste
2 cups chicken stock
Jiu hu char has mushroom, carrot, dried squid, chicken and bangkuang
Method
1. Heat 2-3 tablespoons of oil and saute onions and garlic till fragrant.
2. Add cuttlefish, mushroom and lastly the chicken meat.
3. Then add soya sauce and fry till heated through. Dish out and put aside.
4. Heat another 2-3 tablespoons of oil and fry the jicama, carrot and cabbage.
5. Add onion halfway and enough stock to barely cover vegetables. Sprinkle salt to taste. Simmer till tender.
6. Wrap both sauteed meats and stir-fried vegetables in lettuce leaves. Add some sambal belacan for a little kick.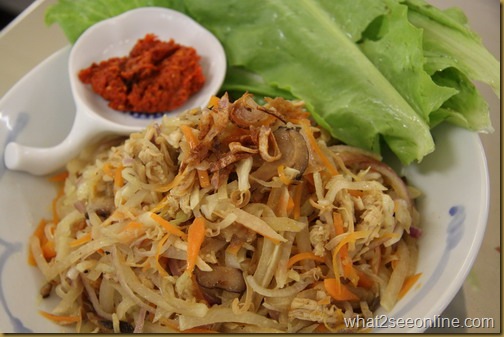 Jiu hu char served with lettuce and sambal belacan
Kee also guided us, step by step, to make the otak-otak. The otak-otak had a variety of spices blended into a paste with a sharp distinctive aroma. We prepared the otak-otak by spreading spoonfuls of the mixture and prawn on banana leaf laid with pieces of daun kaduk. The ends were tucked in and the package wrapped up in banana leaf, sealed and steamed.
-Prawn Otak-Otak
You'll need:
600g prawns
2 kaffir lime leaves, cut to fine strips
20 daun kaduk, washed and dried
1 egg
500g thick santan
1 whole banana leaf
To grind:
1 lemongrass or serai
20g shallots
2 cloves garlic
10g lengkuas
1cm fresh turmeric
Pinch of belacan
1 tsp glutinous rice flour
¼ tsp white peppercorn
1 tsp of salt
Pinch of sugar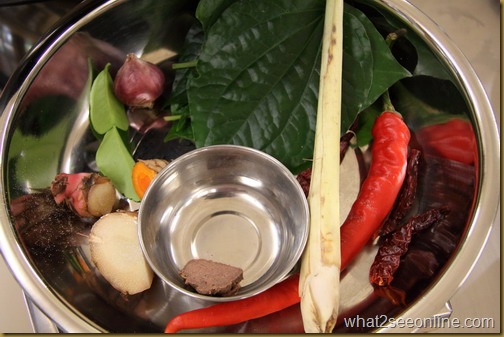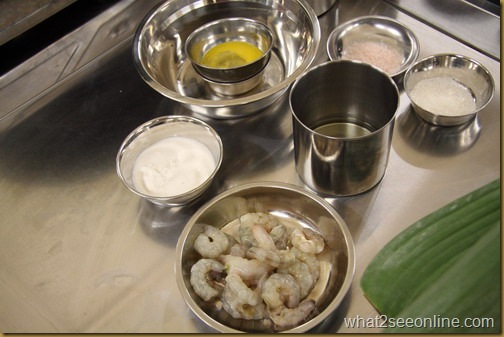 Fresh spices and ingredients for otak-otak, a favourite Nyonya dish
Method
1. Beat egg. Then add santan followed by ground spices.
2. Rub onto prawn, add salt and sugar.
3. Mash or beat the mixture continuously till it becomes thick. Add shredded kaffir lime leaves.
4. Wrap mixture in banana leaf and steam over hot water for 20 minutes.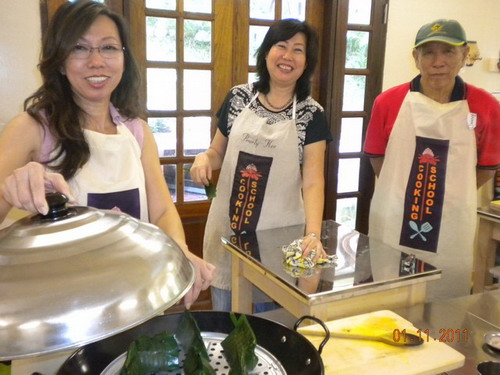 Checking on my otak-otak  (photo by Katchua of TSG)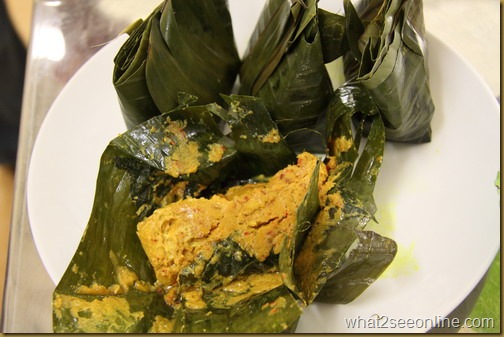 Prawn Otak-Otak
Besides learning new recipes, we dined on what we had prepared. We sat down to enjoy our food in the airy pavilion, steps away from the cooking school.
Tropical Spice Garden Cooking School
Lone Grag Villa
Lot 595 Mkm 2
Teluk Bahang
11100 Penang
Tel: 04 8811797
Opening hours:  Daily except Mondays. Bookings must be made 24 hours in advance.
Email: info@tropicalspicegarden.com
Website: www.tropicalspicegarden.com
All resident chef morning classes (Malaysian cuisine) will include a guided tour of the spice terraces, a welcome coffee or tea, hands-on cooking class and lunch with a specially brewed drink of the day.
How to get there: Drive all the way to Batu Ferringhi until you reach Bayview Beach Resort. From there continue till you pass a hilltop Chinese cemetery on your left. Proceed until you reach the next corner. The entrance of the cooking school is on your left. Click here for the Map Location.
Parking is along the street  in front of the entrance. You need to climb a flight of steps to the cooking school.
Public Transport: Rapid Penang U101 (from Weld Quay) and U102 (from Penang International Airport).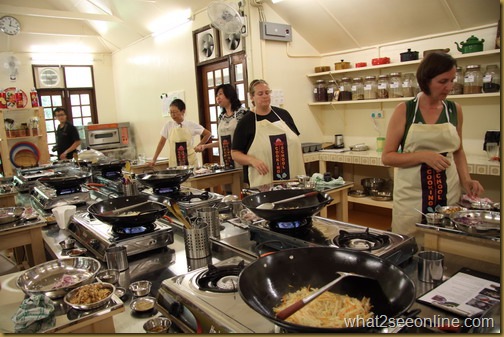 Pearly Kee guiding the group through the Jiu Hu Char dish
* Many thanks to Tropical Spice Garden Cooking School for laying on this invitation.
* This is a reproduction of my article published in New Straits Times