Hawker Food @Ping Hooi, Carnarvon Street
By CK Lam
Ping Hooi coffee shop is the place where visitors get to enjoy a plethora of noodles and snacks for breakfast and lunch. This old-style coffee shop with several food stalls has its frontage facing the bustling Carnarvon Street and its side facing Malay Street.
Hawker stalls lined up the side of this corner coffee shop while the other side of the wall is lined with wooden cubicles. This coffee shop is one of the places to sample duck drumstick noodle, also known as Arp Tui Mee.
The stall is noted for its nutritious soup, double boiled each day with a variety of ingredients. There is a choice of chicken drumstick, duck drumstick and pork ribs. The meat is slow-boiled with aromatic spices and Chinese herbs, giving the stock a distinctive fragrance. The common herbs used include dāngguī, wolfberries, ginger and red dates.
The soup is served either with yellow noodles or mee suah, which is blanched separately and subsequently served with the soup. I personally prefer the Arp Tui Mee (duck drumstick noodle) and Kai Tui Mee (chicken drumstick noodle), both served with chopped chives. The juicy meat is best eaten with the dipping soy sauce and chili padi.  Both the soups remained a favorite with the young and old alike.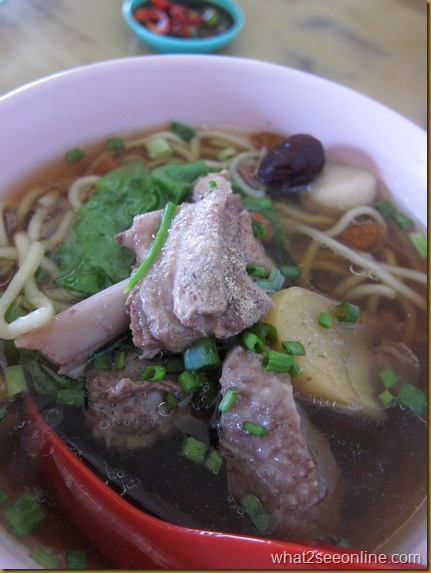 Arp Tui Mee (duck drumstick noodle)
The flesh of the chicken drumstick is smooth and tender, and can easily fall off the bone!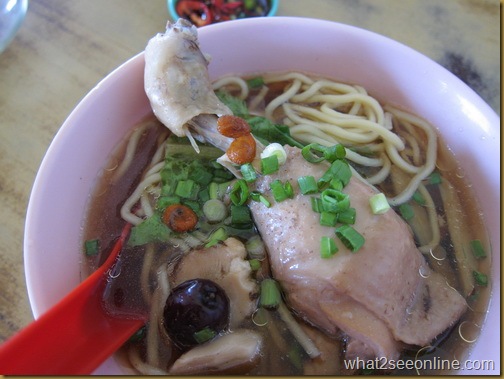 Kai Tui Mee (chicken drumstick noodle)
Beside the duck drumstick noodle soup stall is the lor bak stall  which sells an assortment of deep-fried meat, battered fish, beancurd, prawn fritters, plus century eggs with pickled ginger. The appealing items from this stall are the boiled pork roll and the deep-fried three layer pork. The lor bak along with sides of freshly cut cucumber is served with starchy soy-flavored sauce and chili sauce.
Another treat to try is the char koay teow. The ingredients used for the preparation of this fiery dish are bean sprouts, prawns, cockles, Chinese sausages, chives and chicken eggs. Frying the char koay teow with duck egg is also available. It cost a little more but it provides a rich gamey flavor to the dish.
There are several other noodle options at Ping Hooi, with the starchy lor mee and Hokkien mee. The latter served in a slightly spicy soup rich with meat and prawn flavor, comes with pieces of meat, small prawns, hardboiled egg and fried shallots. It would be great to see some water convolvulus though.
Opened daily, Ping Hooi is packed during breakfast and lunch. Go early as business starts from 8am till 2.30pm. Click here for the Map Location.
Ping Hooi Coffee Shop
Carnarvon Street
10300 Penang
GPS Coordinates : 5.414502,   100.334154
* This is a reproduction of my article published in New Straits Times