Horikiri style ramen @Goku Raku Ramen
BY CK Lam

Goku Raku Ramen brings their specialty Horikiri style ramen to their new outlet in Gurney Paragon Mall, Penang. Located on the east wing of the building, Goku Raku Ramen is the latest branch opened by the Texchem group in Penang.
The ramen comes with three types of soups – Tonkotsu (pork-based), Shoyu Tonkotsu (Japanese soy sauce) and Miso Tonkotsu. The freshly made broths are simmered for 17 to 30 hours by Chef Kenji Nakagawa who leads the kitchen.
The signature dish  is  aptly named Goku Raku Ramen, and comes in a rich broth consisting of a complex blend of pork, chicken and fish which is simmered for 30 hours. Both the large (RM23.90) and small (RM18.90) servings are topped with char siew slices, flavoured egg, onions, Japanese leeks, bamboo shoots and seaweed. The texture of the fresh noodle is slightly springy. The ramen in Shoyu Tonkotsu broth is served with a swirl of fragrant garlic oil  giving it an appetising aroma.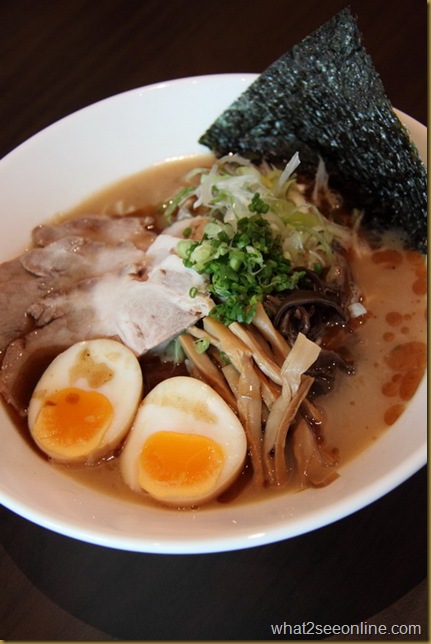 Ramen in Shoyu Tonkotsu broth.
Goku Raku Ramen
Extra toppings are available and the most popular one is the flavoured egg with its velvety yolk. The egg is marinated in a special sauce.
Toppings for the ramen dishes.
The restaurant also offers several  types of rice meals, with favourite being the stamina don (RM17.90), which is essentially pan-fried pork slices in special sauce on rice with a soft boiled egg, lettuce, Japanese leeks and decorated with thinly sliced chilli.
The other dish is the Ishiyaki garlic rice (RM16.90), prepared with minced pork and a fresh egg in a stone pot.
Ishiyaki garlic rice
The main meals at the restaurant are best accompanied with the side dishes. Highly recommended items include gyoza (RM7.90 for 6 pieces). These dumplings are filled with a delicious mix of minced pork, cabbage, onions, chives, Japanese leeks and Tonkatsu soup.
Gyoza is a popular side dish.
Another scrumptious dish is the buta katsu – it is  well-marinated, deep-fried pork chop which goes with mayonnaise sauce.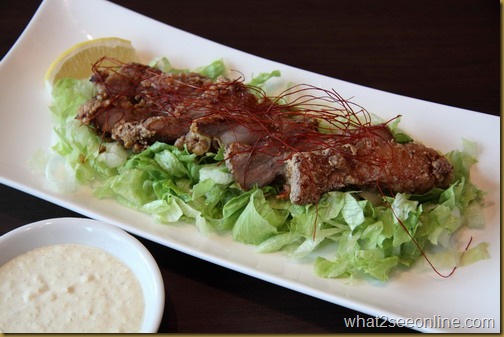 It also serves cold noodles.  Enjoyable even on its own, the noodle is topped with char siew, flavoured egg, black fungus, spring onion, Japanese leek, bamboo shoot, onion, cabbage and romaine lettuce with homemade sesame sauce.
Cold noodles served with homemade sesame sauce.
For dessert, there are annin tofu (almond jelly) and cheesecake with blueberry sauce. As with most Japanese restaurants, the drinks list is dominated by green tea, honey lemon tea and Japanese beers.
Annin tofu and cheesecake with blueberry sauce.
Chef Kenji Nakagawa leads the kitchen in Goku Raku Ramen
Goku Raku Ramen
Lot 163-D-1-05
Gurney Paragon Mall
Persiaran Gurney
10250 Penang
Tel: 04 2260961
Business Hours: 10am – 10pm
Website: http://www.gokuraku-ramen.com
* Many thanks to Texchem Group for laying on this invitation.
* This is a reproduction of my article published in New Straits Times